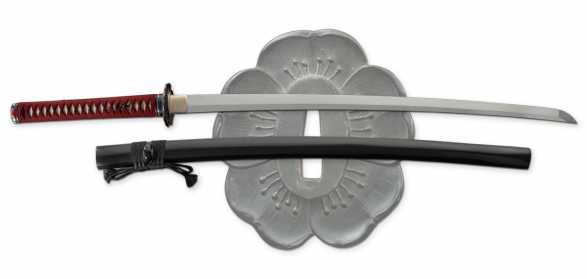 Dragon King Spring Sakura Katana
(2)
IN STOCK & ON SPECIAL ALL NOVEMBER
Premium Quality 5160 Monotempered Beater Katana Series. Extremely durable. Steel fittings, Silver Habaki. 27" Blade, 2lb 9oz. MSRP $495.00
$

341.99
$379.99
You Save $38.00
The sakura, the cherry blossom, explodes brilliantly and gorgeously in the Spring but then soon falls. History teaches us there was no greater glory for a samurai warrior to fall in battle in a field of scattered cherry blossoms. The Dragon King Spring Sakura Katana represents this beautiful Japanese metaphor of the transience of life. The blackened fuchi, kashira and ornate cherry blossom tsuba accents the forged and through-hardened 27" blade. The 5160 forged high-carbon steel blade features a 1 ½" kissaki (point) and marquenched to an edge hardness of 57HRc with blade geometry conducive to rigorous cutting without chipping or deformation on a wide variety of cutting targets.
Contrasted only by the crimson tsuka-ito (handle wrap), same (ray skin) on the wood core handle, the notched seppa (spacers), silver habaki (blade collar) and cherry blossom menuki (handle ornaments) represent the only vivid aspects of this sobering piece. The black lacquered saya (scabbard) features a buffalo horn rimmed koiguchi (scabbard mouth) and wood kurikata (knob) and black sageo (cord).
About Dragon King
The famed artisans of Dalian have returned to show to the sword world what quality, craftsmanship and ingenuity can produce under the superlative leadership of a true avant-gardist. By the guidance of master designer, Frenchie Jin, the next generation of cutlery enthusiasts will taste the steel of the fabled golden age of swords.
Ever the student of the arts, Frenchie Jin combined the processes of contemporary mechanical construction and modern science with the classic arts, ancient aesthetics and philosophical imagery to produce many of the legendary pieces known today. Having designed over 600 different cold weapons in his 20-year career, to say that he and his team have mastered and advanced their craft would be an understatement.
The Dragon King brand does not represent a company that just manufactures products but embodies a group of artisans who have been adeptly trained to duplicate ancient skillsets that can't be automated by machines on an assembly line. Not every blade that is forged becomes a sword. Not every casting that is poured becomes a component of a greater piece. The goal for improvement and innovation starts every day under Frenchie's guidance.
Not confining their talents to sword making alone, the Dragon King team plies their abilities also to the production of knives, jewelry and other high end art-crafts. And not just in steel alone, these artisans craft wood and leather among many other materials and alloys. Our journey together has only begun, but the fruits of that labor are coming to bear.
How to Use
Designed as a frequent use, heavy duty backyard cutter or dojo "beater" sword.
Overall: 39 3/4" Blade Length: 27" Handle Length: 11 1/4" Weight: 2 lbs 9 oz
Materials and Construction
5160 high-carbon steel sharpened blade, marquenched and monotempered to an edge hardness of 57HRC. Cotton Crimson colored ito over authentic rayskin. Steel fittings, Silver habaki. Black lacquered saya with buffalo horn rimmed koiguchi (scabbard mouth), wood kurikata and hard wearing black sageo. Traditional Construction with Exceptional Attention to Detail.
Shipping only the newest stock direct from the manufacturers warehouse in Tennessee within 1-2 business days. $20 Flat Rate Shipping for 1-2 Swords or FREE if 3 or more swords ordered at the same time. International shipping currently unavailable due to the length Shipping only the newest stock direct from the manufacturers warehouse in Tennesse within 1-2 business days. $20 Flat Rate Shipping for 1-2 Swords or FREE if 3 or more swords ordered at the same time. International shipping currently unavailable Sorry, US orders only (
click here
for the workaround).
Click here for more shipping information
Warranty Info
Each sword is guaranteed to be as described and 100% genuine product. Each sword is also covered by in full by the Manufacturers Warranty PLUS our extended LIFETIME Warranty against blade breakage.
Click here for detailed warranty information
Return Policy
Satisfaction Guaranteed.
We proudly stand behind every product we sell. If you are not pleased with your purchase you can return it to us within 30 days of purchase in
original, unused condition
for a full refund minus shipping and 10% restock fee.
Click here for more info on our guarantees
Featured positive reviews:
Superb and Beautiful Cutter
03/20/2023
The entire construction and fitting looks like something that would be priced much higher, but I am glad that they are offering this sword at its affordable price point.

Solid blade is definitely a razor-sharp cutter out of the box. The polishing work was done well enough that I did not notice any dull parts of the sharp edge. The main focus of this katana is the Sakura tsuba which is beautifully cast iron, but is smaller than typical tsuba.

Now, the Sakura motif is facing the blade side of the tsuba, which is typically not correct. You would usually want the decorative side to face the tsuka side as the katana is normally sheathed for the duration of its life, and you would normally hold the katana with the orientation of the tsuka facing your audience.

In my attempts to reverse the face of the Sakura tsuba, I had a hell of a time trying to remove the tsuka from the nakago. The handle felt almost glued to the tang, and it took a lot of hammering to finally get the tsuka off of the nakago. There were burrs around the peg holes of the tang that needed to be deburred, and the nakago needed to also be filed down since it was slightly asymmetrical. In the end, I was able to finally get the tsuba face reversed and the fittings smoothed out.

I don't know if any special requests can be made to SBG to order the katana with the tsuba reversed, but this would be up to your tastes with how you want the tsuba to be facing. If you decide to DIY, be prepared for the experience!

Despite the facing of the tsuba, it is definitely a well constructed blade that I did not regret buying.