Darksword 1544 - The Wolfsbane (sharpened)

Be the first one to write a review
MADE TO ORDER

FREE SHIPPING IN CANADA AND THE USA!
Inspired by Game of Thrones and Norse Mythology, a stunning fully functional winter wold themed sword. Made to order, typically ships in 6-8 weeks.
As Norsemen invaded, burned and plundered foreign shores, legends and mythology were born. Doomed gods walked among men, gathering their strength for the final battle at the end of the world. It is little wonder that when our imagination takes us into the most gripping realms of fantasy, we cannot help but turn to the myths and legends of the North.
The wolf was one of the most potent symbols of the Norse mythology. It represented fearsome strength and doom. A symbol of royalty and power across the Nordic world.
Aggregating all essential elements of Viking life, artistry and Norse Mythology, the Wolfsbane exemplifies the peak of Viking culture amalgamated with modern imagination.The mythological symbol of the wolf is balanced by mirroring self images. Meticulously crafted fittings and handle, The Norse Wolf, as a steward of Viking culture and Mythology, is at the core of this Viking sword.
The Fenris Wolf, offspring of Loki and Angrboda, destined to kill Odin rests on the solid bronze guard. Its fetters are worked into knotwork inspired by the Jelling Stone. The Fenris Wolf's head snarls on the pommel, while on the handle, the wolves Geri and Freki, the loyal companions of Odin who hunger for the bodies of the slain in battle, lay intertwined.
Amalgamating modern romanticism of Norse folklore and excavated Viking swords of great importance, the Wolfsbane is a beautifully crafted testament to the arts, culture and beliefs of the Viking people. Luxuriously handcrafted from the finest material, the Wolfsbane sword is a distinguished Viking weapon catering to the most discriminating collector. Richly detailed solid bronze guard and pommel, Painstakingly crafted Red Oak handle; the Wolfsbane is a heirloom quality piece reminiscent of the migration age.
Exceptional tools of war, the Viking medieval swords also attest to the Viking culture's keen interest in art and aesthetic beauty. The Viking battle ready sword features a 30 inch blade, forged with 5160 High Carbon Steel and dual hardened.
Unlike Darksword blades we sold in the past, the sword is automatically also given a thorough sharpening until it is paper cutting sharp (normally costing an extra $35) and is also shipped FREE in North America - giving you the very best deal possible.
This sword comes with a wood core scabbard as standard with the option to upgrade it to include a premium quality sword belt with suspension system - allowing it to be worn or for an extra flourish when not in use hung on the wall (see below for a comparison).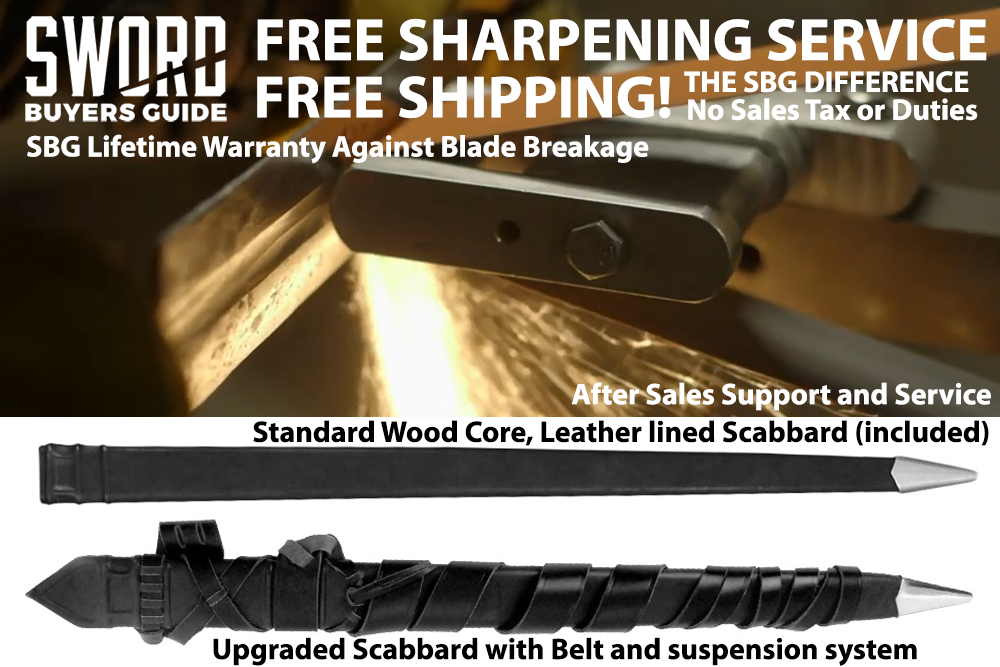 How to Use
Sharpened and Battle Ready - suitable for heavy duty backyard cutting and display.
Total length: 47″ Blade length: 38″ Blade width at base: 2″ Weight: 3 lbs 5 oz POB: 6″Distal Taper (at the edge): 1.54mm (base); 1.3mm (midpoint); 1.27mm (tip)
Materials and Construction
5160 Hand Sharpened Spring Steel Blade, Dual Tempered with an edge HRC of 60 and core HRC of 50. Solid Bronze Fittings. Engraved Red Oak Handle. Wood core leather wrapped handle and scabbard with optional upgrade to wearable belt and suspension system.
IMPORTANT NOTE: Made to order, typically ships in 6-8 weeks
FREE SHIPPING to the USA and Canada from Manufacturers warehouse in Quebec, Canada via Fed Ex. We apologize for the inconvenience, but due to the extreme shipping costs Darksword Armory swords can no longer be shipped outside of North America (USA and Canadian Orders only)
Warranty Info
Each sword is guaranteed to be as described and 100% genuine product. Each sword is also covered by in full by the Manufacturers Warranty PLUS our extended LIFETIME Warranty against blade breakage.
Click here for detailed warranty information
Return Policy
Satisfaction Guaranteed.
We proudly stand behind every product we sell. If you are not pleased with your purchase you can return it to us within 30 days of purchase in
original, unused condition
for a full refund minus shipping and 10% restock fee.
Click here for more info on our guarantees