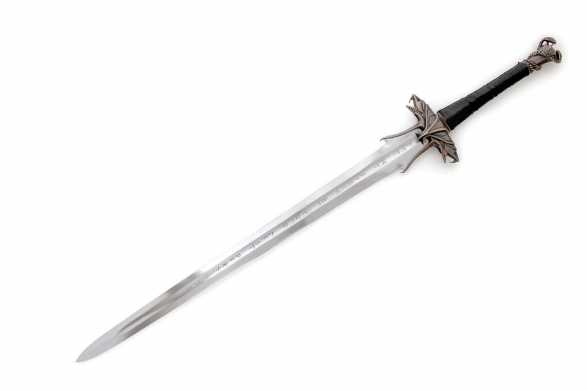 Darksword 1320 - The Warmonger Sword (sharpened)

Be the first one to write a review
MADE TO ORDER

FREE SHIPPING IN CANADA AND THE USA!
Amazing fully functional fantasy barbarian sword. Includes distinctive FREE highly detailed scabbard. Limited Edition of 1,500pcs worldwide. Made to order, typically ships in 6-8 weeks.
This barbarian sword is the most complicated piece Darksword Armory have made to date. The complex and elaborate segmented bronze casting rendered this an incredibly complex project. The fitting of the long 'claw' guard to the blade was no easy endeavor. While the guard and pommel are crafted from solid bronze, the blade is forged from 5160 High Carbon Steel, dual hardened at a Rockwell of 60 at the cutting edge and 48-50 at the core.
The design for the barbarian sword began as an inspirational piece while Eyal, the owner of Darksword, was in Paris. While walking he stumbled on a beautiful door knocker with intertwining snakes. The result was a brainstorming session with our designer to finally create the Warmonger.
Imposing, intimidating and brutish, the Warmonger is the quintessential fantasy sword, capable of delivering devastating blows. The mythic blade, with its crisp deep fuller, is inspired the Viking swords recounted in the legendary sages of the northern peoples, known as fornaldarsaga. The Warmonger sword is individually hand forged and battle ready. The impressive resilient crisp blade is specifically engineered to penetrate plate armor with searing strength.
Unlike Darksword blades we sold in the past, the sword is automatically also given a thorough sharpening until it is paper cutting sharp!
Brutish yet refined, the Warmonger sword is in a class by itself. Relatively light, responsive and classically styled, the Warmonger Barbarian sword delivers what it was designed to do! Backed by our commitment and reputation for forging some of the most durable swords in the industry, the Warmonger is faithfully crafted and stands as a legacy to the fantasy lore of the Warrior Norse mythology.
The Warmonger is limited to 1,500 copies worldwide! Each individually numbered on the blade.

How to Use
Sharpened and Battle Ready - suitable for heavy duty backyard cutting and display.
Total length: 45″ Blade length: 32″ Blade width at base: 2″ Weight: 3lbs 8oz
Materials and Construction
5160 Hand Sharpened Spring Steel Blade, Dual Tempered with an edge HRC of 60 and core HRC of 50. Solid Bronze Fittings. Wood core fur wrapped handle and scabbard.
IMPORTANT NOTE: Made to order, typically ships in 6-8 weeks
FREE SHIPPING to the USA and Canada from Manufacturers warehouse in Quebec, Canada via Fed Ex. We apologize for the inconvenience, but due to the extreme shipping costs Darksword Armory swords can no longer be shipped outside of North America (USA and Canadian Orders only).
Warranty Info
Each sword is guaranteed to be as described and 100% genuine product. Each sword is also covered by in full by the Manufacturers Warranty PLUS our extended LIFETIME Warranty against blade breakage.
Click here for detailed warranty information
Return Policy
Satisfaction Guaranteed.
We proudly stand behind every product we sell. If you are not pleased with your purchase you can return it to us within 30 days of purchase in
original, unused condition
for a full refund minus shipping and 10% restock fee.
Click here for more info on our guarantees