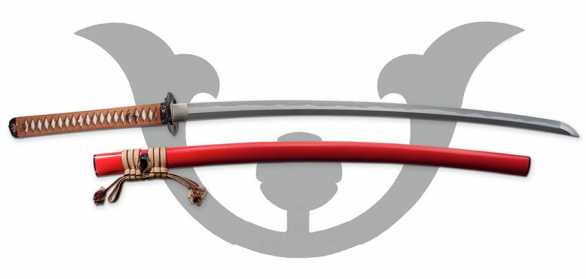 Dragon King Tenka Fubu Katana
(1)
IN STOCK

Differentially Hardened T10 Tool Steel Blade with Prominent, Real Hamon. MSRP$879.99
Dragon King pays homage to the renowned military leader, Oda Nobunaga of the Sengoku period in the Tenka Fubu Katana which was his motto "the nation under one sword." Powerful, ruthless and audacious the Tenka Fubu Katana possesses all the elements that Oda Nobunaga was known for during his rule in medieval Japan.
Most prominent on the tsuba (guard) features the kabuto of Oda Nobunaga and on the fuchi-kashira (pommel) the kabuto of his most bitter rival, Takeda Shingen. The fuchi (collar) bears a war fan and battle flag to commemorate his victory in 1560 at Dengakuhazama where he raised his battle flags over the rise of a hill to fool Imagawa's forces to think he was encamped there, while he and a handful of men snuck around for a sneak attack which afterward changed the course of Japan's history.
Oda Nobunaga's passion for warfare to bring about a unified Japan was only matched by his love for poetry and tea ceremony which are memorialized by the silver menuki (handle ornaments). The red lacquered saya holds the true symbol of Oda Nobunaga's power, a 28 ½" forged steel blade, and symbolizes the blood that was shed to achieve his ambitions. The saya is adorned with a buffalo horn kurikata (knob) and kojiri (cap) and brown and gold sageo (cord) which unifies the piece to the brown tsuka-ito (handle wrap) over white same (ray skin).
A must have for collectors but very much a functional piece, one especially built well enough that Oda Nobunaga himslef would be proud to carry.
About Dragon King
The famed artisans of Dalian have returned to show to the sword world what quality, craftsmanship and ingenuity can produce under the superlative leadership of a true avant-gardist. By the guidance of master designer, Frenchie Jin, the next generation of cutlery enthusiasts will taste the steel of the fabled golden age of swords.
Ever the student of the arts, Frenchie Jin combined the processes of contemporary mechanical construction and modern science with the classic arts, ancient aesthetics and philosophical imagery to produce many of the legendary pieces known today. Having designed over 600 different cold weapons in his 20-year career, to say that he and his team have mastered and advanced their craft would be an understatement.
The Dragon King brand does not represent a company that just manufactures products but embodies a group of artisans who have been adeptly trained to duplicate ancient skillsets that can't be automated by machines on an assembly line. Not every blade that is forged becomes a sword. Not every casting that is poured becomes a component of a greater piece. The goal for improvement and innovation starts every day under Frenchie's guidance.
Not confining their talents to sword making alone, the Dragon King team plies their abilities also to the production of knives, jewelry and other high end art-crafts. And not just in steel alone, these artisans craft wood and leather among many other materials and alloys. Our journey together has only begun, but the fruits of that labor are coming to bear.
How to Use
Designed as a frequent use backyard cutter, high end display or dojo sword.
Overall: 41 3/4" Blade Length: 28 1/2" Handle Length: 12" Weight: 2 lbs 11 oz Sori: 1/2"
Materials and Construction
T10 Tool Steel, Differentially Hardened Blade With Real Hamon. Silver Habaki and Seppa. Brown Cotton ito over authentic rayskin with silver menuki. Steel fittings. Red Glossy saya with buffalo horn rimmed koiguchi (scabbard mouth), wood kurikata and hard wearing brown and gold sageo. Traditional Construction with Exceptional Attention to Detail.
Shipping only the newest stock direct from the manufacturers warehouse in Tennessee within 1-2 business days. $20 Flat Rate Shipping for 1-2 Swords or FREE if 3 or more swords ordered at the same time. International shipping currently unavailable due to the length Shipping only the newest stock direct from the manufacturers warehouse in Tennesse within 1-2 business days. $20 Flat Rate Shipping for 1-2 Swords or FREE if 3 or more swords ordered at the same time. International shipping currently unavailable Sorry, US orders only (
click here
for the workaround).
Click here for more shipping information
Warranty Info
Each sword is guaranteed to be as described and 100% genuine product. Each sword is also covered by in full by the Manufacturers Warranty PLUS our extended LIFETIME Warranty against blade breakage.
Click here for detailed warranty information
Return Policy
Satisfaction Guaranteed.
We proudly stand behind every product we sell. If you are not pleased with your purchase you can return it to us within 30 days of purchase in
original, unused condition
for a full refund minus shipping and 10% restock fee.
Click here for more info on our guarantees
Featured positive reviews:
A katana truly fit for a ruler!
02/25/2018
I've been on the look for a new katana for awhile, and nothing really in particular caught my eye. Browsing through the catalog of what SBG offered, I knew my next sword would be a Dragon King, but the question was, "which one?". After seeing the Dragon King Tenka Fubu Katana on sale at a amazing price, I knew I had to purchase it right away.

As always, SBG has quick shipping and since I was relativity close to the warehouse, I received the Tenka Fubu within the same I week I placed the order.

When I first unpacked the katana, the main thing that stood out was the bright red saya. The red lacquered saya really draws the eye to the sword. Besides the saya, the tsuba is beautifully cast with a helmet theme. The fine details in every crevice is a piece of art in itself. At first I thought the tsuka would be more like an axe handle but my impression was completely wrong. It appears bulky at first sight, but in the hand it is thinner and fits very well. Compared to the tsuka of my other katana, the Hanwei Bamboo Mat Cutter, the Tenka Fubu is comfortable for both small and big sized hands. In addition, the ito is wrapped very tight. Trying to move it requires a lot of effort and force.

The blade is a differentially hardened T10 with a very pronounced hamon. The blade itself is pretty big and it sharp right out of the box. It is decently sized with some weight requiring some effort to control the katana. In my first use with the sword, I thought it felt big and heavy. However, after getting used to it for a while, I felt myself more in control of it. Dragon King really knows how to balance their swords well; the Tenka Fubu didn't feel tip heavy and after some use it was easy to control my starts and stops with ease.

My overall impression of the Dragon King Tenka Fubu Katana is very positive. I highly recommend it to anyone looking for a katana that can truly perform as well as looking amazing. I know that my future purchases will be from Dragon King's lineup.