Scorpion Swords Sword of Hakai

Be the first one to write a review
Made to Order - FREE Customization Options!
Ultra Durable, fully functional Tactical Chopper! Individually Hand Made by Chris Palmer in the USA. Please allow 6-8 weeks for production and delivery.
'Hakai' is Japanese for 'destruction' and is an apt name for such a fierce and almost indestructible sword that will devastate anything that gets in its way..
With a long Katana length 13" Handle and thick, meaty 18" blade - it is a chopping, slicing, and stabbing machine that can be used in a myriad of different ways. Grasp it with two hands for maximum close in chopping power or hold it near the base by one hand for extra reach, the more you train with this sword, the more unique techniques of wielding it you will discover..
Definitely not a sword for the faint of heart..!!
The blade itself is made from 1095 carbon steel, which when combined with Chris's superior heat treatment process results in an EXTREMELY DURABLE and almost indestructible sword. The blade is heated to approximately 1500 degrees, until it becomes non magnetic and then quenched in oil. The 2nd step is Heat Tempering, which consists of heating the steel to 500 degrees for 2 hours, and letting it air cool. This makes for a Rockwell Hardness of approximately 59.
Truly FULL tang, the Black Linen Mircarta wood handle is affixed in place with hidden pins and gorilla glue resulting in the strongest handle construction possible. Combined with the tough blade and you have a sword with no weak points that maximizes its durability.
Unlike most other swords at this price point, Scorpion Swords are individually hand made by Chris Palmer at his workshop in Missouri. All orders are handmade in our shop as orders are received. They are NOT Factory Made! High order volume makes it difficult to keep any of their weapons in stock, so please allow 6-8 weeks for completion and delivery.
CUSTOMIZE IT!
Want to change the appearance of this sword? No problem!
As they are made to order, we can offer you several custom choices - all at no additional cost.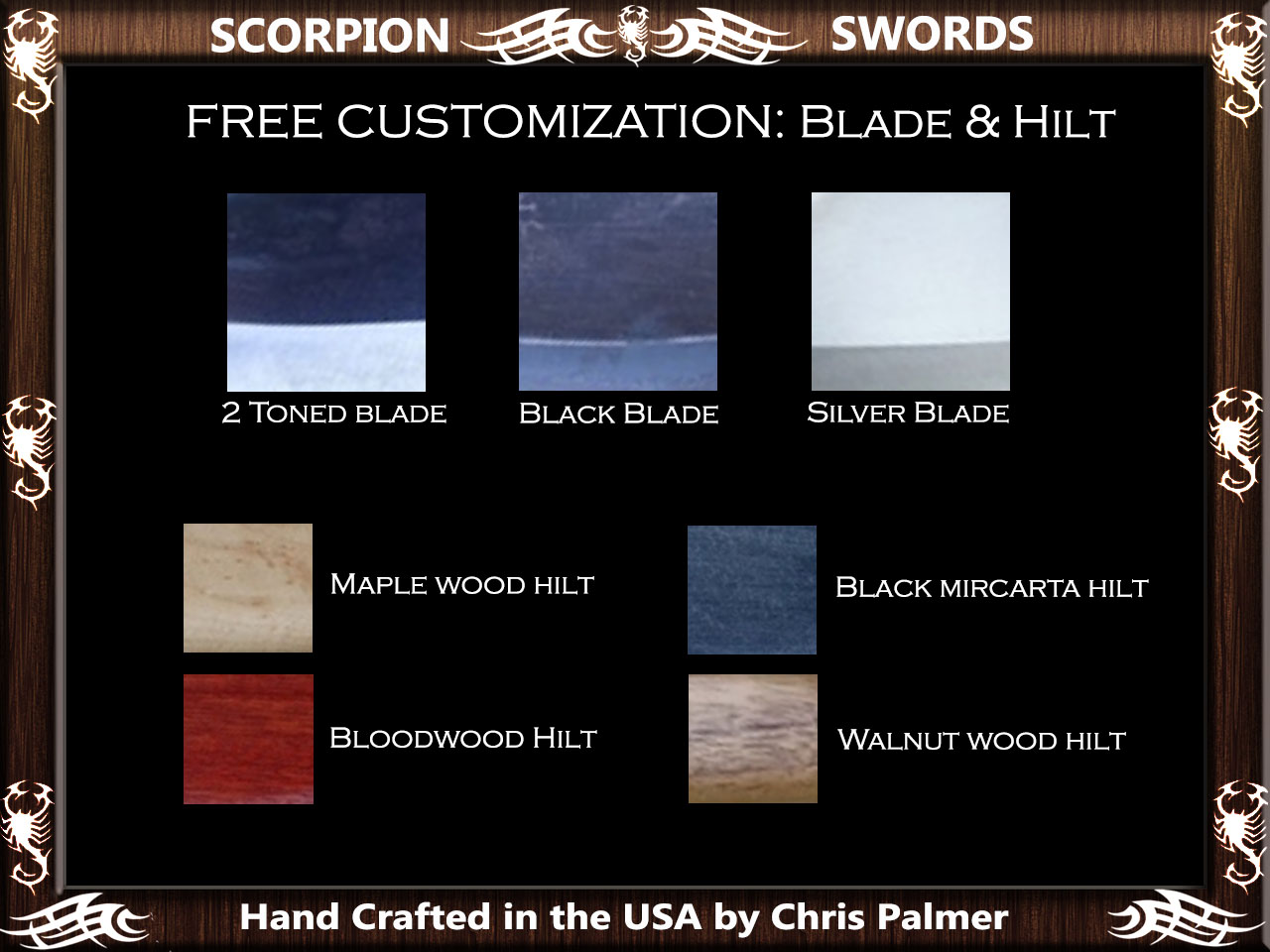 BLADE EDGE
Sharpened - all blades come sharpened by default
Unsharpened - if you want it as a training blunt or for safe(er) display
BLADE COLOR
Select from three blade styles:
2 Toned - Black body with silver steel edge for a two toned contrast
Black Blade - All Black, though the sharpened edges will have a sliver of the original steel showing
Silver Blade - Original steel finish, plain and simple
HANDLE COLOR & WOOD TYPE
Choose the wood for the handle:
Maple Wood Hilt - beige colored for a light white/bone colored look
Bloodwood Hilt - rich deep red
Black Mircarta Hilt - Black Linen Mircarta for that classic black wood style
Walnut - Classic brown with the wood grain pattern
Other customizations include:
Add a lanyard hole - add a hole at the base of the handle to attach a lanyard (lanyard not included)
Optional upgrade - leather sheathe (the only custom option that is not free)
How to Use
Designed for frequent abusive cutting.
Total Length = 32", Blade Length = 18 ¾", Blade Width = 2", Blade Thickness = 3/16", Handle Length = 13 ¼", Weight = 3.4lbs
Materials and Construction
Hand made in the USA from 1095 Spring Steel. Superior Heat treat process. Black Linen Mircarta wood full tang handle by default - custom options available. Leather Sheathe (optional upgrade).
$15 shipping anywhere in the Continental USA from the Scorpion Swords Workshop in Springfield, Missouri. $30 Shipping to Canada, $60 to anywhere else in the world. Made to Order, please allow 6-8 weeks for completion and delivery.
Warranty Info
Each sword is guaranteed to be as described and 100% genuine product. Each sword is also covered by in full by the Manufacturers Warranty PLUS our extended LIFETIME Warranty against blade breakage.
Click here for detailed warranty information
Return Policy
Satisfaction Guaranteed.
We proudly stand behind every product we sell. If you are not absolutely pleased with your purchase you can return it to us within 30 days of purchase in original condition for your choice of an exchange or refund (excluding shipping fees).
Click here for more info on our guarantees