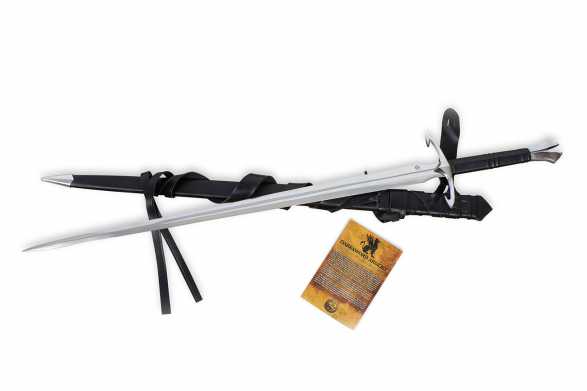 Darksword 1372 - the Black Death Gothic Sword (sharpened)
(1)
MADE TO ORDER

FREE SHIPPING IN CANADA AND THE USA!
Fully functional fantasy longsword based on an Oakeshott Type XVIIIa. Made to order, typically ships in 6-8 weeks.
The Black Death Gothic Sword was inspired by a journey through the Paris catacombs by Darksword Armory founder Eyal Azerad in April 2013. A classical 15th Century type XVIIIa longsword blade has been paired with inspirational guard and pommel to create a unique concept piece. The guard and pommel have been given a dark, almost sinister appearance to fit in with the overall theme of sorrow and death.
The Black Death Gothic Sword is an exceptional take on the Gothic-era swords, and would fit as a historically-inspired collector's piece or as a weapon for cosplaying someone from Gothic-inspired fiction, such as a vampire hunter. In either case, we hope this sword will communicate the sense of fleeting mortality that inspired it.
Unlike Darksword blades we sold in the past, the sword is automatically also given a thorough sharpening until it is paper cutting sharp (normally costing an extra $35) and is also shipped FREE in North America - giving you the very best deal possible.
This sword comes with a wood core scabbard as standard with the option to upgrade it to include a premium quality sword belt with suspension system - allowing it to be worn or for an extra flourish when not in use hung on the wall (see below for a comparison).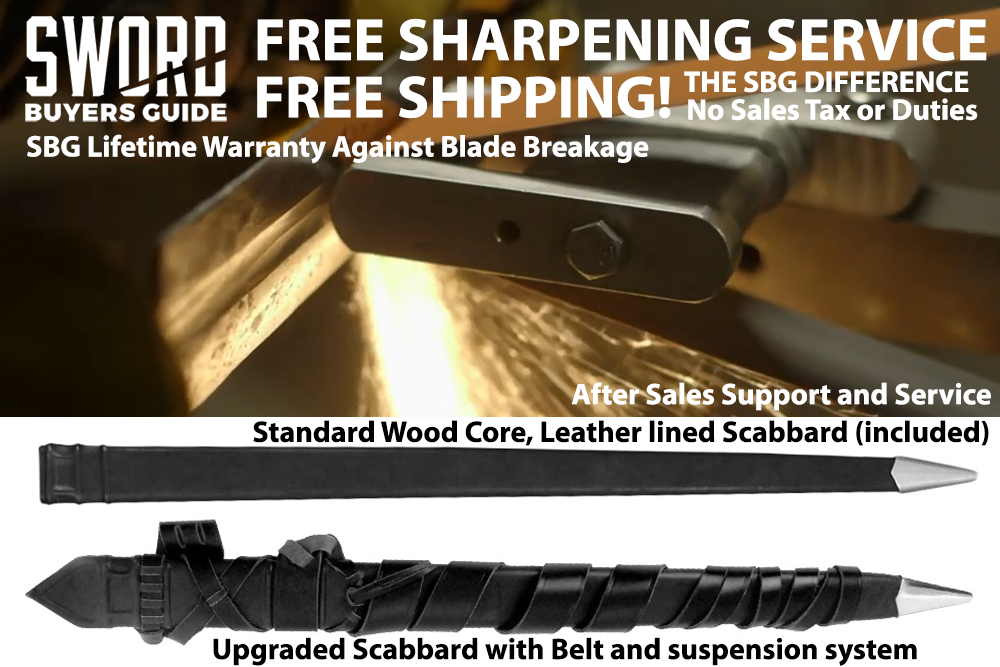 How to Use
Sharpened and Battle Ready - suitable for heavy duty backyard cutting and display.
Blade Length: 39" Handle Length: 12" Weight: 3lbs 15oz
Materials and Construction
5160 Hand Sharpened Spring Steel Blade, Dual Tempered with an edge HRC of 60 and core HRC of 50. Mild Steel Fittings. Wood core leather wrapped handle and scabbard with optional upgrade to wearable belt and suspension system.
IMPORTANT NOTE: Made to order, typically ships in 6-8 weeks
FREE SHIPPING to the USA and Canada from Manufacturers warehouse in Quebec, Canada via Fed Ex. We apologize for the inconvenience, but due to the extreme shipping costs Darksword Armory swords can no longer be shipped outside of North America (USA and Canadian Orders only).
Warranty Info
Each sword is guaranteed to be as described and 100% genuine product. Each sword is also covered by in full by the Manufacturers Warranty PLUS our extended LIFETIME Warranty against blade breakage.
Click here for detailed warranty information
Return Policy
<
Satisfaction Guaranteed.
We proudly stand behind every product we sell. If you are not pleased with your purchase you can return it to us within 30 days of purchase in
original, unused condition
for a full refund minus shipping and 10% restock fee.
Click here for more info on our guarantees
Featured positive reviews:
Very Nice!
05/22/2020
This is a very nice piece.

The shape of the guard and ricasso allow one to comfortably index the blade, for better edge alignment as a beginner. The grip itself is slightly blocky, but I don't mind this - I feel it could only possibly be an issue of one has rather small hands, in which case one might be better off buying a smaller sword anyway.

The sharpening from SBG is top notch; it was well worth the extra bit of time.
The construction and edge have held up to cutting. Despite thinner blades not being ideal for cutting, I've had no issues. You wouldn't want to chop trees with it, but that's for the YouTube reviewers, not normal sword collectors!
I actually slipped and hit my stand at one point, but the edge didn't roll or anything - the blade sustained no damage from my accidentally shaving a slice of wood off of the stand.

I would also like to give a shout out to SGB Store Customer Service. They are very helpful and responsive, even now(May 2020), despite the ongoing pandemic. Thank you :)

I fully recommend others purchase the Black Death Sword. It would make a wonderful and high quality addition to any collection.
I'll be back for other pieces in the future, too!