Darksword 1310 - The Ranger Sword (sharpened)

Be the first one to write a review
IN STOCK

FREE SHIPPING IN CANADA AND THE USA!
Fully functional replica of Striders Ranger sword from J.R.R. Tolkien's Lord of The Rings
Based on the sword of Strider the Ranger from the Lord of the Rings, this faithful battle ready recreation of that famous sword is an extremely popular item and one of their best selling swords.
The Ranger sword is a hefty inspirational two handed sword. The broad, sharpened blade delivers lethal powerful blows aided by its weight. At 5lbs it is by far the heaviest sword in the Darksword line up, though much of the additional weight comes from the solid crossguard and pommel, shifting the balance back towards the hand and making it feel lighter than it actually is so that despite its weight, the sword is well balanced, responsive and rugged.
In a nutshell, the Ranger Sword is reliable and virtually indestructible.
Unlike Darksword blades we sold in the past, the sword is automatically also given a thorough sharpening until it is paper cutting sharp (normally costing an extra $35) and is also shipped FREE in North America - giving you the very best deal possible.
This sword comes with a wood core scabbard as standard with the option to upgrade it to include a premium quality sword belt with suspension system - allowing it to be worn or for an extra flourish when not in use hung on the wall (see below for a comparison).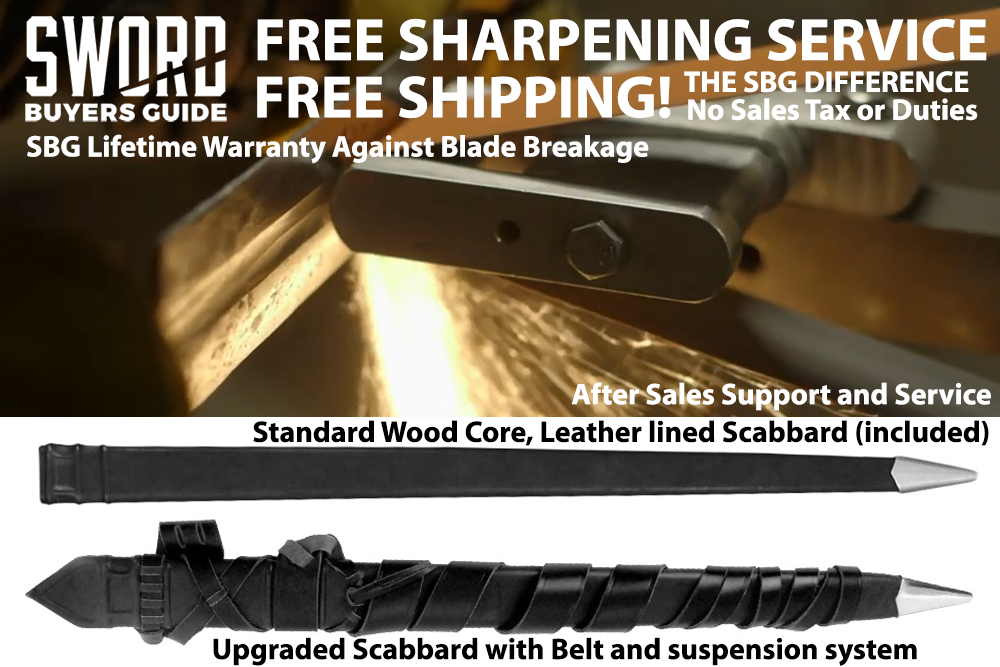 How to Use
Sharpened and Battle Ready - suitable for heavy duty backyard cutting and display.
Blade Length: 36" Handle Length: 6.75" Point of Balance: 2.5" from crossguard Weight: 4lbs 11oz
Materials and Construction
5160 Hand Sharpened Spring Steel Blade, Dual Tempered with an edge HRC of 60 and core HRC of 50. Mild Steel Fittings. Wood core leather wrapped handle and scabbard with wearable belt and scabbard suspension system.
IMPORTANT NOTE: A recent increase in orders has resulted in wait times of 3-4 weeks to process and ship new orders on top of standard processing time.
FREE SHIPPING to the USA and Canada from Manufacturers warehouse in Quebec, Canada via Fed Ex. Please allow up to a week for sharpening and shipping. We apologize for the inconvenience, but due to the extreme shipping costs Darksword Armory swords can no longer be shipped to non USA or Canadian addresses.
Warranty Info
Each sword is guaranteed to be as described and 100% genuine product. Each sword is also covered by in full by the Manufacturers Warranty PLUS our extended LIFETIME Warranty against blade breakage.
Click here for detailed warranty information
Return Policy
Satisfaction Guaranteed.
We proudly stand behind every product we sell. If you are not absolutely pleased with your purchase you can return it to us within 30 days of purchase in original condition for your choice of an exchange or refund (excluding shipping fees).
Click here for more info on our guarantees