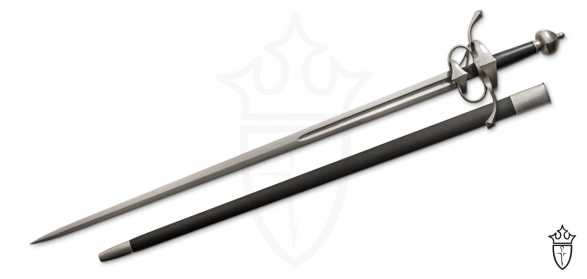 Kingston Arms Renaissance Side Sword
(3)
SOLD OUT

16th - 17th Century 5160 Spring Steel Side Sword. Fully Functional Replica of an Original German Design. MSRP $379.00
The Side Sword was a military sword of the 16th and 17th century Renaissance period that also achieved popularity among civilians, due to its relatively light weight and quickness. Historically, it was an evolved Arming Sword from the medieval period, and a precursor to the Rapier, though it continued to be popular and was not superseded by the Rapier for some considerable time. It also had an advantage over the rapier, in having the ability to cut efficiently as well as thrust and could be used on a mix of armored and unarmored opponents that was prevalent during this tumultuous era. Based on an original German sword of this type, this sword is well balanced an feels exceptional in the hand. The "swept" hilt affords excellent hand protection and the blade geometry makes for outstanding performance in both the cut and the thrust.
ABOUT KINGSTON ARMS
From the battlefields of Crecy to the theater of Shakespeare and beyond, you will find no finer swords crafted for the practitioners and aficionados of the European Sword. Our sharp swords are made to period accurate specifications from pommel to tip and all in between. Re-enactment, Stage Combat and HEMA Sparring Swords though are our specialty! Featuring innovations such as the King-Peen system and tough through-hardened spring steel blades these swords last years of use under the most demanding conditions.
How to Use
Suitable for backyard cutting and/or as a display piece. Premium Quality.
Overall: 41" Blade Length: 33" Handle Length: 5 1/2" Weight: 2lb 11oz Point of Balance: 3 1/2" Thickness at Guard: 5.5mm Thickness at Tip: 2.5mm
Materials and Construction
5160 Spring Steel Sharpened Blade. Leather grip with stainless steel pommel and guard. leather-wrapped wooden scabbard and stainless chape.
Shipping only the newest stock direct from the manufacturers warehouse in Tennessee within 1-2 business days. $20 Flat Rate Shipping for 1-2 Swords or FREE if 3 or more swords ordered at the same time. International shipping currently unavailable due to the length Shipping only the newest stock direct from the manufacturers warehouse in Tennesse within 1-2 business days. $20 Flat Rate Shipping for 1-2 Swords or FREE if 3 or more swords ordered at the same time. International shipping currently unavailable Sorry, US orders only (
click here
for the workaround).
Click here for more shipping information
Warranty Info
Each sword is guaranteed to be as described and 100% genuine product. Each sword is also covered by in full by the Manufacturers Warranty PLUS our extended LIFETIME Warranty against blade breakage.
Click here for detailed warranty information
Return Policy
Satisfaction Guaranteed.
We proudly stand behind every product we sell. If you are not pleased with your purchase you can return it to us within 30 days of purchase in
original, unused condition
for a full refund minus shipping and 10% restock fee.
Click here for more info on our guarantees
Featured positive reviews:
Great side sword
12/02/2020
I haven't found many production side swords available, especially in the budget range. There's plenty of late Medieval longswords and early Renaissance rapiers, but not a whole lot of side swords, which is a shame because they're kind of a blend between the cut and thrust versatility of Medieval swords and the near exclusive thrust focus of the rapier.

Historical Overview
As armor technology developed and made fully armored men at arms more and more impervious to cuts, sword shapes started evolving into thrust-focused shapes, such as the Oakeshott Type XV and XVI (though that's not to say there weren't thrust focused sword profiles before the late Medieval period). The side sword is kind of a pit stop on the way from Medieval swords to the classic Renaissance rapier. They grew popular in the late 16th century, and even when the rapier became popular, side swords were still used regularly.

A side sword was often a civilian's weapon - swords in general saw limited use on battlefields except as backup weapons. Side swords are relatively easy to carry about with you, especially compared to the length of most longswords and rapiers. Since a typical civilian would not be wearing armor (or at most, a gambeson), the complex guards of most side swords gave some very important protection for the wielder's hand.

Kingston Arms says their side sword is based off an original German sword, though I don't think they claim it is a replica or reproduction. I spent some time searching Google, but wasn't able to find the specific sword this is based on.


Statistics
Blade length: 32 15/16" (83.7 cm)
Blade width: at guard 1 1/2" (3.8 cm)
Blade width: near tip 9/16" (1.4 cm)
Fuller length: 11 1/2" (29.2 cm)
Fuller width: 1/2" (12.7 mm)
Fuller depth: 0.045" (1.1 mm)
Distal taper: 0.195" (4.95 mm) at guard. 0.162" (4.12 mm) at end of fuller. 0.139" (3.53 mm) 3/4 of the way up the blade. 0.095" (2.41 mm) near tip.
Ricasso length: 1 3/4" (4.45 cm)
PoB: 1 1/8" (2.9 cm)
Grip length: 3 3/4" (9.5 cm)
Pommel length: 2 3/16" (5.6 cm)
Overall length: 41 1/4" (104.8 cm)
Weight (blade only): 2.7 lbs (1.2 kg)
Weight (blade + scabbard): 3.2 lbs (1.45 kg)


Components
Blade
5160 Spring Steel. Factory sharpened.

This narrow blade has a short, shallow fuller that runs about 1/3 the length of the blade. The lines on the fuller wander a touch, but it's only noticeable if you look really closely. The diamond cross section gives it a good solid stiffness. There's a leather-covered ricasso that's behind some of the guard (pictures and more comments on it in the guard section). The forte of the blade is not sharp, but not particularly blunt either – it's a thicker edge that gradually gets thinner and sharper, eventually becoming sharp after several inches.

The edge of the blade overall is at a good sharpness for a sword – sharp enough to cut, robust enough to not take damage easily. It struggles to make the first cut into paper, and when it does, it is a pretty rough cut, turning into tears as you use the edge near the tip.


Guard
Antiqued stainless steel.

This is a swept hilt guard. I absolutely love the design of this guard. It's complex yet fully functional, giving the wielder a lot of protection for their hand. The antiquing on the steel is a very nice touch and looks great.

The ricasso is covered by a piece of leather that doesn't fit on the blade at all. It's loose and is extremely poorly fitted. This is actually a big flaw in this blade, because I can't oil that portion of the blade, but it' still basically exposed to the elements. With time, the ricasso would rust, weakening one of the most crucial parts of the blade. This leather wrap is a sin to the blade, and after taking the pictures of the sword, I cut the leather off, revealing a large glob of epoxy that I assume was supposed to hold the leather in place. The ricasso itself looks fine, although the grinding and polishing are much less refined than the rest of the blade.


Grip
Wood core, leather wrap.

Luckily, the leather wrap on the guard is much better done than that of the ricasso. The leather feels great in the hand, although for me, the oval-shaped grip's diameter could have been beefed up a touch – it feels a little small in my (average-sized) hands. The seam on the leather is nearly non-existent.


Pommel
Antiqued stainless steel.

The pommel is rather large and heavy, and looks great. It's secured by a thread and epoxy, and feels very tightly fitted.


Scabbard
Fiberglass core, leather wrap.

I am not a fan of the fiberglass core of this scabbard. It looks weird, and feels even weirder when drawing or sheathing the blade. I'm always afraid the sword is going to bite right into the core if I don't align the blade perfectly. I also don't know how the fiberglass will react to the mineral oil I use on my swords.

The leather feels good, though, and the stitching on the back is well done. The fit of the blade to the scabbard is a little too tight – it takes a decent amount of force to draw the blade, and a bit of extra oomph to get it all the way back in.

There's antiqued stainless steel chape and collar that both add to the overall look of the scabbard.


Handling Characteristics
The point of balance being so close to the guard means this sword handles very easily. It's not a light sword, but it moves well because so much of the weight is in the complex guard and large pommel. Being able to hold the ricasso with the index finger gives a lot of tip control.


Test Cutting
One of the downsides to the point of balance is that the blade loses some cutting ability. Make no mistake, this sword can definitely cut, but it requires good edge alignment and proper form. I was able to cut water bottles with ease, although I wasn't really able to get any good clean cuts. I am a novice when it comes to cutting, however.

When thrusting, this sword is a dream. It punctures with no resistance whatsoever. I tested it on a 3 liter soda bottle filled with water, and I never felt like I was actually hitting anything – the sword just passed through both walls of the bottle like it wasn't there. The thrusts were thin and precise enough that water didn't even leak out of the bottle much - I was able to reposition myself after each thrust. I ended up with about 5 or 6 thrusts before the bottle was leaking too much to be of further use.


Conclusions
This is an extremely solid side sword for a very affordable price. The one major flaw is the terrible leather wrap on the ricasso. The super easy fix of cutting away that leather (which actually improves the look of the sword in my opinion) removes that complaint.


Pros
- Thrusts like a champ.
- Light, flexible, and handles very nicely.
- Beautiful furnishings.

Cons
- The leather wrap on the ricasso is an abomination that could cause the sword to rust.
- The sharpness of the edge is a little uneven.
- Scabbard has a fiberglass core, rather than wood.


The Bottom Line
If you're interested in a budget side sword, there's not a lot of options out there, but this is a great option. The price is very reasonable for what you get.