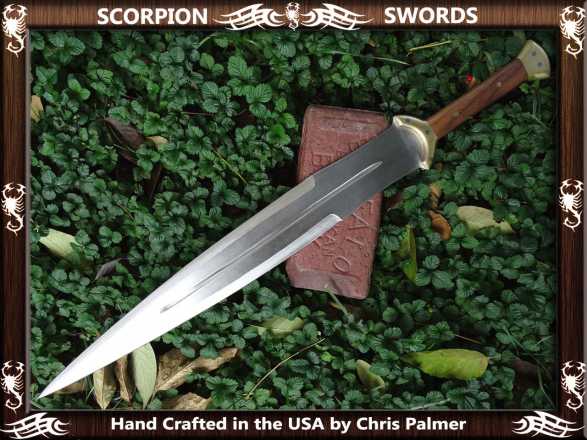 Scorpion Swords Fantasy Celtic Sword
(1)
DISCONTINUED

Ultra Durable, fully functional battle ready Fantasy leaf blade sword. Individually Hand Made by Chris Palmer in the USA. Please allow 6-8 weeks for production and delivery.
An original design with the same wide and punishing blade as the Achilles Sword but with a much more attractive handle with solid brass fittings that put an additional six ounces of weight at the rear of the sword, giving it much faster and more agile handling and also evoking the ancient swords of the early Celts (for the hilt is a variation of the limited edition 'Celtic Pride' sword by Scorpion Swords).
The blade itself is made from 1095 carbon steel, which when combined with Chris's superior heat treatment process results in an EXTREMELY DURABLE and almost indestructible sword. The blade is heated to approximately 1500 degrees, until it becomes non magnetic and then quenched in brine (salt water). The 2nd step is Heat Tempering, which consists of heating the steel to 500 degrees for 2 hours, and letting it air cool. This makes for a Rockwell Hardness of approximately 57.
Truly FULL tang, the Walnut wood handle is affixed in place with pins and gorilla glue resulting in the strongest handle construction possible. Combined with the tough blade and you have a sword with no weak points that maximizes its durability.
Unlike most other swords at this price point, Scorpion Swords are individually hand made by Chris Palmer at his workshop in Missouri. All orders are handmade in our shop as orders are received. They are NOT Factory Made! High order volume makes it difficult to keep any of their weapons in stock, so please allow 6-8 weeks for completion and delivery.
DESIGNED BY: SBG Forum Member 'Klarson' in conjunction with SBG and Scorpion Swords.

Originally called the 'Aelutian Gladius' click here to see how the prototype was made on our sister site Legendary Swords
How to Use
Designed for frequent abusive cutting.
Blade Length: 20" Blade Width: 2 1/2" Handle Length: 7" Handle Width: 1" Weight: 2.9lbs Point of Balance: 2.5" from guard
Materials and Construction
Hand made in the USA from 1095 Spring Steel. Superior Heat treat process. Walnut wood full tang handle with brass fittings. Leather Sheathe (optional upgrade).
$20 shipping anywhere in the Continental USA from the Scorpion Swords Workshop in Springfield, Missouri. $60 to selected international destinations by USPS. Made to Order, please allow at least 6-8 weeks for completion and delivery.
Warranty Info
Each sword is guaranteed to be as described and 100% genuine product. Each sword is also covered by in full by the Manufacturers Warranty PLUS our extended LIFETIME Warranty against blade breakage.
Click here for detailed warranty information
Return Policy
Satisfaction Guaranteed.
We proudly stand behind every product we sell. If you are not pleased with your purchase you can return it to us within 30 days of purchase in
original, unused condition
for a full refund minus shipping and 10% restock fee.
Click here for more info on our guarantees
Featured positive reviews:
Business is good.
10/26/2019
Business is so good in fact that I think we all are working poor Chris into the ground a bit much of late. I am only mentioning this because of the tool I have recieved from him, while still VERY functional and has a great heft and feel while gripped is not entirely symetrical.
The guard on only one half of one side is about 3/16 off the level as compared to being flush on the opposite side. Only one side is symmetrically tooled as well. Looking as if he disengaged the machine used to form the blade edge itself a little too early as compared to the opposite side.
You can notice easily by observing the pommel that it is a little off kilter. But, so am I. It also has spaces you could fit the end of a toothpick into between the wood and goldish metal attached to the tang. Nothing a little beeswax won't fix. It wasn't even fully polished on either side because I could still see the discoloration from the tempering process performed upon it! Some elbow grease and thousand grit will fix that easy too.
All in all it is a very fine tool that I am very pleased to have a grip on as it is absolutely the best blade that I currently own. A little hard to clean as well if you don't wipe it down immediately after use. Ichor tends to stay inside of the tool marks for cutting the edge into the blade if not immediately cleaned after use.
Fingerprints are a big no no with it as well obviously, but it's weight just feels so good in the hands! Holds that edge like a champion too! Even after hacking up some knotty plum tree wood! Only four stars because our demand has lowered the excellence of his craft by putting a time constraint on his fine works of art. If he had more time, I'm sure it would've easily earned him the five stars that Chris would otherwise be getting barring our constant demands for his work. This sword while not perfect is totally and absolutely worth every penny! Thank you Scorpion Swords! And thank you most of all Chris! Your work is the real deal and more. Do you even know what a video game is anymore guy? Again, TOTALLY WORTH IT!! Thank you bunches folks!
Our response
Great and honest review there Simon. It's true that Chris is working around the clock to get the swords made and that the swords are not 'machine made perfect' as they are indeed hand crafted. But for the price, the durability and the fact that they are hand made in the USA by a small family business - you will get your money's worth. As long as you know what to expect. Great review.