Scorpion Swords the Goblin King

Be the first one to write a review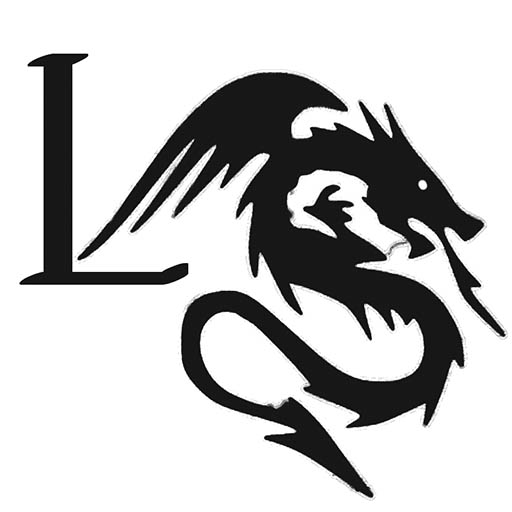 Made to Order - FREE Customization Options!

Ultra Durable, fully functional Fantasy Sword from the Legendary Swords Project. Individually Hand Made by Chris Palmer in the USA. Please allow 6-8 weeks for production and delivery.
From the Legendary Swords Project
This original Fantasy Sword was designed by a member of the SBG community as part of the official SBG Fantasy Sword Design competition and brought to life in steel by Chris Palmer from Scorpion Swords LLC.
The original design was inspired by the deadly lines of a shark, but adapted for the purposes of the Fantasy narrative we have been creating by re-purposing it as a Goblin sword.
In the Fantasy world of Eletreus, Goblins are not 'cannon fodder' mindless fighters but rather sneaky, naturally magical 'bad faeries' or 'nature spirits gone wrong', drawing their powers from the Darker aspects of the fickle moon Goddess, Danu. Their swords are forged from a unique, and highly toxic, steel known simply as 'Goblin Steel' which is both incredibly strong, lightweight and naturally poisonous. Just a nick from one of these blades causes immediate disorientation and dizziness, and if left untreated, fever, coma and death within 1-6 hours after being injured - though Goblins themselves are immune to this poisionous effect.
But while at first glance this Goblin sword looks the same as any other Goblin blade, and is designed to be used with two hands by these viscous, diminutive hooded and cowled sprites, the moon glyphs bound to it tell a different story.
For far away in a forgotten place known now only as 'Shamble Island' off the coast of the enchanted lands of Tuath De and far away from the prying eyes of the all powerful Faerie Queen, this sword is in the hands of a mysterious new leader - the self proclaimed 'King of all Goblins' who has never been seen by human eyes, but whose name is starting to spread terrible rumor - King Grumblemeyer of Cathalain.
Exactly who or what King Grumblemeyer is, is not known. Goblins are notoriously elusive, and prone to lying and exaggeration when captured, and reports on this King, who has only risen to prominence in the last 4 years - are sketchy at best. But all the reports have a common thread, this new King is beloved of the Dark side of the Moon Goddess, promises Goblinkind domination over Tuath De and may even be powerful enough to overthrow the Faerie Queen herself.
While Goblins all carry one of these swords, it is for them largely a weapon of last resort, preferring to harass opponents with poisoned throwing knives, darts, slings and lead them into deadly traps when hard pressed – the swords come out – and a cornered Goblin will fight to the death with surprising tenacity, hacking at the knees, stabbing into the groin or hamstringing their foe with the barbs.
All Goblin swords have these qualities. But if you look closer, you will see the Goblin Kings sword has been further enchanted with powerful moon glyphs.
On one side the inscription reads: "Dark Warning Gibbous Moon Life Fear Sword" and the other "Blood Full Moon Power Energy Sword".
The first inscriptions enchantment binds to the sword a power that is activated on the nights of the Gibbous moon (either side of the full moon) on nights of the Waxing moon, the sword can be used to deliver a threatening nightmare (the 'dark warning') that will leave its victim uneasy, accident prone and unable to sleep until the night of the full moon..
On nights of the waning moon the 'life fear' power may be activated – and by simply brandishing the sword in the moonlight, anyone within sight whom the Goblin King desires will be overcome by a terrible, supernatural fear and – unless they can somehow steel themselves – will do all they can to run and scramble away from the bearer, and stay away, babbling incoherently, until the dawn finally breaks.
But the greatest power of the sword only occurs on the rare nights of the Blood Moon. When the moon turns red, so does the blade mirror the sinister crimson glow, and the sword becomes a beacon and a conductors rod to command the dark forces unleashed on the night of horror..
While these three powers are dependent on the state of the moon, there is one additional power that is present at all times..
Goblins, being deceptive and sneaky creatures, are very nimble and have excellent hand eye coordination. So it should come as no surprise that the 'throw and run' technique of swordsmanship is a goblin specialty – and they spend a considerable amount of time amusing themselves by throwing their two handed swords like an axe into tree stumps..
But the Goblin Kings sword is different – right at the hand guard are 5 marks on each side, and when fully charged, all glow with a faint white light. But when activated, the sword will disappear and return to the hand of its owner, allowing the Goblin King to retrieve his thrown sword the second after it hits its target..
Yet the effect does not end there, for when activated – it not only returns to the Goblin Kings hand – but SCREAMS through the air like a guided missile, traveling 3 times further and 3 times faster than a normal goblin sword, and – what is worse – the poisonous effects are also 3 times more potent..
All in all, a sword fitting for a (Goblin) King..
THE SWORD
Part of the Legendary Swords Project, this fully functional Fantasy Sword has been brought to life in our collaboration with Chris Palmer from Scorpion Swords and is exclusive to SBG.
The blade itself is made from 1095 carbon steel, which when combined with Chris's superior heat treatment process results in an EXTREMELY DURABLE and almost indestructible sword. The blade is heated to approximately 1500 degrees, until it becomes non magnetic and then quenched in oil. The 2nd step is Heat Tempering, which consists of heating the steel to 500 degrees for 2 hours, and letting it air cool. This makes for a Rockwell Hardness of approximately 59.
Truly FULL tang, the Red Oak wood handle is affixed in place with pins and gorilla glue resulting in the strongest handle construction possible. Combined with the tough blade and you have a sword with no weak points that maximizes its durability.
Unlike most other swords at this price point, Scorpion Swords are individually hand made by Chris Palmer at his workshop in Missouri. All orders are handmade in our shop as orders are received. They are NOT Factory Made! High order volume makes it difficult to keep any of their weapons in stock, so please allow 6-8 weeks for completion and delivery.
DESIGNED BY: SBG Forum Member 'Croccifixio'
CUSTOMIZE IT!
Want to change the appearance of this sword? No problem!
As they are made to order, we can offer you several custom choices - all at no additional cost.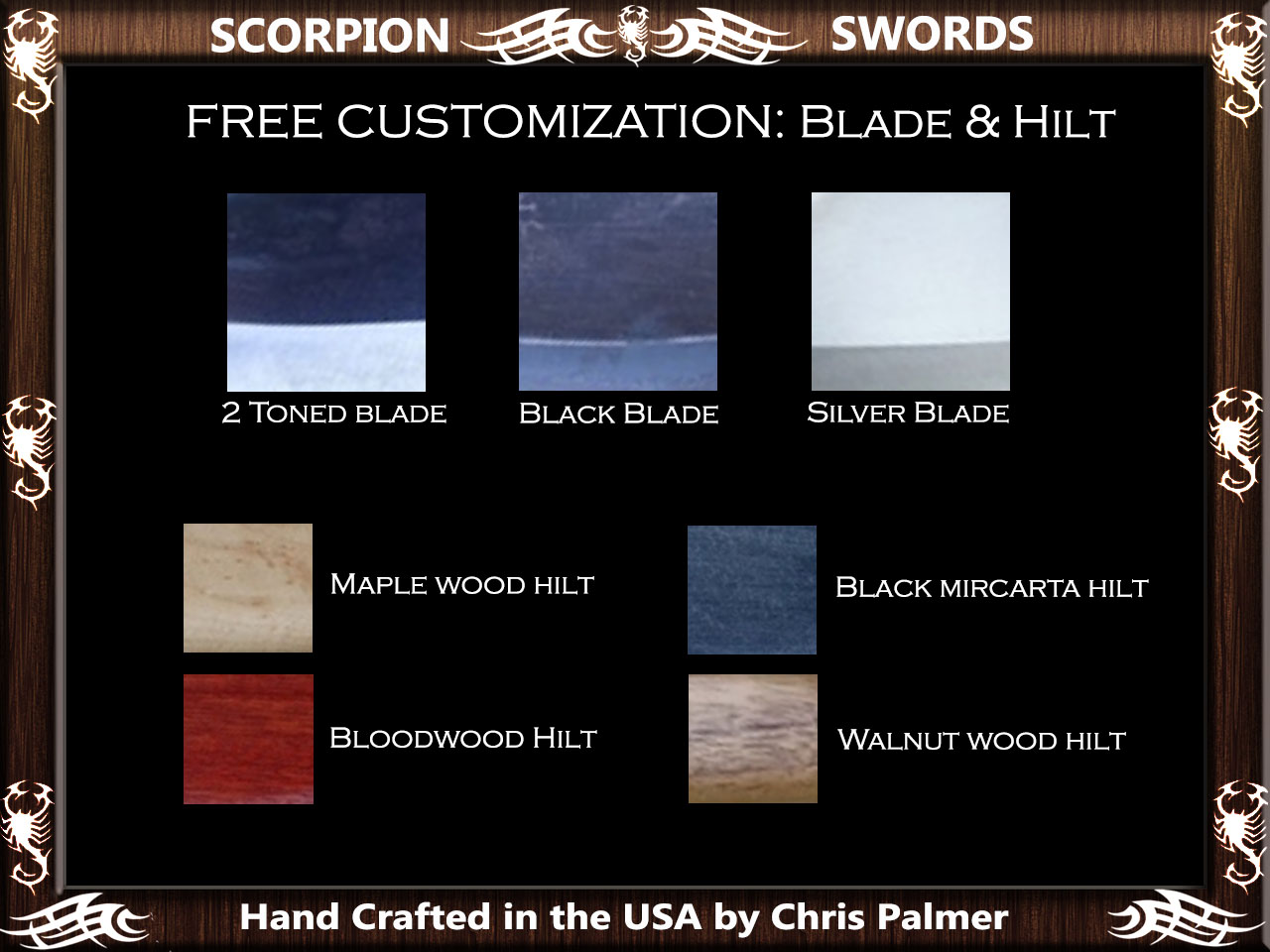 BLADE EDGE
Sharpened - all blades come sharpened by default
Unsharpened - if you want it as a training blunt or for safe(er) display
BLADE COLOR
Select from three blade styles:
2 Toned - Black body with silver steel edge for a two toned contrast
Black Blade - All Black, though the sharpened edges will have a sliver of the original steel showing
Silver Blade - Original steel finish, plain and simple
HANDLE COLOR & WOOD TYPE
Choose the wood for the handle:
Maple Wood Hilt - beige colored for a light white/bone colored look
Bloodwood Hilt - rich deep red
Black Mircarta Hilt - Black Linen Mircarta for that classic black wood style
Walnut - Classic brown with the wood grain pattern
Other customizations include:
Add a lanyard hole - add a hole at the base of the handle to attach a lanyard (lanyard not included)
Optional upgrade - leather sheathe (the only custom option that is not free)
How to Use
Designed for frequent abusive cutting.
Blade Length: 22.25" Blade Width: 2 1/2" Handle Length: 10.25" Handle Width: 1 1/8" Weight: 2.9lbs Point of Balance: 6" from guard
Materials and Construction
Hand made in the USA from blued 1095 Spring Steel. Superior Heat treat process. Painted red oak wood full tang handle by default - custom options available. Leather Sheathe (optional upgrade).
$15 shipping anywhere in the Continental USA from the Scorpion Swords Workshop in Springfield, Missouri. $30 Shipping to Canada, $60 to anywhere else in the world. Made to Order, please allow 6-8 weeks for completion and delivery.
Warranty Info
Each sword is guaranteed to be as described and 100% genuine product. Each sword is also covered by in full by the Manufacturers Warranty PLUS our extended LIFETIME Warranty against blade breakage.
Click here for detailed warranty information
Return Policy
Satisfaction Guaranteed.
We proudly stand behind every product we sell. If you are not absolutely pleased with your purchase you can return it to us within 30 days of purchase in original condition for your choice of an exchange or refund (excluding shipping fees).
Click here for more info on our guarantees