Ryujin T10 Tool Steel Budget Gunto Katana
(5)
IN STOCK & ON SPECIAL

Ryujin T10 Tool Steel Differentially Hardened Blade in Historically Accurate WWII Type 98 'Gunto' Style Fittings. Actually looks and handles almost exactly the same as the originals, making it extremely popular with our customers. Includes Free display box and cleaning kit.

$

199.99
$329.99
You Save $130.00
A budget alternative to our high end Military Gunto Sword from Forge Direct - we take a solid bodied (no-hi) Ryujin T10 differentially hardened blade - mount it up in Gunto style WWII fittings, and make it available at a ridiculously low price of just $199.99..!
This version is based on the model 98 Shin Gunto that began production in 1938, distinguished by the traditionally constructed tsuka and single hanging point of the saya.
While not a perfect replica, it is much closer to many others being sold online (often for around the $450 mark for a T10 tool steel blade like this) and pays attention to many details - including the scabbard locking push button release mechanism, Japanese Imperial Army tsuba, colored steel scabbard and officers tassel (brown and blue, designating a company or warrant officer rank), all coming together to give it that Gunto look without breaking the budget.
Here is a comparison with a genuine type 98 Gunto whose scabbard has faded over the last 7 or 8 decades to a white powdery color: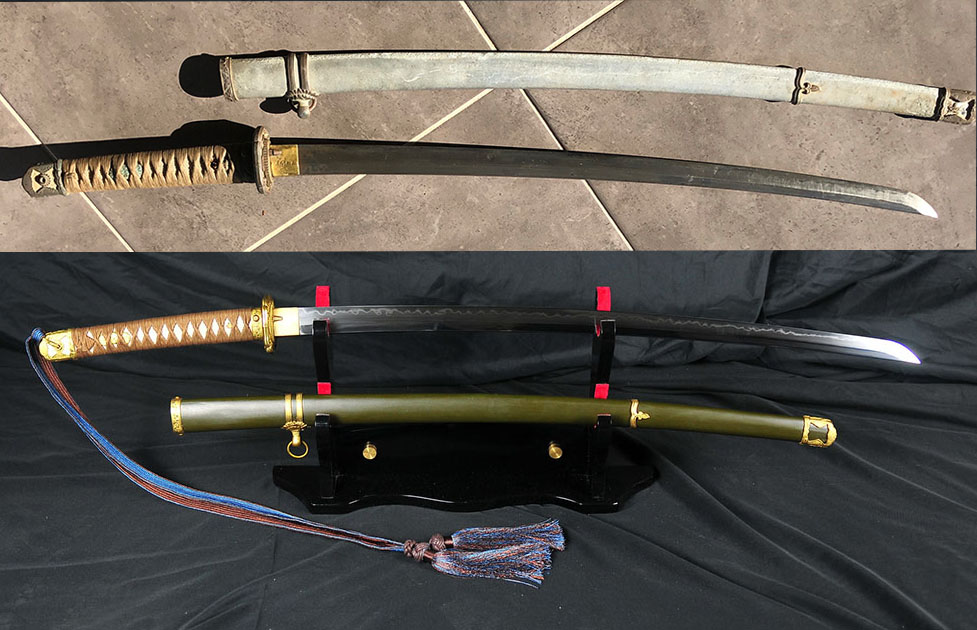 If you check out the product review tab, you will also see one of our customers had the opportunity to also compare its handling to an original Gunto and found that it's handling was identical..!
Simply amazing value and a unique addition to any Katana collectors inventory - comes with a display box and budget cleaning kit.
How to Use
Suitable for Backyard cutting and/or display.
Blade length: 27 1/2", Handle length: 9 3/4", Weight: 2.4 lbs, Point of balance (from point to bottom of handle ): 16"
Materials and Construction
T10 Tool Steel, Differentially Hardened and Sharpened Katana. Brown Cotton Ito over real rayskin. Brass fittings, dark green coated steel scabbard.
Shipped from the Ryujin workshop in Los Angeles within 2 business days. $20 flat rate USA shipping for up to 2 swords, FREE shipping if 3 or more swords ordered at the same time. International shipping via USPS, $30 to Canada per sword. $60 to selected international destinations by USPS.
Click here for more shipping information
Warranty Info
Each sword is guaranteed to be as described and 100% genuine product. Each sword is also covered by in full by the Manufacturers Warranty PLUS our extended LIFETIME Warranty against blade breakage.
Click here for detailed warranty information
Return Policy
Satisfaction Guaranteed.
We proudly stand behind every product we sell. If you are not absolutely pleased with your purchase you can return it to us within 30 days of purchase in original condition for your choice of an exchange or refund (excluding shipping fees).
Click here for more info on our guarantees
Featured positive reviews:
Gunto 98
05/30/2019
Sword came very well packaged in it's display box with sword bag and maintenance kit. The Hamon is very distinct and beautiful. the fittings while not top shelf are tight and attractive. the whole sword is tight the blade lock works very well. The certificate that comes from RYUJIN that details the sword is an added bonus. The steel saya is well done. The blade is sharp enough to cut thin store receipts. My father served in the Pacific during WWII and had a few stories about this type of sword that is the reason for this purchase. To say I am extremely pleased with this purchase is an under statement. I may not cut anything with it but I have as close as I can afford a real type 98 Gunto sword.