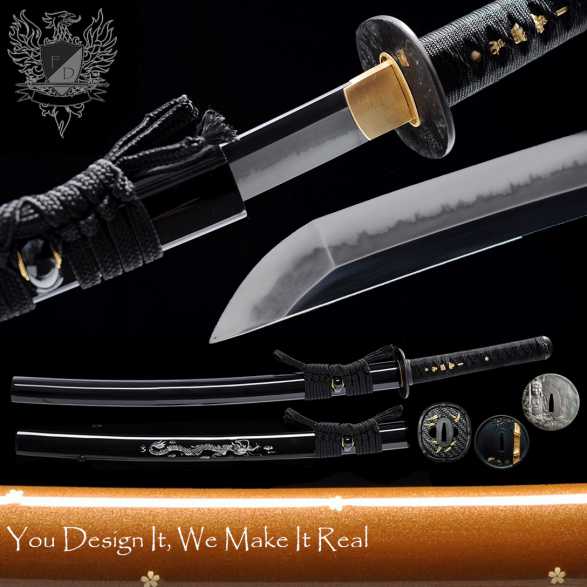 Forge Direct Elite T10 Custom Wakizashi/Ko Katana V4.0
(2)
MADE TO ORDER: 32% Discount!

FREE SHIPPING!
Master Smith Forged Custom Wakizashi or Ko Katana - can be paired with the Forge Direct Katana to create a Daisho (matching customization options available). Made to Order, Typically ships in 6-8 weeks. Premium Quality. MSRP $1,000.00
$

499.99
$729.99
You Save $230.00
Select Your Custom Design from the images above

(CLICK ON the THUMBNAILS FOR LARGER IMAGES OR VISIT THIS PAGE OF THE STORE BLOG FOR HUGE FULL RESOLUTION PICS)
Due to popular request from many of our delighted customers who ordered the Forge Direct Elite Custom Katana or O-Katana we have spent months behind the scenes wrangling to make it available - and now here it is: the Forge Direct Elite Custom Wakizashi/Ko Katana option, now in its fourth incarnation - version 4.0!
You can pair it up with matching or complimentary themed designs from other swords in the series to create your own traditional Samurai Daisho set. Or simply enjoy it on its own merit, with customziation options allowing you to even create a Ko-Katana (also known as an 'O-Wakizashi') as well, all for the same low price.
Amazing quality with outstanding cutting ability and dynamic handling characteristics, make it YOUR way today..
CREATING DAISHO SETS
The Daisho was the Samurai's distinctive pairing of Katana and Wakizashi worn at their side and was the exclusive privilege of the warrior classes (however Wakizashi or Ko Katana by themselves could be owned by anyone). The most traditional pairing, which became law in the early Edo period, was black saya with black ito wrap and white rayskin, however by the end of the Edo period the rules had been relaxed somewhat and while the Katana usually used this color combination, the Wakizashi was often different to contrast it, though may have had the same fittings and followed a subtle personalized theme.
MIXING AND MATCHING THE DAISHO SET SAYA
For the forge direct Wakizashi and Ko Katana, we have 5 saya available - SW1 is a red wood grain style that matches perfectly to either the S1 or S5 Katana saya. SW2 is the classic glossy black saya which can be paired with any of the Black Saya for that ultra traditional look. SW3 has a green bamboo inlaid engraving and can be matched with the S7 Katana saya for a perfectly matched set. SW4 is a mother of pearl inlaid Dragon that matches the S7 Katana saya . any of the other Mother of Pearl Saya in the series but incurs an additional charge of $45. SW5 is a bright glossy red Saya with black rattan reinforced wrap and is available as a striking standalone sword for non Daisho Wakizashi or Ko Katana.
All of these saya were selected based on popular selections by previous customers who purchased the original elite Katana.
ABOUT THE FORGE DIRECT CUSTOM JAPANESE SWORD SERIES
A Forge Direct Exclusive, this is the pinnacle of the various custom katana projects we have been involved with since 2008..
The concept is simple, we take the most attractive, Master Smith Forged T10 High Speed Tool Steel blades with a stunning un-enhanced, natural Hamon available in either Choji Midare or Gunome Midare styles. You then select the length of the blade and the handle, whether or not you want full, partial or no-bo-hi (fuller/blood groove) and design it from the ground up from our widest selection of top quality, highly durable fittings and make it your own unique, personalized design.
Then approximately 6-8 weeks later (though lead time may be longer depending on the options selected), it all comes together and we send you the tracking number by email as it leaves the forge.
The blade alone is one of the finest we have ever seen at SBG - but with all these custom options, you can truly make it personal in 7 easy steps:
1) Decide if you will create a Wakizashi with a single handed (6") tsuka or a Ko-Katana (also known as O-Wakizashi) with a two handed (11") grip tsuka. For a stand alone sword, the Ko-Katana option tends to be popular while the Wakizashi tends to be part of a matched Daisho set (but its YOUR sword! The final choice is yours alone)..
2) Select the fuller/blood grove. For the strongest blade possible (power cutter) select the solid bodied blade option. For the fastest, lightest blade possible select full bo-hi. For a mix between the two, select partial bo-hi.
3) Select the hamon - either Choji Midare or Gunome Midare (see the pic for the difference).
4) Select the Koshirae (furniture) theme that best suits your style. Either a solid iron set with plain fuchigashira or complete work hardened copper set - it is up to you. All fittings are of the highest quality - a large selection of elite work hardened copper sets are available here for a small additional fee.
5) Select the color of the silk ito maki wrap. From gold to black to brown, red and everything in between. Black leather ito wrap is also available here for a small additional fee.
6) Select the color of the rayskin under the ito maki wrap. 100% real rayskin is used in all cases, and can be left white or colored black or red. It is up to you.
7) Now select your choice of hard wearing, thick sageo to go on the saya. When in doubt, go with a simple color that closely compliments the ito maki wrap you have selected.
8) Finally, select the saya to give it that last personal touch. 7 styles are available and are explained above in the section "Mixing and Matching the Daisho set" - the more elaborate ones cost a little extra (price shown in the dropdown menu).
Then sit back and leave the rest to us!
Do not be fooled by cheap imitations, these swords are head and shoulders above any other custom sword we have ever brought to the table - from the quality of the stunning blade to the amazing selection of fittings, this is as close as you are ever likely to get to designing your own heirloom quality personalized katana!
Click here for the full review and test cutting results of the original Katana and O-Katana prototypes
PREMIUM OPTIONAL EXTRAS AND UPGRADES
The basic free/included options are more than enough to make a stunningly beautiful sword - but if you want to add something even more special to your design, in addition to a large and varied selection of saya, there are currently three options that can be added to your design if so desired as follows:
UPGRADE OPTION 1: Elite Premium Quality Work Hardened Copper Fitting Sets with Gold and Silver Inlay
UPGRADE OPTION 2: Hard wearing leather ito wrap
UPGRADE OPTION 3: Full Rayskin Wrap
Additionally, check this page of the SBG Sword Store Blog for more information on how these swords are made and high resolution images of all components. If you have any questions or if anything is unclear, feel free to contact us and we are only to happy to help.
How to Use
Suitable for frequent backyard or dojo cutting. Traditional blade - select your own fittings. Pair it with the Katana to create your own Samurai Daisho set.
21" Blade measured from Munemachi to Kissaki plus your choice of Wakizashi (6") or KoKatana (11") handle. Weight will vary depending on fittings and blade length but typically between 1.3-1.6lbs
Materials and Construction
Differentially hardened fully sharpened Master Smith T10 Tool Steel blade with real hamon (two available types) and elite polish. Your choice of premium quality, traditional and durable tsuba/fittings. Silk Ito hineri maki wrapped tsuka in your selected color over authentic rayskin. Wooden lacquered saya available in 5 broad styles to allow either general or exact matches.
FFREE SHIPPING direct from the forge in Longquan, China via SF Express or UPS, typically within 6-8 weeks (though please allow for unexpected delays)..
Warranty Info
Each sword is guaranteed to be as described and 100% genuine product. Each sword is also covered by in full by the Manufacturers Warranty PLUS our extended LIFETIME Warranty against blade breakage.
Click here for detailed warranty information
Return Policy
Payments made on custom orders are non refundable and cannot be cancelled once work has commenced as they are made to order to YOUR personal tastes and the expenses incurred making it are non refundable to us as well. If there is a problem with your custom order we will work with you to provide a fair and satisfactory outcome, up to and including remaking the sword and in general going the extra mile to ensure that at the end of it all, you are pleased with your purchase.
Click here for more info on our guarantees
Featured positive reviews:
Forge Direct Elite T10 Custom Wakizashi/Ko Katana
07/19/2019
I ordered this beautiful blade with the following specs: 21" Blade
Solid bodied blade
eT8 Copper Hamidashi Fittings
White Rayskin
SW4 Saya
Ko Katana Handle
Choji Hamon
M1 - Black Ito
G3 Sageo
Although the wait was long, what I received met all my expectations. This is the finest blade in my collection of over 200 assorted edged weapons and tools. It is so impressive I shall likely find a need to order something else from Forge Direct lest I suffer from withdrawal. Everything was perfect - shipping, packaging, no damage, ornate case and the sword itself. You really must see one in person to fully appreciate the craftmanship. This was a steal at the price I paid. But I'll say this - once you receive your first sword from SBG/Forge Direct you will be hard pressed to not order another. It is a disease for which there is no cure. Thank you Paul, Sara and Forge Direct. You will receive another order guaranteed.