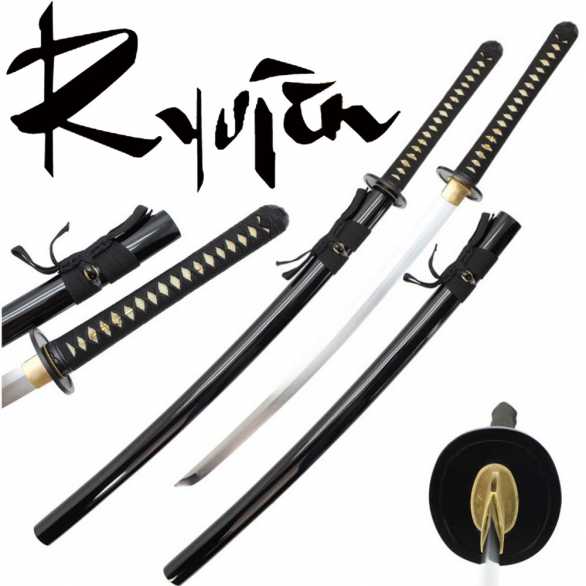 Ryujin 1060 Differentially Hardened Shinobigatana
(2)
LOW STOCK - Order NOW!

Amazing Value - 1060 Carbon Steel Bujinkan style Ninja sword with differentially hardened blade.

$

129.99
$229.99
You Save $100.00
An amazing deal from Ryujin at an unheard of price - this time around it is a Bujinkan style Shinobigatana with short blade and relatively long handle that makes for a versatile historical Ninja sword. Able to be used in many different ways, choked down with one hand to get maximum reach, and then close the distance with leveraged two handed strikes and cuts that are very hard to avoid. And while the saya is not as long as some other versions of this type of Shinobigatana, there is still some extra room in the saya for hidden stuff and the long handle gives the impression that the sword is longer than it actually is when sheathed - creating the element of surprise. A tried and proven Ninja tactic..
Fittings are simple and traditional so as not to arouse suspicion or draw undue attention to the blade or its wielder, allowing the Shinobi to blend in with the crowd.
Excellent value for money, the blade has a subtle suguha straight hamon produced by claying and differential hardening with 1060 carbon steel fittings, genuine rayskin and black cotton ito. Stock is limited, get it while its still available,
How to Use
Great for display or light to medium test cutting
Overall (with scabbard): 41 7/8", Overall (without scabbard): 36 3/4", Blade length: 23 3/8", Handle length: 12 1/4", Weight(with Scabbard): 2.7 lbs, Weight (without Scabbard): 2.2 lbs, Point of balance: 3 3/4 inches from tsuba
Materials and Construction
1060 Hand Forged and Differentially Hardened Factory Sharpened Blade with Suguha hamon. High quality lacquered glossy natural wood shirasaya fittings
Shipped from the Ryujin workshop in Los Angeles within 2 business days. $20 flat rate USA shipping for up to 2 swords, FREE shipping if 3 or more swords ordered at the same time. International shipping via USPS, $30 to Canada per sword. $60 to selected international destinations by USPS.
Click here for more shipping information
Warranty Info
Each sword is guaranteed to be as described and 100% genuine product. Each sword is also covered by in full by the Manufacturers Warranty PLUS our extended LIFETIME Warranty against blade breakage.
Click here for detailed warranty information
Return Policy
Satisfaction Guaranteed.
We proudly stand behind every product we sell. If you are not absolutely pleased with your purchase you can return it to us within 30 days of purchase in original condition for your choice of an exchange or refund (excluding shipping fees).
Click here for more info on our guarantees
Featured positive reviews:
Ko Katana
01/14/2021
This is an amazing sword, especially for the price. Sharp, well-made DH blade, really only 3" or 4" shorter than a full sized katana, but much quicker in the draw, and excellent for practice in tighter spaces. I was concerned that a 12" tsuka on a shorter blade would be unwieldy, but the balance is perfect. This sword is very quick and maneuverable. The taper of the tsuka feels great in hand, and the cast fittings are nicely done. My only complaint is the tsuba, compared to other Ryujin offerings, seems a bit cheap. (I replaced it.) I love this sword!