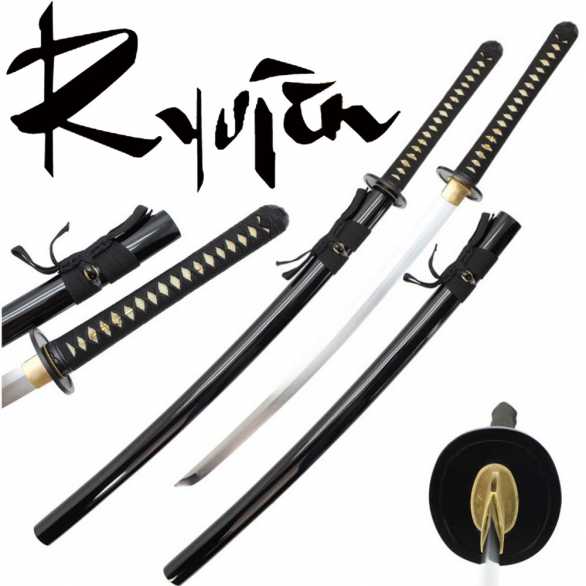 Ryujin 1060 Differentially Hardened Shinobigatana
(3)
SOLD OUT

Amazing Value - 1060 Carbon Steel Bujinkan style Ninja sword with differentially hardened blade.

$

129.99
$229.99
You Save $100.00
An amazing deal from Ryujin at an unheard of price - this time around it is a Bujinkan style Shinobigatana with short blade and relatively long handle that makes for a versatile historical Ninja sword. Able to be used in many different ways, choked down with one hand to get maximum reach, and then close the distance with leveraged two handed strikes and cuts that are very hard to avoid. And while the saya is not as long as some other versions of this type of Shinobigatana, there is still some extra room in the saya for hidden stuff and the long handle gives the impression that the sword is longer than it actually is when sheathed - creating the element of surprise. A tried and proven Ninja tactic..
Fittings are simple and traditional so as not to arouse suspicion or draw undue attention to the blade or its wielder, allowing the Shinobi to blend in with the crowd.
Excellent value for money, the blade has a subtle suguha straight hamon produced by claying and differential hardening with 1060 carbon steel fittings, genuine rayskin and black cotton ito. Stock is limited, get it while its still available,
How to Use
Great for display or light to medium test cutting
Overall (with scabbard): 41 7/8", Overall (without scabbard): 36 3/4", Blade length: 23 3/8", Handle length: 12 1/4", Weight(with Scabbard): 2.7 lbs, Weight (without Scabbard): 2.2 lbs, Point of balance: 3 3/4 inches from tsuba
Materials and Construction
1060 Hand Forged and Differentially Hardened Factory Sharpened Blade with Suguha hamon. High quality lacquered glossy natural wood shirasaya fittings
Shipped from the Ryujin workshop in Los Angeles within 2 business days. $20 flat rate USA shipping for up to 2 swords, FREE shipping if 3 or more swords ordered at the same time. International shipping via USPS, $60 to selected international destinations by USPS.
Click here for more shipping information
Warranty Info
Each sword is guaranteed to be as described and 100% genuine product. Each sword is also covered by in full by the Manufacturers Warranty PLUS our extended LIFETIME Warranty against blade breakage.
Click here for detailed warranty information
Return Policy
Satisfaction Guaranteed.
We proudly stand behind every product we sell. If you are not pleased with your purchase you can return it to us within 30 days of purchase in
original, unused condition
for a full refund minus shipping and 10% restock fee.
Click here for more info on our guarantees
Featured positive reviews:
Nice blade
03/10/2021
The blade is really nice. The description says it has subtle Suguha straight Hamon. The pictures show this also. Mine has a beautiful Notare Hamon (Wave hamon) and is very sharp. My blade looks much better than the one in the picture. Something about the blade geometry makes it seem to not produce Tachi Kaze. I have other Katanas with no Bo-Hi that still make a pronounced Tachi Kaze when swung. The blade is also thicker at the end near the Kissaki than my other Katanas. One complaint I have is with the packaging. The sword is in the cardboard box with a couple of pieces of Styrofoam inserts just to keep it from rattling in the box. When my sword arrived today the outside of the box had a tear hole in it where it rubbed on something during shipment. As a result, the sword bag had a whole rubbed in it and there is a nice "chip" of paint missing off the Tsuba. Also, on the sword I received, the Habaki is not tight and can be wiggled with just my hand. I really like this sword though. I think maybe Ryujin should spend a little more on the internal packaging to better protect the sword during shipping. If it had been packed as other swords I've received from other makers, only the inner packing would have been damaged and not the Tsuba itself. Over all, not a bad sword for $129.99. Don't think I would have wanted to spend $229.99 on it though. Not sure what the Tsuba is cast from (aluminum?) but where the paint chipped off the Tsuba is a greyish silver color. Definitely not iron. Would be nice to be able to attach pictures with the reviews.
Our response
Just wanted to chime in regarding packaging - normally this type of packaging is very effective and is used by many companies. The inserts hold the sword in place within the box and provide structural integrity - but at the time this particular order was shipped we were in the middle of the Covid pandemic and it seems that the overuse of the postal system is causing much more rough handling than usual. It's hard to balance these things, if we were to pack the boxes differently it would add at least $20 to the cost, which is kind of okay on a $300 sword and par for the course on a $1000 blade, but on a sword that is sub $150, we need to keep the costs down at every turn. With regards to the habaki, it should not have arrived loose - if the sword has not been used please contact customer service and we will arrange a replacement or repair.