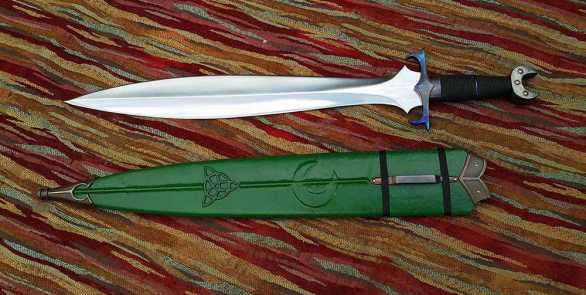 BCI - Legendary Swords - the Sword of Danu

Be the first one to write a review
SOLD OUT AND NO LONGER AVAILABLE

From the Legendary Swords Project - tough monotempered 5160 Spring Steel blade, premium fittings. Includes matching scabbard. Designed by SBG member Djinnobi. Last chance offer, final clearance sale.

THE LEGEND
A family heirloom of the famous warrior hero Aofie of Tuath De, the Sword of Danu is a powerful and sentient ancient magical blade dedicated to the Moon Goddess Danu.
In addition to significant preternatural boosts to speed, power and durability typical of any heavily enchanted Coronatite sword - the sword can be charged by the light of the moon, and under its soft light it reveals its greatest abilities - for when all charges are used at once, the bonded bearer of the sword becomes intangible, moving like the wind, while the blade itself remains very much in the material world..
Able to communicate telepathically with its bearer, the sword of Danu develops its own unique personality as the bond between bearer and sword deepens. When in the hands of one such as Aofie, it is a powerful force for good in the world. But if it was to fall into the hands of the enemy of the light, the blade reveals the darkest aspects of the Moon Goddess - with its powers to heal and conceal twisted to inflict pain and misery.
THE BCI FUNCTIONAL REAL WORLD VERSION
The blade of the Sword of Danu is hand made from 5160 spring steel, selectively tempered to withstand daily use. Fittings are hand ground from steel and the wood core handle wrapped with black cotton and a steel riser. Includes a free wood core green leather wrapped scabbard, embossed with the symbols of the moon goddess and capped off with custom made steel chape and throat.
The leaf shaped blade is quite meaty in the hand, and capable of shearing cuts and an absolutely devastating thrust - blurring the lines between fantasy and reality to deliver a punch that almost seems supernatural. While it looks great on display, THIS IS NOT A TOY, and would in a pinch be extremely effective for indoor self defense.
BLADE CULTURE INTERNATIONAL
As BCI is a traditional sword forge, they do not mass produce their blades - so the time between restock can be many months. As these swords are in very limited supply and priced well below usual industry markups, it is highly recommended that if you want to secure one and they are in stock, you order as soon as possible to avoid disappointment.
How to Use
A powerful, versatile blade that packs a serious punch - great for backyard cutting
Overall Length: 28″ (71.12cm), Blade Length: 21.25″ (53.98cm), Handle Length: 6.75″ (17.15cm), Point of Balance: 3.75″ (9.53cm), Weight: 2.87lbs (1302g). PLEASE NOTE: As these swords are hand made specs will vary slightly from piece to piece.
Materials and Construction
5160 Spring Steel Sharpened and Selectively Tempered Blade. Hand shaped oxidized heat induced dark rainbow colored steel fittings, wood core, cotton wrapped handle with steel riser. Includes Free green leather scabbard with custom steel throat and chape.
Shipped from the BCI warehouse in Connecticut, USA. USA $20 Flat rate shipping for up to 2 swords and FREE shipping for 3 or more. $60 to selected international destinations by USPS.
Click here
for additional information on shipping.
Warranty Info
Each sword is guaranteed to be as described and 100% genuine product. Each sword is also covered by in full by the Manufacturers Warranty PLUS our extended LIFETIME Warranty against blade breakage.
Click here for detailed warranty information
Return Policy
Satisfaction Guaranteed.
We proudly stand behind every product we sell. If you are not pleased with your purchase you can return it to us within 30 days of purchase in
original, unused condition
for a full refund minus shipping and 10% restock fee.
Click here for more info on our guarantees