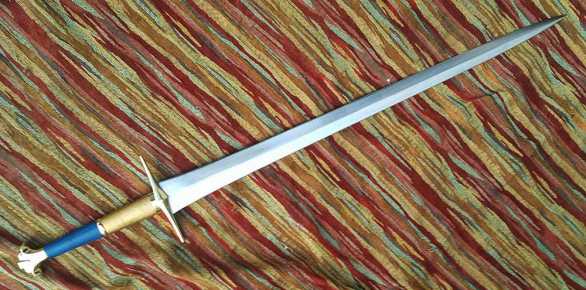 BCI - Legendary Swords - Vorpal Sword

Be the first one to write a review
SOLD OUT AND NO LONGER AVAILABLE
From the Legendary Swords Project - 5160 Spring Steel fantasy blade based on the historical Oakeshott XVIIIc Longsword design. Designed by SBG member Joren Soreno. Last chance offer, final clearance sale.

THE LEGEND
Made to defend against an unstoppable killing machine, the legendary Jhir'Kai, the Vorpal sword was hand forged from Elven Quicksteel over 500 years ago by its current bearer, the Elven Ranger Erin Galad (aka, Lad the Elf). The only blade that can cut 'anything', it is the only weapon the terrifying Jhir'kai fears, for every time it faces off against Lad, the Jhir'Kai is terribly wounded or even 'killed' (though 10 years later, it will spontaneously reform on the spot it was slain).
The actual blade is based on a historical Oakeshott XVIIIc - a rather triangular design with a wide base that tapers evenly to a deadly piercing tip. The designer was inspired by Dragon Killing blades from fantasy that seemed to suggest that the type XVIIIc would be an excellent Longsword to use against scaled and armored monsters, to both cut and thrust them into oblivion.
THE BCI FUNCTIONAL REAL WORLD REPLICA
The 35" hand forged 5160 Spring Steel blade is hollow ground and spring tempered for maximum strength in the thrust and speed for the cut, weighing just 2 and 1/2 pounds. The handle is wood core with brass fittings and wrapped with blue and gold leather with a cord imprint design. Includes a free blue leather lined wood core scabbard.
While it is a fantasy piece it closely resembles and is based on historical European fighting swords - and as such should be handled with due caution - THIS IS NOT A TOY..
BLADE CULTURE INTERNATIONAL
As BCI is a traditional sword forge, they do not mass produce their blades - so the time between restock can be many months. As these swords are in very limited supply and priced well below usual industry markups, it is highly recommended that if you want to secure one and they are in stock, you order as soon as possible to avoid disappointment.
How to Use
Well balanced and powerful Longsword - great for backyard cutting
Overall Length: 46.44″ (117.96cm), Blade Length: 35.25″ (89.54cm), Handle Length: 11.19″ (28.42cm), Weight: 2.5lbs (1134g) PLEASE NOTE: As these swords are hand made specs will vary slightly from piece to piece.
Materials and Construction
5160 Spring Steel Sharpened and spring tempered blade. Wood Core handle with gold and blue leather wrap separated by a brass riser. Hand made solid brass pommel and hand guard. Includes free wood core, leather lined and brass bound scabbard.
Shipped from the BCI warehouse in Connecticut, USA. USA $20 Flat rate shipping for up to 2 swords and FREE shipping for 3 or more. $60 to selected international destinations by USPS.
Click here
for additional information on shipping.
Warranty Info
Each sword is guaranteed to be as described and 100% genuine product. Each sword is also covered by in full by the Manufacturers Warranty PLUS our extended LIFETIME Warranty against blade breakage.
Click here for detailed warranty information
Return Policy
Satisfaction Guaranteed.
We proudly stand behind every product we sell. If you are not pleased with your purchase you can return it to us within 30 days of purchase in
original, unused condition
for a full refund minus shipping and 10% restock fee.
Click here for more info on our guarantees