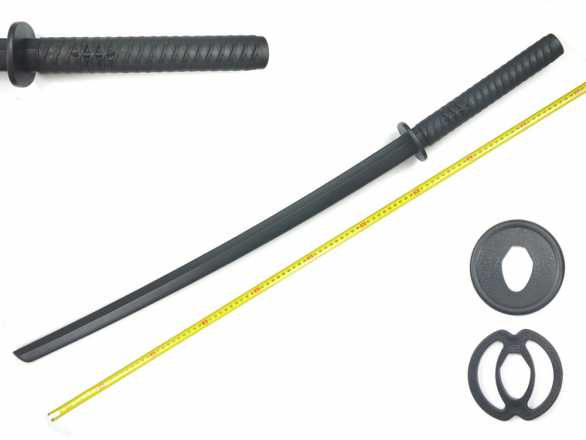 Ryujin Polypropelene Bokken - Katana

Be the first one to write a review
IN STOCK

Almost indestructible training sword based on the Japanese Katana with two free interchangeable hand guards.

The age old tradition of the hardy wooden training sword meets the present with the almost indestructible Polypropylene Bokken by Ryujin.
Weighted like a traditional Bokken it can deliver as much impact force and damage as wood, but is impossible to crack, split or break apart no matter how hard it is used and abused. The only disadvantage to one of these training swords is that a good live sword blade can cut them in half, while a wooden bokken usually needs a few extra cuts to take it apart (against knives, damage is insignificant).
Designed for safe solo training or pell work to generate control and power, they can also be used for sparring, though beware - without some kind of protection these swords are capable of breaking bones and causing severe concussion.
Each sword also comes with a pair of polypropylene tsuba (handguards) secured with a fitted rubber habaki. Other nice little attention to detail include simulated ito wrap complete with menuki so you can grip the sword in a natural way.
How to Use
Suitable for kata, contact sparring and training and self defense applications
Overall : 39" (inch) Blade length: 28 5/8" Handle length: 9 5/8" Weight: 1.2 lbs Point of balance (from point to bottom of handle ) :6"
Materials and Construction
Hard wearing black polypropylene
Shipped from the Ryujin workshop in Los Angeles within 2 business days. $20 flat rate USA shipping for up to 2 swords, FREE shipping if 3 or more swords ordered at the same time. International shipping via USPS, $30 to Canada per sword. $60 to selected international destinations by USPS.
Click here for more shipping information
Return Policy
Satisfaction Guaranteed.
We proudly stand behind every product we sell. If you are not absolutely pleased with your purchase you can return it to us within 30 days of purchase in original condition for your choice of an exchange or refund (excluding shipping fees).
Click here for more info on our guarantees