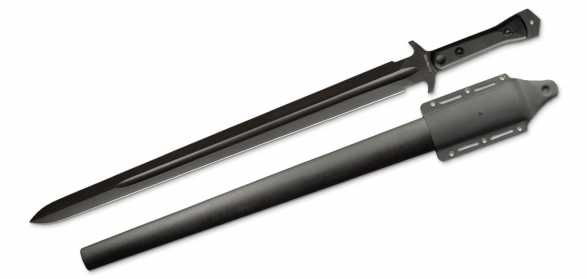 A.P.O.C. Survival Broad Sword
(2)
IN STOCK

Ultra durable 9260 Spring Steel Blade designed by the legendary Gus Trim.
$

175.95
$219.98
You Save $44.03
After everything hits the fan and the muck has settled, all the symbols that represented the best man had to offer (honor, compassion, liberty, truth, trust, dignity, integrity, justice) are laid waste to give way to what now matters most: survival. In the twilight of man's morality, a new symbol emerges to bring law to the foreboding chaos to come .. the A.P.O.C. Broad Sword.
Birthed in a design reminiscent of a gilded time the Broad Sword strips away the gaudy to give you a cold blade of 21 5/8" edged simplicity of the real and now. Featuring a double cutaway in the blade profile, it's a single-hand broad sword for a single purpose. The A.P.O.C. Broad Sword's dexterities are quick, light, strong and sharp with all the features of the series to help you stand alone in broken world.
The black textured fiberglass sheaths are fitted to a Molle compatible kydex platform that allows you to secure your swords to belt or pack in multiple carry positions. For belt or sling carry setups the platform has four slots 1 3/8" long and 1/8" wide. A notch in the handle and the platform allows for stealth unsheathing as well as locking the sword securely for inverted maneuvers. No preparations for the end times are complete without an A.P.O.C. tactical sword for when the bullets run out, the knives are too short and your life is on the line.
How to Use
In case of Zombie Apocalypse, Break Glass.. Designed for frequent and abusive cutting.
Overall: 29 1/2" Blade Length: 21 1/2" Handle Length: 6 1/4" Weight: 2 lbs Point of Balance: 5" Thickness at Guard: 5.9mm
Materials and Construction
Monotempered 9260 Spring Steel sharpened blade with black oxide coating. Full tang, triple riveted G10 handle. Light fiberglass scabbard with Molle compatible platform.
$20 Flat rate shipping direct from the manufacturers warehouse in Tennessee within 1-2 business days for 1-2 swords, FREE shipping if 3 or more swords ordered at the same time. International shipping currently unavailable. (
click here
for the workaround).
Click here for more shipping information
Warranty Info
Each sword is guaranteed to be as described and 100% genuine product. Each sword is also covered by in full by the Manufacturers Warranty PLUS our extended LIFETIME Warranty against blade breakage.
Click here for detailed warranty information
Return Policy
Satisfaction Guaranteed.
We proudly stand behind every product we sell. If you are not pleased with your purchase you can return it to us within 30 days of purchase in
original, unused condition
for a full refund minus shipping and 10% restock fee.
Click here for more info on our guarantees
Featured positive reviews:
Impressed
11/20/2020
I bought a couple of factory seconds through another vendor As SBG was sold out at the time of writing this review.
For anyone wanting a Tactical sword, This is just the ticket. Solid construction BUILT LIKE A TANK!
This is a well appointed bare bones sword. It is a little "rough" as little effort was put into polishing and some tooling is slightly noticeable under the oxide coating. This is purely cosmetic.

The blade is sharp! with a good balance. The sword is a little heavy for it's size due to the thickness of the blade...It is hefty and "feels"very solid in hand.

The grips are well attached. They are a little on the smooth side, and I am going to cord wrap mine just because I like cordage. With wet hands they are not excessively slippery and are totally acceptable as is.

The scabbard is solid. My only complaint is that the attachment slots should have been wider to accept ALCE clips.

If you are looking for an end of the world Goblin whacker...This is it!!! I like mine enough to consider buying a couple more, so I will be keeping an eye on SBG for a restock!