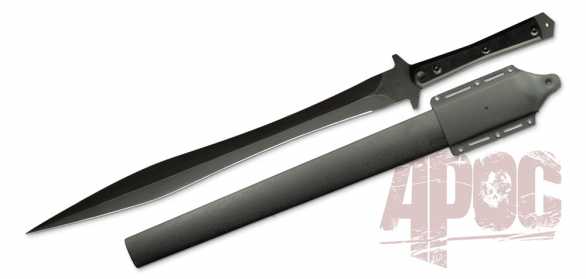 APOC Wasteland Gladius
(3)
IN STOCK
Ultra durable 9260 Spring Steel Blade designed by the legendary Gus Trim. MSRP $219.00
Like the Roman soldiers of ancient times exploring the unknown reaches you may find yourself at the end of time on expedition to an abysmal, undiscovered country. Like them the only means of survival may be your wits and the blade in your hand. In homage of those brave centurions (past and future) CAS gives you the A.P.O.C. Wasteland Gladius in the continuation of our A.P.O.C. Series of weapons.
Containing all the expected features of the swords in the series, our Wasteland Gladius design arises from the larger gladius designs featuring a pronounced "-waist" or "leaf blade" curvature. Along the 21 3/8" blade edge it gives you different angles for different tasks needed on the desolate wastes. The blade flares out from 1 3/8" to 2" creating a brutal chopping cutter and a powerful piercing point or whichever you need. The pommel of the handle doubles as skull cracker, glass breaker for whatever needs bashing or breaking. The 9 ½" handle allows for easy single-hand or two-hand sword use making the Wasteland Gladius probably the most versatile swords in the series.
The black textured fiberglass sheaths are fitted to a Molle compatible kydex platform that allows you to secure your swords to or pack in multiple carry positions. For or sling carry setups the platform has four slots 1 3/8" long and 1/8" wide. A notch in the handle and the platform allows for stealth unsheathing as well as locking the sword securely for inverted maneuvers. No preparations for the end times are complete without an A.P.O.C. tactical sword for when the bullets run out, the knives are too short and your life is on the line.
How to Use
In case of Zombie Apocalypse, Break Glass.. Designed for frequent and abusive cutting.
Overall: 33" Blade Length: 21 3/8" Handle Length: 9" Weight: 2 lbs 8 oz Point of Balance: 3" Thickness at Guard: 5.9mm
Materials and Construction
Monotempered 9260 Spring Steel sharpened blade with black oxide coating. Full tang, triple riveted G10 handle. Light fiberglass scabbard with Molle compatible platform.
$20 Flat rate shipping direct from the manufacturers warehouse in Tennessee within 1-2 business days for 1-2 swords, FREE shipping if 3 or more swords ordered at the same time. International shipping currently unavailable. (
click here
for the workaround).
Click here for more shipping information
Warranty Info
Each sword is guaranteed to be as described and 100% genuine product. Each sword is also covered by in full by the Manufacturers Warranty PLUS our extended LIFETIME Warranty against blade breakage.
Click here for detailed warranty information
Return Policy
Satisfaction Guaranteed.
We proudly stand behind every product we sell. If you are not pleased with your purchase you can return it to us within 30 days of purchase in
original, unused condition
for a full refund minus shipping and 10% restock fee.
Click here for more info on our guarantees
Featured positive reviews:
Wow! Expectations surpassed
04/11/2019
This is my second apoc sword. The first apoc sword I bought was the cutlass, and it was a good little sword but didn't really grab my attention like this gladius. The gladius has some meat on it. It's gotta good weight to it. Light enough for one hand, but just enough weight to give a two handed grip some real power. The forward balance and leaf shape blade really help make each cut count. I haven't cut much yet because I just received it in the mail, but I cut through some branches in my backyard and was amazed at how clean each cut was. Both edges are razor sharp. I was really impressed with the edge that was put on this sword. It's a thicker slab of steel than what I was expecting. It's got a good cross section. I really like 9260 steel, and buying a double edged sword made from 9260 for under $200 is a steel. They also improve on the sheath with this model. The blade silently slides in and out with no rattle when sheathed. Mine has really good retention when sheathed. I held it upside down and tried to shake it loose and it wouldn't slide out. I don't plan on wearing it upside down or anything, but still, worth noting. All in all this sword is way better than what I expected. I really like the length of both blade and grip. The sharpness of the blade is even along both edges, and is hell-a-sharp! I didn't expect that. It doesn't just chop, it slices. I was lightly pressing it agains the box it came in, drawing the blade, and it went right through the cardboard. I highly recommend this sword!