Darksword 1549 - Mother of Dragons Sword (sharpened)

Be the first one to write a review
IN STOCK

FREE SHIPPING IN CANADA AND THE USA!
Sword Inspired by Daenerys in George R.R. Martin's Epic Fantasy Series, A Song of Fire and Ice (Game of Thrones). Made to order, typically ships in 6-8 weeks.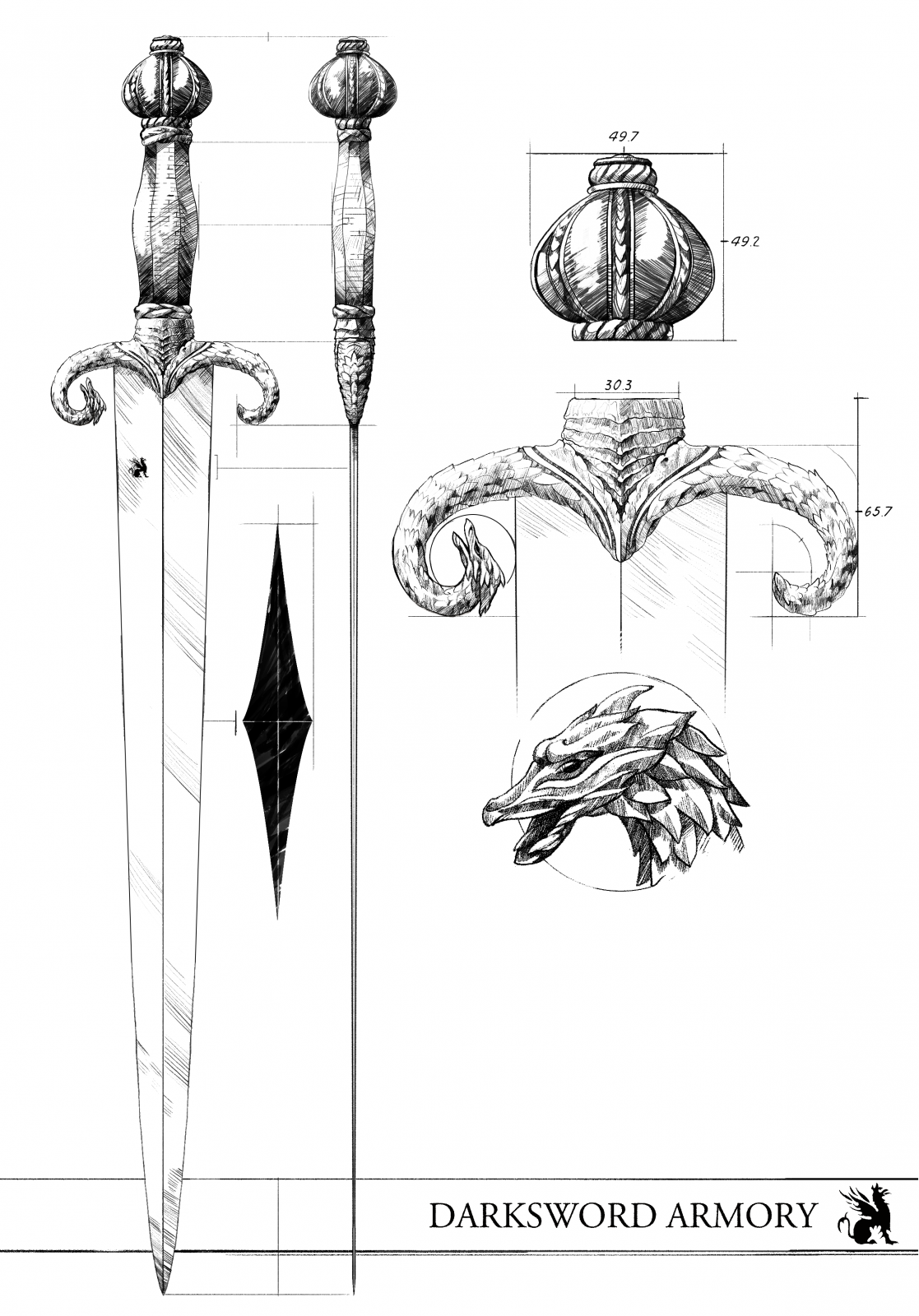 Swords forged at Darksword Armory have a variety of sources of inspiration. While the majority of our swords are based on historical models (and whenever possible, models that we have personally examined), others come from books, from myth, and from television or film. These fantasy swords are sometimes more directly based on a popular design (such as our Excalibur sword, inspired by the 1981 film); at other times, our designers are inspired to come up with an original design based on a fantasy weapon or character.
This is how the Mother of Dragons was born.
In George R.R. Martin's epic fantasy series A Song of Ice and Fire (immortalized on television in the HBO series Game of Thrones), the character of Daenerys is at the center of the story. Descended from the Targaryens, a family who long ago controlled dragons in order to unite the Seven Kingdoms, Daenerys begins her journey in the books as an exiled princess being given in marriage to a barbarian warlord.
Dragons have long been gone from the world, but Daenerys comes into possession of three dragon eggs – and unexpectedly is able to hatch them. With the power of her draconic "children," she becomes a major player in a series of epic wars and changes the course of history. Arguably, she is the single most important character in the series.
The overall design of the Mother of Dragons was based on a very unique historical piece. The Wallace Collection, a museum of art, arms, and armor in London, England, contains numerous surviving swords from different periods in European history. The sword in question (pictured below) is unlike any other in the collection, or in any other collection in London.

When Darksword Armory founder Eyal Azard saw it he immediately chose it as the physical inspiration for the sword of Daenerys. Subtle changes were made to the design to bring it more closely in line with the vision Eyal had for the Mother of Dragons sword.
The Darksword Armory Mother of Dragons sword is inspired by this character. While in the series Queen Daenerys rarely wields a weapon herself, this sword is designed after what she might have wielded as the mother of the only dragons in existence. The blade is short and broad at the base, and its hollow-ground length tapers to a sharp point. This blade construction combined with the larger pommel brings the point of balance right to the guard, creating a sword that is shockingly lively in the hand and suitable for an individual who may be smaller and more suited to speed over strength. The cast bronze guard depicts a curling dragon that protects the hand, and the matching pommel has a high-born, aristocratic feel. The handle of textured ebony wood completes the look of a sword worthy of a queen, even a queen who relies not on the strength of her arm but on the might of her spirit. We hope it will appeal to others who embody her fierce and powerful spirit.

Unlike Darksword blades we sold in the past, the sword is automatically also given a thorough sharpening until it is paper cutting sharp (normally costing an extra $35) and is also shipped FREE in North America - giving you the very best deal possible.
This sword comes with a wood core scabbard as standard with the option to upgrade it to include a premium quality sword belt with suspension system - allowing it to be worn or for an extra flourish when not in use hung on the wall (see below for a comparison).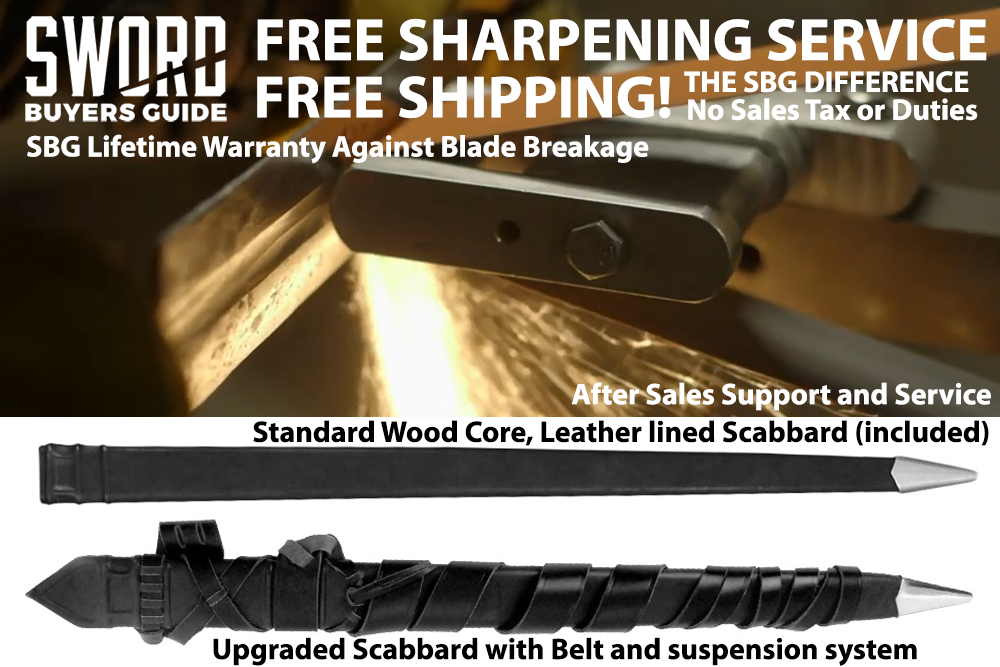 How to Use
Sharpened and Battle Ready - suitable for heavy duty backyard cutting and display.
Total length: 26.5″ Blade length: 20″ Blade width at base: 2.1″ Weight: 2 lbs 9 oz. POB: at crossguard
Materials and Construction
Engraved 5160 Hand Sharpened Spring Steel Blade, Dual Tempered with an edge HRC of 60 and core HRC of 50. Hand cast solid bronze fittings. Textured ebony grip. Wood core handle and scabbard with optional upgrade to wearable belt and suspension system.
IMPORTANT NOTE: Made to order, typically ships in 6-8 weeks
FREE SHIPPING to the USA and Canada from Manufacturers warehouse in Quebec, Canada via Fed Ex. We apologize for the inconvenience, but due to the extreme shipping costs Darksword Armory swords can no longer be shipped outside of North America (USA and Canadian Orders only)
Warranty Info
Each sword is guaranteed to be as described and 100% genuine product. Each sword is also covered by in full by the Manufacturers Warranty PLUS our extended LIFETIME Warranty against blade breakage.
Click here for detailed warranty information
Return Policy
Satisfaction Guaranteed.
We proudly stand behind every product we sell. If you are not pleased with your purchase you can return it to us within 30 days of purchase in
original, unused condition
for a full refund minus shipping and 10% restock fee.
Click here for more info on our guarantees