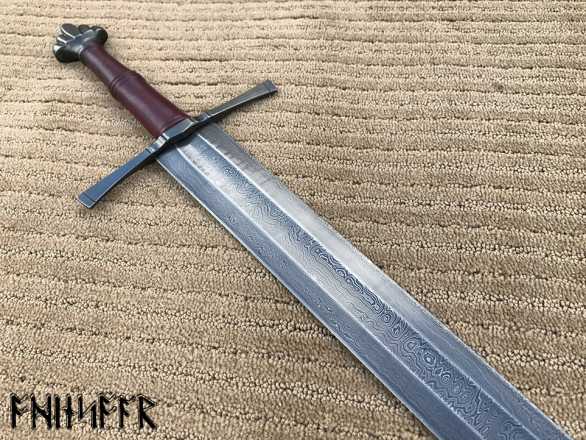 Longship Armoury Odin's Oar, Sword of Runa the Martyr of Stormwater

Be the first one to write a review
SOLD OUT AND NO LONGER AVAILABLE TO PURCHASE

Final 10 order pre-order period from October 11 to November 3, 2018 - with expected delivery in late June 2019.
$

2,750.00
$4,800.00
You Save $2,050.00
A limited edition release in conjunction with the Legends Line of Longship Armory and collaboration between John Lundemo, KC Lund and Paul Southren of Sword Buyers Guide.com and Legendary Swords.com

Odin's Oar, Sword of Runa the Martyr of Stormwater
THE LEGEND
The legend - and the making of - Odin's Oar is covered in detail here at Legendary Swords.com - but in a nutshell:
Odin's Oar is a powerful magical sword forged by a Volanco God in the mountains of the Land of the Northmen. It was made to fulfill the tragic destiny of Runa, the Matyr of Stormwater - and was the only sword that could kill a DeathKnight and the unstoppable evil blade known as the Brand of the Fallen.
Though she stopped the rise of this brutal DeathKnight and mad berserker army, it was at the cost of her life, and to this day she is venerated by the peoples of Stormwater as their founding mother and all the good people of Eletreus as a hero who stopped what could well have been the ruin of civilization itself..
Click here to read the complete legend
THE SWORD
WHAT YOU GET AND HOW IT IS MADE
This is a true high end, collectible blade unlike any other - a modern day masterpiece of fully functional sword art designed by John Lundemo of Odinblades and Longship Armoury.
The concept came about to create the centerpiece of our latest project, Legendary Swords: the Eletreus Project - due for beta launch in late January 2018 and is easily the most amazing sword we have ever had the pleasure of introducing to the most discerning sword enthusiasts and high end collectors.
The blade itself is made from a 480 layer pattern welded mix of O1 & L6 Tool Steels, commonly referred to as "Damascus." The blade is heat treated using a method known as "Aus-tempering," which is done with high (1450°F +) and low temperature molten salt baths and extended hold times at low (500°F) temperature. The resulting microstructure is known as Bainite. This microstructure differs from the martensitic microstructure achieved with conventional quench and temper methods more commonly used. A Bainitic microstructure has much higher impact resistance and ductility than a martensitic microstructure of equivalent hardness, perfect for swords. The more expensive and much more difficult to forge alloys, like O1 & L6, are perfect candidates for this method of heat treatment. Swordsmith KC Lund has been working with these steels and this method of heat treatment for over 20 years and has appeared on History Channel several times.
After forging the sword blank KC then hands it over to John Lundemo (with over 30 years experience as a master sword designer and maker), who hand shapes, polishes and sharpens it to perfection. John also hand carved the prototype master fittings from mild steel so that they can be investment cast in the USA and then hand finishes each piece before final assembly, peening the pommel and wrapping the wood core hilt with your choice of either oxblood (as pictured) or brown leather.
Once the swords are perfect and John is happy with them, then you are given a final heads up before shipping, with exclusive updates and photos being sent by email at every stage of the process.
Click here to see step by step how these swords are made
FINAL RUN DETAILS: As stated, the first run of 10pcs were made available in December 2017 with delivery expected in May 2018. This run sold out within 48 hours. This is the FINAL run of 10pcs - after which this TRUE limited edition sword will never be offered again to preserve its value as a genuine collectors item (no 'limited runs' of 1000s of swords - only 20 will EVER be made, and 10 have already been made)..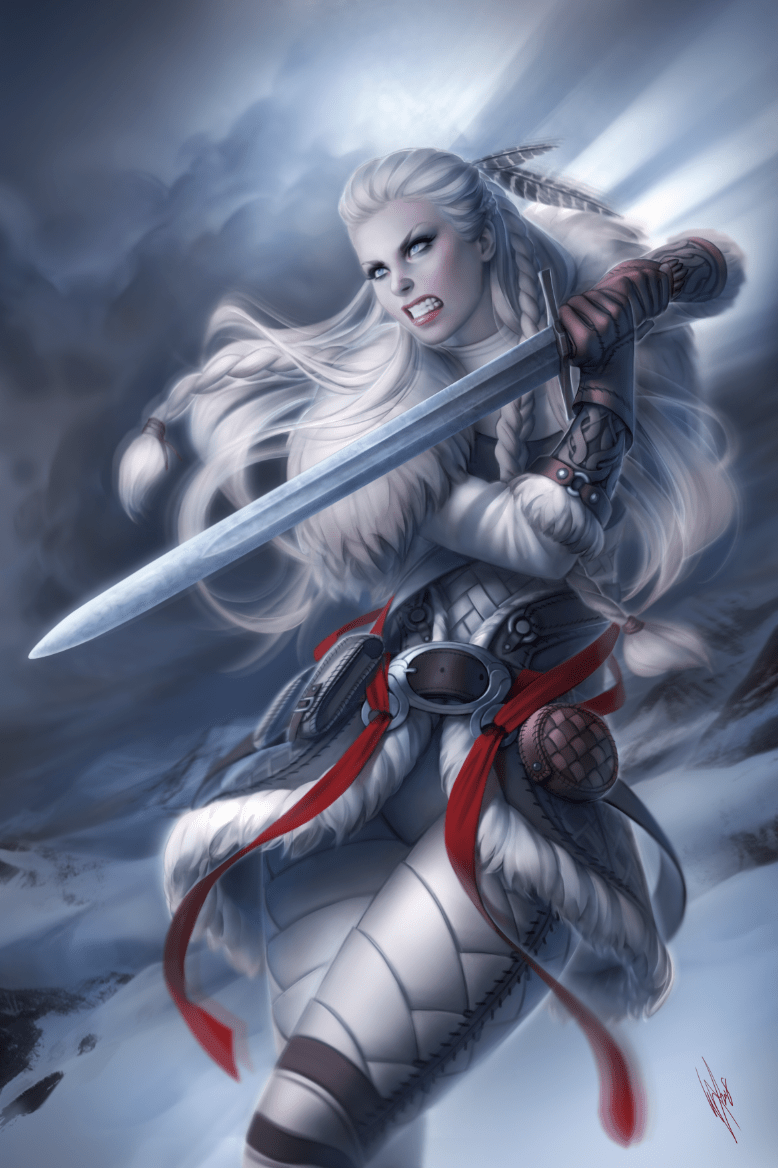 Bonus Item: In addition to the sword and scabbard, Odin's Oar also comes with an original full color concept poster by Warren Louw a freelance graphic design artist featured by DC Comics and Udon Entertainment (pictured right).
Pre-order Information: The fair market value of such a rare type of sword is between $4000 to $6000 and after costing it out, should have been listed for $4,800. However, by making 20pcs total with 10pcs per batch, and as a gift to the sword buying community, we are all trimming down our margins to the lowest price humanly possible, which would normally be the DEPOSIT price of - but you can prepay and lock it in for a TOTAL price of just $2,750.
Become the legend. Pre-order Odin's Oar today..
Only 20 pieces will be made - 10 pre-orders in December 2017/January 2018 and the final 10 in late 2018
How to Use
Truly Razor Sharp and almost indestructible heirloom quality collectible sword. To quote John Lundemo: "Definitely one of the best swords, if not the best, with which I've been involved over the past 30-some years."
Blade Length: 35 1/2" Overall Length: 46" POB: 5" above guard Weight: 3lbs 4 oz (Note stats will vary slightly as each sword is unique and 100% hand made)
Materials and Construction
Pattern Welded and Damascus L6 and O1 Bainite Micro-structure EXTREMELY sharp Blade forged in collaboration with KC Lund and John Lundemo. Mild Steel investment cast fittings hand finished by John. Wood core handle with your choice of oxblood or brown leather wrap. Includes a stained wood scabbard to match the 'oar' theme.
FREE Worldwide Shipping. Only available as a pre-order, full payment required in advance. Ships within 6-12 months (expected delivery late June 2019) Only 20 pcs will be made - one lot has already been made in 2018, Second and final batch October 2018.
Warranty Info
We guarantee if you keep it well oiled and maintained, the blade of any sword sold from the SBG sword store will hold up to a LIFETIME of reasonable usage without breakage. If it breaks during the course of reasonable and intended usage we will replace it with either the same (or if unavailable, a similar) model completely free of charge. If you abuse it, like try to cut down a tree, attempt to replicate the destructive testing vids on you tube or otherwise use it in any way outside of traditional cutting techniques, we will do our best to help but the warranty is void. This warranty applies to the original purchaser (proof of purchase required) and remains in effect for as long as SBG is around to honor it.
Return Policy
Satisfaction Guaranteed.
We proudly stand behind every product we sell. If you are not pleased with your purchase you can return it to us within 30 days of purchase in
original, unused condition
for a full refund minus shipping and 10% restock fee.
Click here for more info on our guarantees