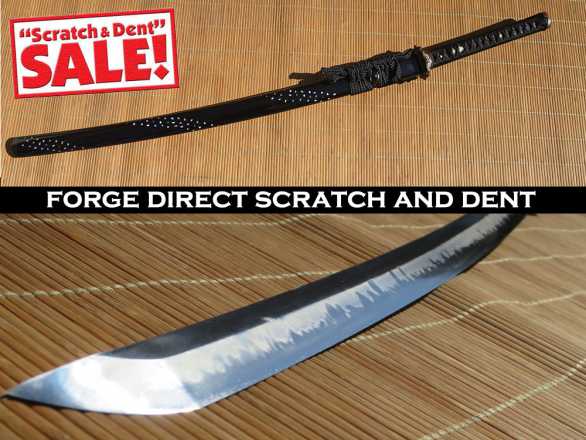 Scratch & Dent Forge Direct Elite T10 Custom Katana 19988

Be the first one to write a review
SOLD



28.5" T10 Differentially Hardened Master Smith blade (Choji hamon) with all black fittings - a rejected Forge Direct Japanese Elite Custom Katana upgraded with buffalo horn fittings on a mother of pearl saya ($729.99).

Scratch and Dent Issue: Upgraded Buffalo horn fitting has a rough appearance and an error made during customization requiring a full remake for the original customer.

$

499.99
$729.99
You Save $230.00
This was a Forge Direct Elite T10 custom sword order completed in late 2019 - however the photos were taken a few days previous to the sword being listed here for sale as a scratch and dent item.
The original order details as ordered by the customer are presented below - however there was an error with the custom selection, instead of the T0023 (Togugawa Shogunate Tachi style/Gunto fittings) he received the T0005 Tokugawa Shogunate set - which is reason enough to reject the sword and remake the order.
29" (73.6) Blade (blade was 0.5" shorter)
Partial fuller/bo-hi
Choji Hamon
T0023 Elite Copper Fitting Set (error, used the similar themed T0005 set)
M1 - Black Ito
Black Rayskin
G3 Sageo
S29 Saya
Unfortunately, there was also an error with the mother of pearl saya. These usually do not come with buffalo horn, so the application was less than perfect looking as shown below: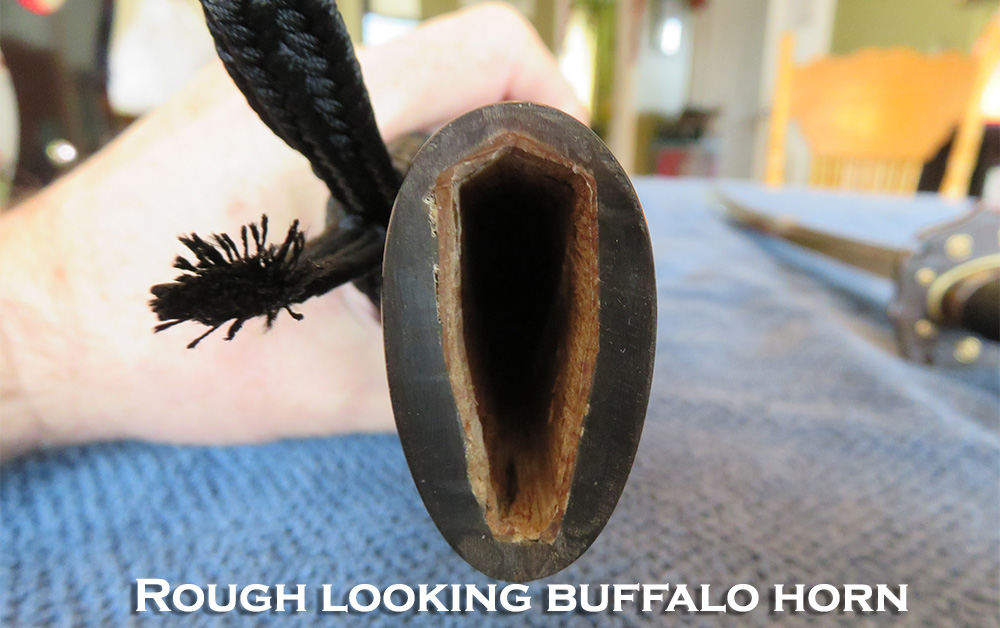 Otherwise, the sword and components are in perfect condition, with no looseness or other issues. Indeed, with regards to the blade the customer had the following comments:
"The blade is very nicely polished, very sharp, very well defined kissaki and boshi, good distal taper and balance (handles like a charm), even mune and bo-hi, all very good."
However the slight cosmetic defect on the buffalo horn upgrade and the customization error (which of course, only the original customer really noticed) can save you hundreds of dollars and is shipped direct from our friends at Ronin Katana who have been keeping it maintained while in storage for us.
If you are not familiar with Forge Direct Japanese, click here for all the background info on this project over in the store blog or here to see the custom katana product listing (links open in a new window).
How to Use
Designed for frequent cutting practice and/or display. Premium quality cutting sword.
28.5" Blade measured from Munemachi to Kissaki. Handle length 10.5". Weight: 2.2lbs
Materials and Construction
Differentially hardened fully sharpened Master Smith T10 Tool Steel blade with real hamon (Choji Midare), partial bo-hi and elite polish. Premium quality, traditional and durable tsuba/fittings. Silk Ito hineri maki wrapped tsuka over authentic colored rayskin. Wooden lacquered saya mother of pearl inlaid saya buffalo horn fittings and thick hard wearing sageo.
Shipping from Texas within 1-2 business days. $15 flat rate USA shipping for up to 2 swords via USPS, FREE shipping if 3 or more swords ordered at the same time. International shipping via USPS, $30 to Canada. Sorry, no other international shipping options available at this time.
Click here for more shipping information
Warranty Info
Each sword is guaranteed to be as described and 100% genuine product. Each sword is also covered by in full by the Manufacturers Warranty PLUS our extended LIFETIME Warranty against blade breakage.
Click here for detailed warranty information
Return Policy
Scratch and Dent Sales are final and sold as is at a heavy discount. No returns unless DOA.