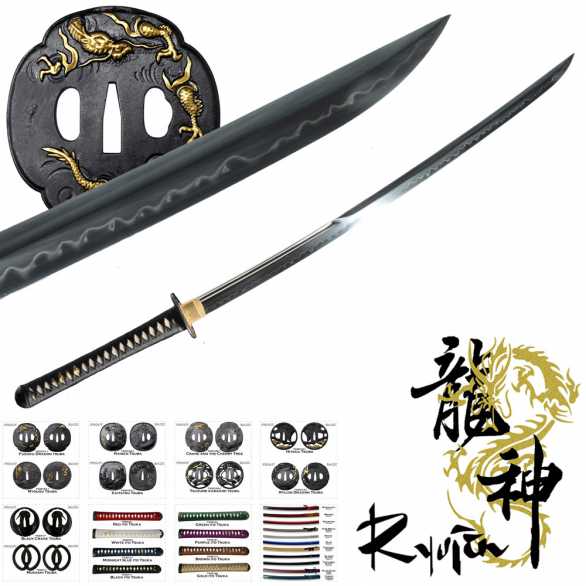 Ryujin T10 Custom Katana - Shobu Zukuri with partial bo-hi
(6)
AVAILABLE NOW
Shobu Zukuri with partial bo-hi

Select and Customize your own style - Any Tsuba, Any Handle and Saya Color - One Low Price, No Hidden Costs - Ships within 1 week!!
$

279.99
$299.99
You Save $20.00
Select Your Custom Design from the images above: One Low Price
- Assembled and Shipped within 1 week from Los Angeles!
(CLICK ON the THUMBNAILS FOR MAXIMUM SIZE, FULL DETAIL RESOLUTION PICS)
Shobu Zukuri style - a rarer sugata (blade style) that evolved from the Naginata (pole arm) with a slender profiled tip.
This is one of the most exciting developments in the sword industry for YEARS - the option to customize your own high quality, solid performing out of the box T10 tool steel differentially hardened Katana with real hamon WITHOUT waiting for weeks, months or even years - at an incredibly low price and assembled and shipped from WITHIN the United States..
The concept was developed by Mr. Sam Sung, one of the co-founders of Musashi Swords and with the modular assembly system he has developed, keeping a large variety of parts in stock and YOU select what design best suits your unique style WITHOUT breaking the bank..!
Our version of this sword, developed working closely with Mr. Sung and his team, utilizes only the BEST available options to ensure you get the best looking, best performing cutting Katana possible - fully guaranteed to not only meet but EXCEED your expectations. With only the best options available, it is practically impossible to design a bad looking sword. Just pick the components that you like the look of best and let us make it real for you!
But don't make the mistake of thinking these swords are just pretty ornaments - these are serious, practical blades that are surprisingly robust yet traditionally constructed and at our special introductory price, are some of the best cutting swords available anywhere near this price point. The ability to customize them is indeed just a very special free bonus!!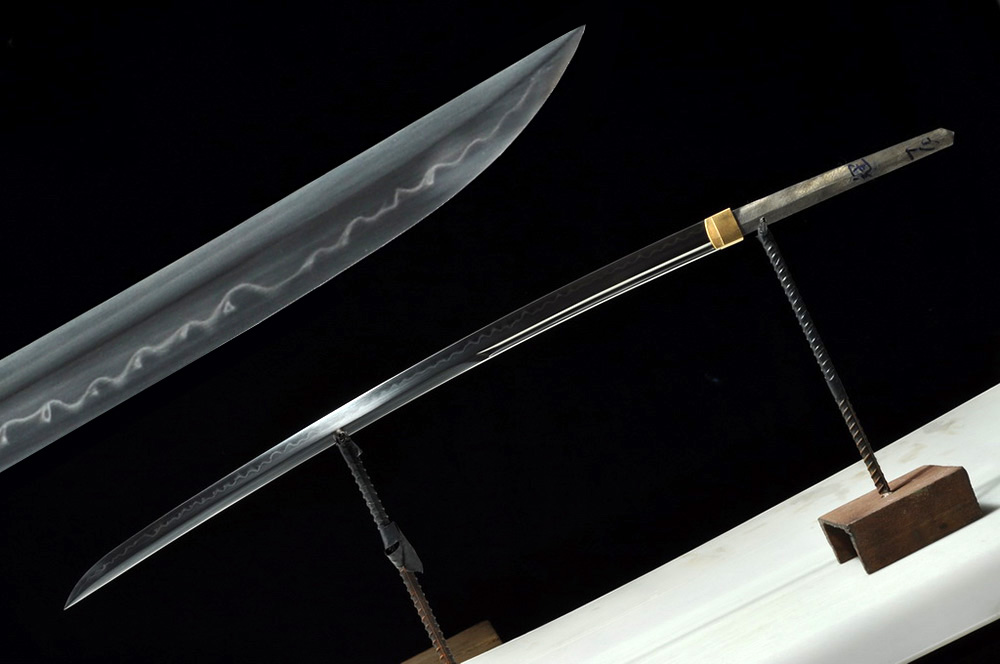 CUSTOMIZATION OPTIONS
1) Select which Tsuba you wish to be mounted. All tsuba are made from solid iron and all but the Double "C" Ring Musashi and Black Crane tsuba feature REAL gold accents to give the design a splash of color at NO additional cost to you (normally $75 more!). The 'Front' is the Omote and is the side that faces the tsuka, the 'Back' is the Ura and faces the tip of the blade. This is so that when the sword is worn or displayed, the more attractive side faces onlookers, and when drawn, the less attractive part faces the opponent..
2) Select tsuka (hande) ito color from 8 different color choices with either iron or brass fittings (Iron for maximum durability, brass - less durable but more attractive).
3) Select saya style and color. T920322 has a wood-grain finish. T920911 is the natural wood with clear lacquer finish. T920111 is a standard glossy black, T920121 has a textured finish to minimize finger prints and scratches.
NOTES:
Click the thumbnail to open a high resolution picture of each option or hover your mouse over a thumbnail for a quick view.
This version is only available with a solid bodied (no-hi) blade.
Fuchi and Kashira are available in generic black iron or brass and will match your overall design and the tsuba you select.
Sageo wrap tends to be black and cannot be specified as it is made at the forge.
No hidden costs, one price for any and all customization selected.
Over 30,000 combinations possible, meaning your sword can be almost as unique as your own personal tastes!
Assembled and shipped from the Ryujin workshop in Los Angeles within 1 week after ordering!
Click here to read the full review on SBG
Click here for a gallery of the customization options
How to Use
Suitable for frequent backyard or dojo cutting. Traditional blade - select your own fittings. Faster, lighter bo-hi/fullered version.
27.5" blade with 11" handle. Weight 2.4lbs (with partial bo-hi).
Materials and Construction
Differentially hardened fully sharpened T10 Tool Steel blade with real hamon and partial bo-hi (fuller). Shobu Zukuri (iris leaf) blade geometry. Solid iron fittings with iron tsuba and REAL gold inlay. Rayon wrapped ito in your selected color over authentic rayskin. Wooden lacquered saya in your choice of color and style. Display Box Not Included.
Shipped from the Ryujin workshop in Los Angeles within 2 business days. $20 flat rate USA shipping for up to 2 swords via UPS or USPS, FREE shipping if 3 or more swords ordered at the same time. International shipping via USPS, $60 to selected international destinations by USPS.
Click here for more shipping information
Warranty Info
Each sword is guaranteed to be as described and 100% genuine product. Each sword is also covered by in full by the Manufacturers Warranty PLUS our extended LIFETIME Warranty against blade breakage.
Click here for detailed warranty information
Return Policy
Payments made on custom orders are non refundable and cannot be cancelled once work has commenced as they are made to order to YOUR personal tastes and the expenses incurred making it are non refundable to us as well. If there is a problem with your custom order we will work with you to provide a fair and satisfactory outcome, up to and including remaking the sword and in general going the extra mile to ensure that at the end of it all, you are pleased with your purchase.
Click here for more info on our guarantees
Featured positive reviews:
Sleek and Fast
05/06/2022
I've been practicing drills and basic kata with an inexpensive, unsharpened Ryujin iaito for a little over a year before deciding to upgrade to a live katana. I plan on progressing into cutting practice soon (tameshigiri).

The Shobu Zukuri design interested me in particular. Besides possessing a singularly sleek beauty, it was designed for speed and cutting power based on practical feedback from man-to-man infantry battles during the Mongol invasions. In real-world terms, the fastest sword to make the cut in those days won.

The purchase of the Ryujin Shobu Zukuri Katana through the Sword Buyer's Guide Store could not have been easier. All the basic sword stats are good. I'm a big believer in T10 steel with differential hardening (clay tempering) for cutting practice. T10 is a strong, resilient, modern metal known for its toughness and keeping an edge. The Ryujin tsuba, ito, fittings, and saya options allow for a wide range of customization. I went with elegance, lightness, and simplicity: a Musashi iron tsuba with well-matched iron fittings, black ito on black rayskin, and a natural wood saya for contrast.

I'm on the east coast of the US and the speed of the build and delivery from Los Angeles was nothing short of incredible. I ordered on a Monday and by Thursday the sword was on its way. But Tuesday of the following week, my beautiful new katana was in my hands. That's eight days coast to coast total. I have every confidence to order another Ryujin sword through Sword Buyer's Guide again, maybe a beautiful iaito for my wife who has shown an interest.

The Ryujin katana arrived in perfect order with a well-oiled blade and a tight tsuka. Sometimes the handle can be a little loose on inexpensive katanas, so this was a relief. (My iaito required natural lacquer over the cotton ito to retighten and it's now good.) The Shobu Zukuri is a genuinely beautiful blade with a natural hamon. This one still has the single, partial bo-hi, which I prefer, though the double bo-hi looks great on a Shobu Zukuri as well.

My starter-iaito is not the more sophisticated Ryujin option available from Sword Buyer's Guide. It's a hefty, if handsome piece of metal and has been great for developing muscle strength. If my iaito is a heavy-duty truck, the Shobu Zukuri is a nimble Italian sports car. This blade is shockingly fast with a satisfying tachikaze whip when I pull off good technique. In fact, the audible feedback that I could never quite get out of my iaito has forced me to drastically improve my technique and speed. If I were to start over again, I would certainly go with a more expensive Ryujin iaito from Sword Buyer's Guide with audible tachikaze feedback. The audible feedback during practice is game changer for me and keeps me honest.

Any complaints? Well, the official certificate the sword came with has comical printing errors that makes me think it was put together over in China. I can't say I care. The sword and its handling are what's important to me. Also, the saya is a little looser than I ideally like. Yes, it holds if I raise the sword upright by the handle, but just barely. Releasing the katana with thumb pressure is a little too easy compared even to my extensively worn iaito saya. I know how to shim a saya, so I'll tighten it up once it breaks in a bit more. I think anyone who is going to own a practice katana for an extended period of time needs to know how to shim the saya to inevitably tighten it back up, so this is not a big deal to me. It's part of maintenance.

In summary, the Ryujin Shobu Zukuri katana is a thing of beauty and practical, too. It's raised my game to another level. I eagerly look forward to every morning of practice.