Project X Next Generation Elite Soshu Kitae Laminated Custom Wakizashi/Ko Katana (MkIII)

Be the first one to write a review
MADE TO ORDER
FREE SHIPPING!
Master Smith Forged Custom Shinogi Zukuri 21" blade length Wakizashi or Ko Katana (O-Wakizashi) - Large Number of Customization Options. Made to Order, Typically ships in 4-6 months. Our best quality custom Wakizashi to date..
Click the image to bring up all ordering options.
$

1,199.99
$2,300.00
You Save $1,100.01
Select Your Custom Design from the images above

(CLICK ON the THUMBNAILS FOR LARGER IMAGES OR VISIT THIS PAGE OF THE STORE BLOG FOR HUGE FULL RESOLUTION PICS)

Whether it is to create a truly stunning matching Daisho Set or as a standalone sword - Project X is not complete without the companion sword to the Katana, the Wakizashi (or the longer handled version called a 'Ko-Katana' or 'O-Wakizashi).
CREATING DAISHO SETS
The Daisho was the Samurai's distinctive pairing of Katana and Wakizashi worn at their side and was the exclusive privilege of the warrior classes (however Wakizashi or Ko Katana by themselves could be owned by anyone). The most traditional pairing, which became law in the early Edo period, was black saya with black ito wrap and white rayskin, however by the end of the Edo period the rules had been relaxed somewhat and while the Katana usually used this color combination, the Wakizashi was often different to contrast it, though may have had the same fittings and followed a subtle personalized theme.
MIXING AND MATCHING THE DAISHO SET SAYA
For the forge direct Wakizashi and Ko Katana, we have 5 saya available - SW1 is a red wood grain style that matches perfectly to either the S1 or S5 Katana saya. SW2 is the classic glossy black saya which can be paired with any of the Black Saya for that ultra traditional look. SW3 has a green bamboo inlaid engraving and can be matched with the S7 Katana saya for a perfectly matched set. SW4 is a mother of pearl inlaid Dragon that matches the S7 Katana saya . any of the other Mother of Pearl Saya in the series but incurs an additional charge of $45. SW5 is a bright glossy red Saya with black rattan reinforced wrap and is offered as a striking stand alone for non Daisho orders.
ABOUT PROJECT X JAPANESE
An SBG exclusive, this is the pinnacle of the various customsword projects we have been involved with since 2008 and have produced arguably some of the best quality Katana ever made outside of Japan..
The blades are hand forged by Certified Master Smiths in the Soshu Kitae tradition (seven panel steel). This school was developed by the legendary and all time greatest Japanese smith Masamune, and combines panels of hard, medium, and soft steels.
TYPES OF KATANA LAMINATION

Soshu Kitae Lamination - far right. It is by far the most complex and desirable lamination technique.
The core of the blade is formed from softer, more malleable steel (1045 carbon steel) giving it the ability to withstand shocks and resist shattering. A layer of slightly harder steel (1060 carbon steel) is bonded to each side of the core to add support. The last layers are a very hard steel (1095 carbon steel) bonded to the top, bottom, and both sides of the core forming the ha (cutting edge) mune (back edge) and shinogi-ji (blade flats). This form of laminar construction provided for a sword that could be sharpened to a razor edge due to the hardened steed used for the ha, but was extremely resilient to battle damage due to its softer more flexible core.
As a by product of the process, the blade features not only a hamon, but also attractive lamination lines, resulting in a very active and attractive blade with interplay between the lamination lines and hamon. Like a fingerprint, each blade is unique and has its own distinctive patterning.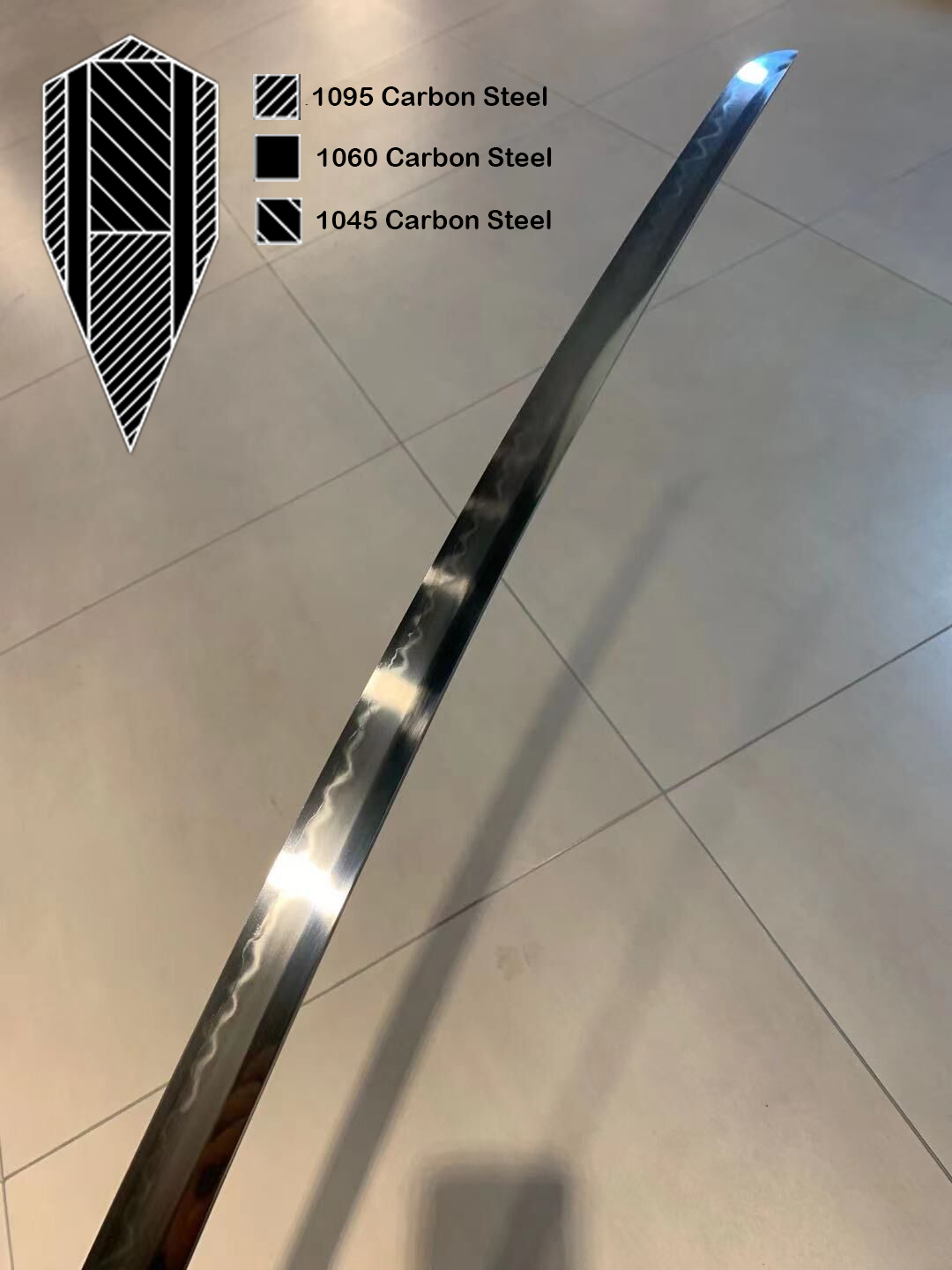 While the blades all have a standard length of 28" (2 shaku, 3 sun, 4 bu nagasa) measured from the munemachi (the back notch of the habaki/blade collar) and can be selected either with a traditionally hand shaped bo-hi or left as a solid bodied blade depending on your individual preference. From here you can design your custom sword from the ground up using our hand picked selection of only the best, top quality, highly durable fittings to make it your own unique, personalized design.
4-6 months later, it all comes together and we send you the tracking info as soon as it leaves the forge via email.
The blade alone is hands down the finest we have ever seen outside of high end Japanese Nihonto valued at many times the price we offer these swords for - the ability to customize it to suit your personal tastes, icing on the cake.
MAKE IT YOUR OWN IN SEVEN EASY STEPS
To truly make this sword your own, simply select one of the selections for each custom option in the dropdown menu as follows:
1) Select if you would prefer the Wakizashi handle (6") for one handed use or a Ko Katana handle (11", same as a full length Katana).
2) Select the fuller/blood grove. For the strongest blade possible (power cutter) select the solid bodied blade option. For the fastest, lightest blade possible select full bo-hi. For a mix between the two, select partial bo-hi.
3) Select the Koshirae (furniture) theme that best suits your style. Either a solid iron set with plain fuchigashira or complete work hardened copper set - it is up to you. All fittings are of the highest quality - a large selection of elite work hardened copper sets are available here for a small additional fee.
4) Select the color of the silk ito maki wrap (now made with hishigami on EVERY sword). "Bad Boy" Black leather ito wrap is also available here for a small additional fee.
5) Select the color of the rayskin under the ito maki wrap. 100% real rayskin is used in all cases, and can be left white or colored black or red. It is up to you. Additionally, you can select to upgrade from quality panel cuts to a full rayskin wrap by selecting the optional upgrade here (again, none of the optional upgrades are necessary to make a fine sword - but if you want to really refine it further, we allow you this opportunity).
6) Now select your choice of hard wearing, thick sageo to go on the saya. When in doubt, go with a simple color that closely compliments the ito maki wrap you have selected.
7) Finally, select the saya to give it that last personal touch. From simple monocolored lacquer to highly detailed mother of pearl. Basic saya are free, but the more advanced designs incur an additional cost to cover our expenses (and may occasionally add to the overall lead time, but as we try to keep them in stock this is rare). All saya come with a genuine buffalo horn koiguchi.
Then sit back and leave the rest to us!
Do not be fooled by cheap imitations, from the quality of the stunning blade to the amazing selection of fittings, this is as close as you are ever likely to get to owning your own heirloom quality personalized katana..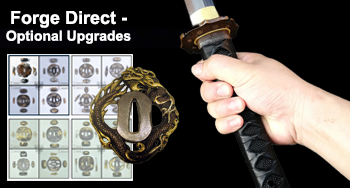 PREMIUM OPTIONAL EXTRAS AND UPGRADES
The basic free/included options are more than enough to make a stunningly beautiful sword - but if you want to add something even more special to your design, in addition to a large and varied selection of saya, there are currently three options that can be added to your design if so desired as follows:
UPGRADE OPTION 1: Elite Premium Quality Work Hardened Copper Fitting Sets with Gold and Silver Inlay
UPGRADE OPTION 2: Hard wearing leather ito wrap
UPGRADE OPTION 3: FULL Rayskin wrap
Additionally, check this page of the SBG Sword Store Blog for more information on how these swords are made and high resolution images of all components. If you have any questions or if anything is unclear, feel free to contact us and we are only to happy to help.
How to Use
Suitable for frequent backyard or dojo cutting. The most traditional blade possible - select your own fittings. Heirloom quality.
21" Blade measured from Munemachi to Kissaki plus your choice of Wakizashi (6") or KoKatana (11") handle. Weight will vary depending on fittings and blade length but typically between 1.3-1.6lbs
Materials and Construction
Differentially hardened, complex Soshu Kitae laminated (1095, 1060 and 1045 carbon steel laminate), fully sharpened Master Smith forged blade with real hamon and elite polish. Your choice of premium quality, traditional and durable tsuba/fittings. Silk ito hineri maki wrapped tsuka with hishigami in your selected color over authentic rayskin (available in 5 ito and 3 rayskin colors). Wooden lacquered saya with buffalo horn Koiguchi in your choice of color and style, including mother of pearl and other premium options at a an additional price.
FREE SHIPPING direct from the forge in Longquan, China via SF Express or UPS, typically within 4-6 months (though please allow for unexpected delays - the blades of these swords take a very long time to produce)..
Warranty Info
Each sword is guaranteed to be as described and 100% genuine product. Each sword is also covered by in full by the Manufacturers Warranty PLUS our extended LIFETIME Warranty against blade breakage.
Click here for detailed warranty information
Return Policy
Payments made on custom orders are non refundable and cannot be cancelled once work has commenced as they are made to order to YOUR personal tastes and the expenses incurred making it are non refundable to us as well. If there is a problem with your custom order we will work with you to provide a fair and satisfactory outcome, up to and including remaking the sword and in general going the extra mile to ensure that at the end of it all, you are pleased with your purchase.
Click here for more info on our guarantees