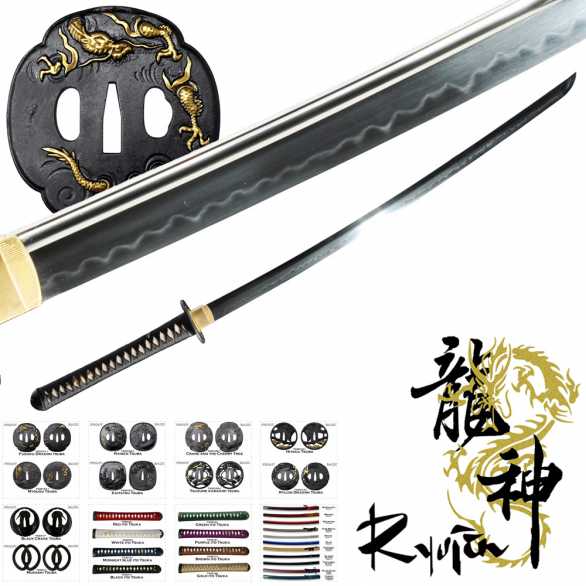 Ryujin T10 Custom Katana w/bo-hi
(11)
AVAILABLE NOW
Bo-hi Version.

Select and Customize your own style - Any Tsuba, Any Handle and Saya Color - One Low Price, No Hidden Costs - Ships within 1 week!!
$

279.99
$329.99
You Save $50.00
Select Your Custom Design from the images above: One Low Price
- Assembled and Shipped within 1 week from Los Angeles!
(CLICK ON the THUMBNAILS FOR MAXIMUM SIZE, FULL DETAIL RESOLUTION PICS)
This is one of the most exciting developments in the sword industry for YEARS - the option to customize your own high quality, solid performing out of the box T10 tool steel differentially hardened Katana with real hamon WITHOUT waiting for weeks, months or even years - at an incredibly low price and assembled and shipped from WITHIN the United States..
The concept was developed by Mr. Sam Sung, one of the co-founders of Musashi Swords and with the modular assembly system he has developed, keeping a large variety of parts in stock and YOU select what design best suits your unique style WITHOUT breaking the bank..!
Our version of this sword, developed working closely with Mr. Sung and his team, utilizes only the BEST available options to ensure you get the best looking, best performing cutting Katana possible - fully guaranteed to not only meet but EXCEED your expectations. With only the best options available, it is practically impossible to design a bad looking sword. Just pick the components that you like the look of best and let us make it real for you!
But don't make the mistake of thinking these swords are just pretty ornaments - these are serious, practical blades that are surprisingly robust yet traditionally constructed and at our special introductory price, are some of the best cutting swords available anywhere near this price point. The ability to customize them is indeed just a very special free bonus!!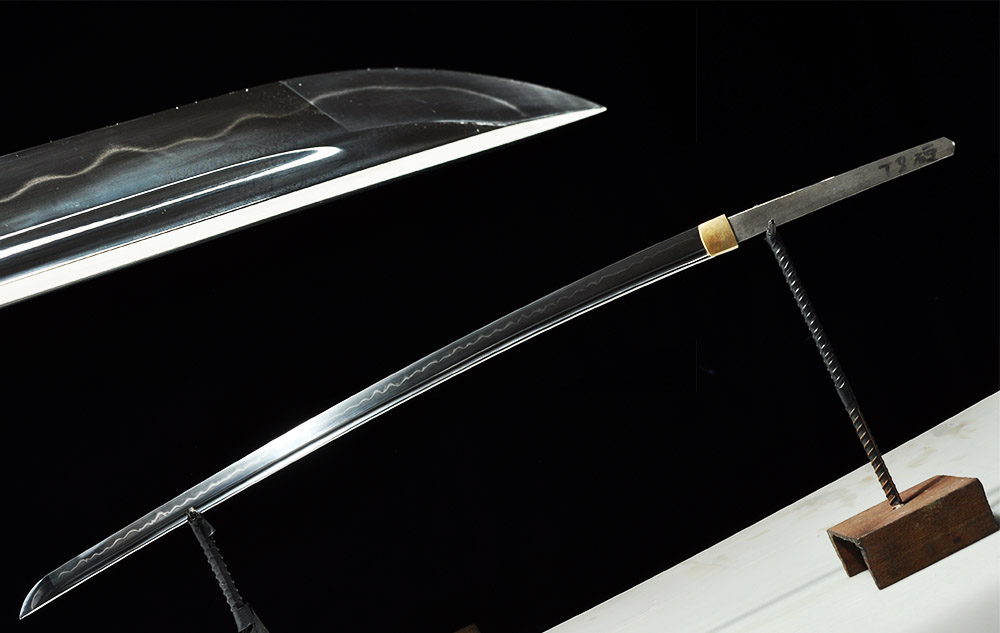 CUSTOMIZATION OPTIONS
1) Select which Tsuba you wish to be mounted. All tsuba are made from solid iron and all but the Double "C" Ring Musashi and Black Crane tsuba feature REAL gold accents to give the design a splash of color at NO additional cost to you (normally $75 more!). The 'Front' is the Omote and is the side that faces the tsuka, the 'Back' is the Ura and faces the tip of the blade. This is so that when the sword is worn or displayed, the more attractive side faces onlookers, and when drawn, the less attractive part faces the opponent..
2) Select tsuka (hande) ito color from 8 different color choices with either iron or brass fittings (Iron for maximum durability, brass - less durable but more attractive).
3) Select saya style and color. T920322 has a wood-grain finish. T920911 is the natural wood with clear lacquer finish. T920111 is a standard glossy black, T920121 has a textured finish to minimize finger prints and scratches.
NOTES:
Click the thumbnail to open a high resolution picture of each option or hover your mouse over a thumbnail for a quick view.
This version is only available with a solid bodied (no-hi) blade.
Fuchi and Kashira are available in generic black iron or brass and will match your overall design and the tsuba you select.
Sageo wrap tends to be black and cannot be specified as it is made at the forge.
No hidden costs, one price for any and all customization selected.
Over 30,000 combinations possible, meaning your sword can be almost as unique as your own personal tastes!
Assembled and shipped from the Ryujin workshop in Los Angeles within 1 week after ordering!
Click here to read the full review on SBG
Click here for a gallery of the customization options
How to Use
Suitable for frequent backyard or dojo cutting. Traditional blade - select your own fittings. Faster, lighter bo-hi/fullered version.
27.5" blade with 11" handle. Weight 2.3lbs (with bo-hi).
Materials and Construction
Differentially hardened fully sharpened T10 Tool Steel blade with real hamon and bo-hi (fuller). Solid iron fittings with iron tsuba and REAL gold inlay. Rayon wrapped ito in your selected color over authentic rayskin. Wooden lacquered saya in your choice of color and style. Display Box Not Included.
Shipped from the Ryujin workshop in Los Angeles within 2 business days. $20 flat rate USA shipping for up to 2 swords via UPS or USPS, FREE shipping if 3 or more swords ordered at the same time. International shipping via USPS, $60 to selected international destinations by USPS.
Click here for more shipping information
Warranty Info
Each sword is guaranteed to be as described and 100% genuine product. Each sword is also covered by in full by the Manufacturers Warranty PLUS our extended LIFETIME Warranty against blade breakage.
Click here for detailed warranty information
Return Policy
Payments made on custom orders are non refundable and cannot be cancelled once work has commenced as they are made to order to YOUR personal tastes and the expenses incurred making it are non refundable to us as well. If there is a problem with your custom order we will work with you to provide a fair and satisfactory outcome, up to and including remaking the sword and in general going the extra mile to ensure that at the end of it all, you are pleased with your purchase.
Click here for more info on our guarantees
Featured positive reviews:
Exceed my expectations
08/04/2020
At a glance:

Pros
- QUALITY FOR PRICE
- Well made blade
- Fittings are attractive
- Tsuba, Tsuka, Seppa, Habaki all tight

Cons
- Very minor deviations in the depth of the bohi (almost imperceptible)
- Some variation in diamond sizes on the tsuka
- bohi and habaki aren't exactly as depicted in the picture on the website (not a deal breaker, but something I noticed)

Review:
Full disclosure, I am a lifetime sword enthusiast but relatively new sword collector because I've been very selective in what I spend my money on. I am also a practitioner of Martial Arts, specifically Japanese sword having studied for more than a decade in modern (iaido) and koryu (kenjutsu) arts. I have some experience inspecting and swinging a few traditionally made antiques, as well as several production blades (from Paul Chen to trade show choppers). This is my first Japanese style production blade purchase.

I ordered this after more than a year of reading reviews and watching the SBG forums for mentions of these swords. As I am particular with sword purchases, I tend to only want to spend on swords that are (1) relatively historically accurate and (2) usable for kata (carefully) as well as potentially cutting through something. After much deliberation, I decided on ordering one.

The online store was very quick to process my order and reply to my queries. Originally I ordered the Matte saya, but changed my mind a few days later and asked if it could be swapped with the Glossy. By then, the sword had already been assembled and shipped which is a testament to the speed in which they fulfill orders! (I actually really love the Matte saya so no tears shed).

As I live in Canada, my sword went through customs and the custom officers cut through the original plastic envelope (scarring the cardboard box) and repacked it after inspection (I wonder how closely they actually 'inspected' it...). When I received it I was initially worried that the scarred box meant shipping damage to the actual sword however upon opening the box, everything was secure on the inside with the exception of the foam brace on the end of the saya being broken - probably a result of said inspection. The sword was in the supplied cloth bag (nice touch!) which seemed to be adequately tied around the tsuka. I was pleasantly surprised to find a certificate of authenticity and production number from the forge in an enclosed envelope within the box. Again, another nice touch.

I removed the sword from the box and noticed its weight. As I'm used to training with shinai/bokuto/iaito, and I was surprised at the natural weight. There was no noticeable rattle as I took the sword from the cloth bag. I was very pleased at the quality of the fittings. The Matte saya is much more attractive than the pictures online (and I liked the look of it online). The Kaitatsu tsuba is a little on the large side for me however the detailing is well done, especially with the black coating applied to the metal. The tsuka is a bit thicker in diameter than I am used to but not uncomfortably so. There seems to be a small bit of 'waist' profile on the tsuka which is also a nice touch (unless I'm imagining it). The tsukamaki is tight, though there are a few irregularly shaped diamonds. I was expecting irregular diamonds at this price point, but the wrapping and fittings actually exceeded what I expected to receive! The sageo, though, is exactly what I expected - a thin simple sageo that many in the community call 'shoelace' sageo. Definitely not an issue with me as I have a spare one that I used instead.

When I inspected the sword outside of the bag, I did notice a very small wiggle closer to the tip of the blade when inside of the saya, but again, this wasn't unexpected. In fact I found that there was less wiggle than I thought there would be. When I drew the sword from the saya, I was surprised to see a plastic cover on the blade itself. I imagine this is to form a barrier between the oil on the steel and the wood of the saya (again, nice touch). The plastic cover was broken on the cutting edge, though, which may have been the result of the aforementioned customs inspection. I'm assuming the well oiled blade doesn't sit in the saya inside the warehouse so the amount of time the wood was exposed the to extra oil was only in the matter of a week so no worries. I carefully removed the plastic and thanks to the sharpness of the blade, it came off easily. I removed the excess oil and was very pleased with the shape of the blade, the general geometry, and the attractive hamon! The polish is better than I expected (not mirror but I plan on putting this blade through a few soft targets so whatever!). The blade isn't razor sharp which I'm actually thankful for as I prefer my swords sharp enough to cut, but not necessarily shave with. I also felt some minor irregularities in the depth of the bohi but less than my Japanese made iaito so really, I was quite pleased.

The bohi is pretty well done all in all, however it isn't exactly as its depicted on the website. The bohi does not extend beyond the habaki into the tsuka. Instead, it starts about an inch in front of the habaki, terminating about half inch in front of the cosmetic yokote. The habaki is also a bit different than the pic online, being just plain ornamented brass. The mune-machi is a bit rough, with some curled up metal where it fits snugly in to the habaki. Again, none of the above is a deal breaker but something I noticed. I did a few swings and a few kata and noticed that the sword does feel a bit blade heavy but not out of ordinary for a well made production sword. When drawing and putting the sword in the saya, there is a rough wood-on-metal feeling as the habaki goes in and out. Lastly, the tachi-kaze isn't as pronounced as an iaito but I belive that's because an iaito has a deep bohi which makes the blade less structurally sound, and for a light cutter, I don't mind more steel.

All in all, this has been a very positive experience both in ordering, shipping, and finally receiving the product. The sword exceeded my expectations based on not only the price point, but the quality of the product. The quick delivery and customer support made this an absolutely painless process. I highly recommend this for anyone looking to collect, or use this for light target practice.
Featured negative reviews:
It's ok
10/16/2020
It's ok, not the best quality. The blade itself looks great, the hamon is nice, and the sword is very light.

My complaints are:
It's not very sharp

the tsuba shows a lot of the wood and the same around the mekugi is poorly done

the diamonds on the ito are not even and a little loose

the bo-hi by near the kissaki is uneven

and a very small detail, it would be nice to not see "china" on the spacer by the habaki. we know most swords are made in china, but it just makes the sword look cheap.

Aside from the sword itself, I do not like not this site's return policy. It's "custom" but the manufacturer is probably able to disassemble it. I would've returned it but am probably unable to. SBG also leaves you hanging with any concerns you have when addressing issues with the product.
Our response
Just wanted to clarify something here - these swords have 'hiraniku' that is to say they are meaty. A very narrow blade will cut paper and light targets, but it will not cut through bamboo or the thickest part of a pork leg - so are just trick swords for fun really (and usually very cheap - martial artists don't want thin blades like this). While it is true that swords with Niku or an Just a quick note - appleseed bevel do not feel sharp to the casual touch because of all the 'meat behind them' but they can do severe damage. Here is a rather graphic example - this fellow used a blade that he could run his fingers over with no damage.Then on an over swing, he hit his calf.
He actually nearly died (and actually died a few years later, RIP) but this cut from a seemingly dull blade cost him 6 pints of blood and 66 stitches. If that is not enough to convince you, sharpness is the LEAST important factor in cutting ability. What is important is the steel used, the mass, speed and hardness compared to the target does all the work (plus of course, the skill of the swordsman and where it makes contact). The blade only needs to be sharp enough to START the cut. So this really is a mute factor and should not detract from the review (i noted you did lot like the made in China stamp, but you should complain to US customs, not us - they demand this). If sharpness was so important, then there would be no need for carbon steel blades - stainless steel would do the job! To say we leave you hanging is unfair, I work without weekends or holidays to try and keep on top of things. You need to be patient. Evey other issue you raise is coveted in our warts and all reviews. And what is wrong with the policy? If you have not used it, we take it back - and often waive the restock fee so we typically lose a lot money. As a small business, that really hurts us, but we do the right thing even it means we will eventually go out of business for over serving. We don't usually refund custom made items as its a total loss at our end, but since you dislike it so much, please contact customer service and we will take it back.