Ryujin T10 Custom Wakizashi w/bo-hi
(4)
AVAILABLE NOW
Bo-hi Version.
Select and Customize your own Wakizashi to match the basic Ryujin T10 Katana bo-hi blade version. With bo-hi/fuller for extra speed without sacrificing overall blade strength and durability.

$

239.99
$289.99
You Save $50.00
Select Your Custom Design from the images above: Final Closeout Sale

- Assembled and Shipped within 1 week from Los Angeles!
(CLICK ON the THUMBNAILS FOR MAXIMUM SIZE, FULL DETAIL RESOLUTION PICS)
Brought to you by popular demand, it is finally here: a matching Wakizashi to go with the Ryujin T10 Custom Katana - w/bo-hi version so you can create your own Samurai Daisho set!
As with the Katana in the series, the Wakizashi utilizes only the BEST available options to ensure you get the best looking, best performing cutting Katana possible - fully guaranteed to not only meet but EXCEED your expectations. With only the best options available, it is practically impossible to design a bad looking sword. Just pick the components that you like the look of best and let us make it real for you!
But don't make the mistake of thinking these swords are just pretty ornaments - these are serious, practical blades that are surprisingly robust yet traditionally constructed and at our special introductory price, are some of the best cutting swords available anywhere near this price point. The ability to customize them is indeed just a very special free bonus!!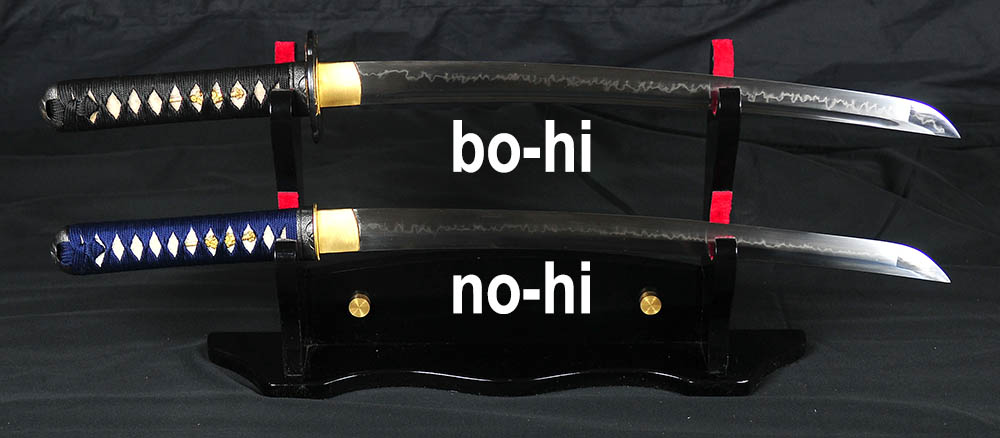 CUSTOMIZATION OPTIONS
1) Select which Tsuba you wish to be mounted. All tsuba are made from solid iron and all but the Double "C" Ring Musashi and Black Crane tsuba feature REAL gold accents to give the design a splash of color at NO additional cost to you (normally $75 more!). The 'Front' is the Omote and is the side that faces the tsuka, the 'Back' is the Ura and faces the tip of the blade. This is so that when the sword is worn or displayed, the more attractive side faces onlookers, and when drawn, the less attractive part faces the opponent..
2) Select tsuka (hande) ito color from 8 different choices of synthetic silk rayon.
3) Select saya style and color. T924322 has a wood-grain finish. T924911 is the natural wood with clear lacquer finish. T924111 is a standard glossy black, T924121 has a textured finish to minimize finger prints and scratches.
NOTES:
Click the thumbnail to open a high resolution picture of each option or hover your mouse over a thumbnail for a quick view.
No hidden costs, one price for any and all customization selected.
Over 30,000 combinations possible, meaning your sword can be almost as unique as your own personal tastes!
Assembled and shipped from the Ryujin workshop in Los Angeles within 1 week after ordering!
Click here for a gallery of the customization options
How to Use
Suitable for frequent backyard or dojo cutting. Traditional blade - select your own fittings.
Blade length: 17 3/4", Handle length: 7 1/2", Weight (without saya): 1.8 lbs, Point of balance: 2 1/2 "
Materials and Construction
Differentially hardened fully sharpened T10 Tool Steel blade with real hamon and bo-hi (fuller). Solid iron fittings with iron tsuba and REAL gold inlay. Rayon wrapped ito in your selected color over authentic rayskin (1 mekugi peg). Wooden lacquered saya in your choice of color and style. Display Box Not Included.
Shipped from the Ryujin workshop in Los Angeles within 2 business days. $20 flat rate USA shipping for up to 2 swords via UPS or USPS, FREE shipping if 3 or more swords ordered at the same time. International shipping via USPS, $60 to selected international destinations by USPS.
Click here for more shipping information
Warranty Info
Each sword is guaranteed to be as described and 100% genuine product. Each sword is also covered by in full by the Manufacturers Warranty PLUS our extended LIFETIME Warranty against blade breakage.
Click here for detailed warranty information
Return Policy
Payments made on custom orders are non refundable and cannot be cancelled once work has commenced as they are made to order to YOUR personal tastes and the expenses incurred making it are non refundable to us as well. If there is a problem with your custom order we will work with you to provide a fair and satisfactory outcome, up to and including remaking the sword and in general going the extra mile to ensure that at the end of it all, you are pleased with your purchase.
Click here for more info on our guarantees
Featured positive reviews:
My favorite knife
09/11/2019
I ordered one of these around a year ago. I've used it as my go-to knife while out in the woods, cutting kindling and the like for my campfire. I won't cut trees with it, but I would hazard that the thing likely could.

This sword is virtually indestructible. The fittings are rock solid. The blade, even after all the abuse I have put it through, is pristine, without even the slightest scratch (I do keep it well oiled, and re-oil it after every use). The Saya is a little easy to blemish, but it's only the lacquer that is taking marks.

After a proper sharpening, the blade will cut through anything, and cleanly, while leaving the blade entirely unharmed. The T10 steel is a real miracle material. Of the things I've cut with it, bone is the toughest, but the blade simply batters it out of the way without even nicking the edge.

I can't recommend this little blade enough. I love this sword.