Gus Trim is a legend in the sword industry – not only is he famous for his own high performance swords – but in recent years has shared his expertise at sword design with the likes of Valiant Armory, Dragon King (i.e. the recent A.P.O.C. Tactical series) and as we will discuss in this post – Dragon King..
The first attempt at making these two new swords kind of went awry. Some either missed the memo or misread an email or otherwise messed up the specs of the first two swords – and they ended up with the wrong color leather handle, pommels switched over, and heavier and generally off spec..
Here are a couple of side by side pics demonstrating what I am talking about:
THE KNIGHTS SWORD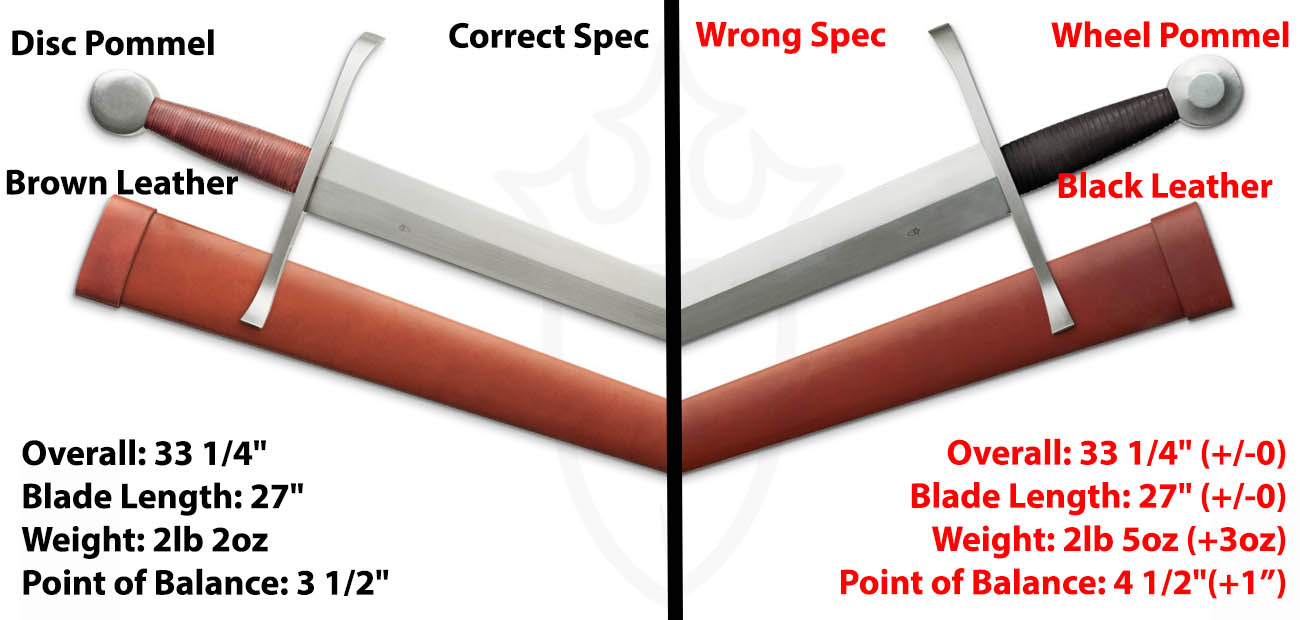 Apart from the pommel and leather being wrong, the Knights sword is 3oz heavier than Gus' specs and with the point of balance 1″ further down the blade towards the tip.
THE ARMING SWORD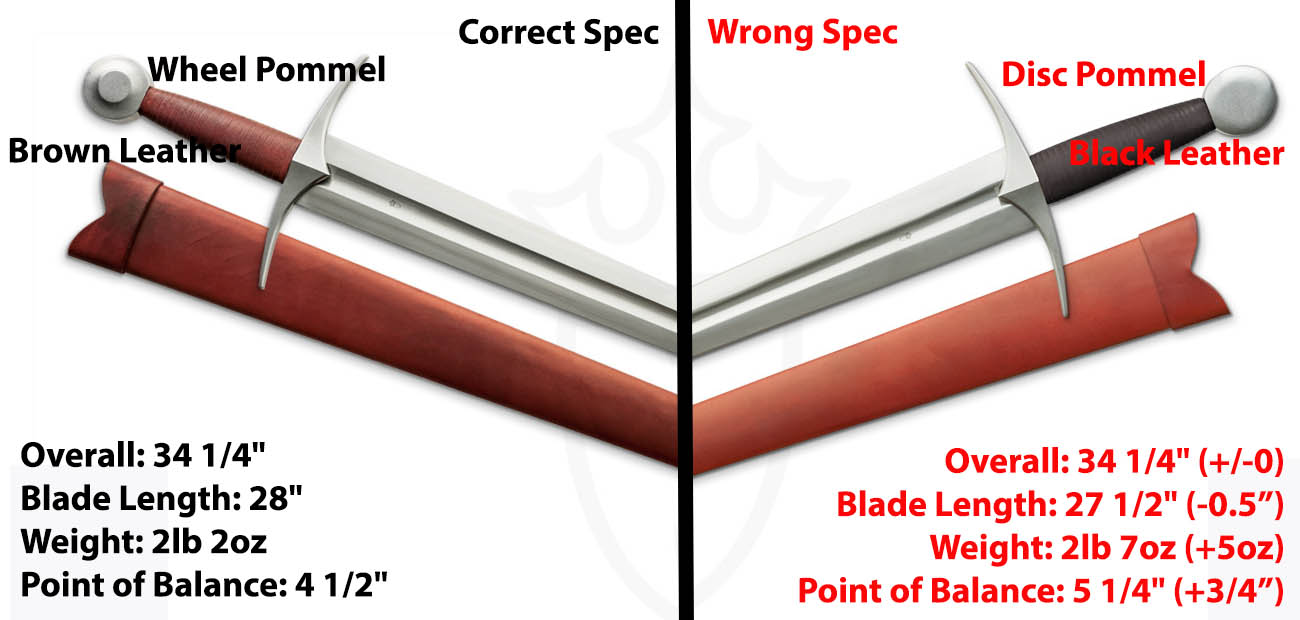 Same as the other one, but 5oz overweight, 1/2″ too short and a point of balance 3/4″ further down the blade than what it should be.
Well, the good news is that the correct specification swords finally just landed and, unlike the first attempt, are spot on to Gus' demanding expectations.
Not only are they to spec, meaning they have optimized handling and cutting ability rarely – if ever- seen at this price point, but in every respect they are head and shoulders above any other medieval swords seen near this price point.
Here is what the official distributor, Cas Iberia, has to say about it:
Atrim Design Swords

We spent a lot of time discussing with Gus his methodology for developing what he would call a "performance-oriented" sword. Without getting too deep into it Gus, along with Tinker Pearce, was one of the pioneering sword makers to incorporate the notion of harmonic balance into his sword designs. Informed by historical examples and his own experimentation Gus has been making swords for decades now that seem to float in your hand. For this sword Gus left the aesthetics and materials up to us, it was the design (weight, balance, taper, harmonics) we had to get right. It took several rounds of samples (not to mention a botched first run) but we finally nailed it.

Not satisfied with just getting the design right we wanted to push it farther. We had the fundamentals down but chose to take the materials and fit and finish a step ahead. The blade is hand forged mono-tempered 9260 spring steel, flat ground with a handsome satin finish. The fittings are high quality stainless steel exactly matching Gus's design. The grip is a solid wood core, cord-wrapped for strength with a textured leather over-wrap. The scabbard is a solid wood core, with stainless steel chape and stitched leather wrap.

Bottom line, these are the best performing production medieval swords available.
Oh, and for the bargain hunters reading – there is at the time of writing this post around half a dozen of the OFF SPEC swords available to purchase with a $110 discount.. Not bad for some minor deviations from Gus' design – and GREAT value if you take them at face value – expertly tempered, super tough 9260 Spring Steel blades!
But if you want to grab one of the discontinued Off Spec Swords – you had best get in quick. Once they are gone, they are gone for good and are rare enough that they have true collectors item potential.