With recent restocks and sales you might be forgiven for thinking that all is well with the sword industry – but things are rarely as they seem..
In recent years shipping swords around the world has become increasingly difficult and complicated – and most recently CANADA seems to have singled out swords as 'dangerous goods' and have started returning our shipments sent from the US to Canada, even singling swords out with their own 'dangerous goods' checkbox along with air shocks, guns, ink cartridges, knives, liquids, swords and the dreaded 'other' category..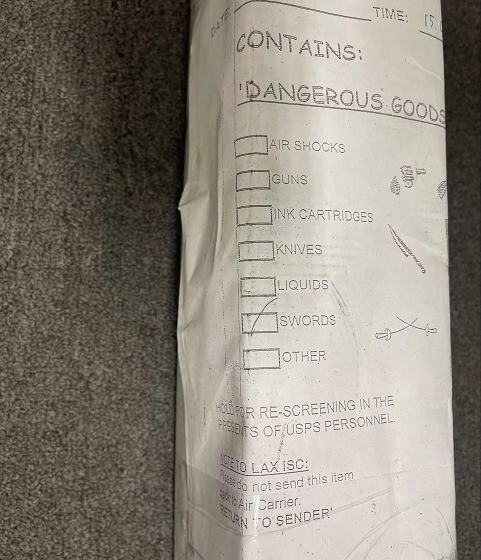 The merit of this spurious decision is a topic for another time, but least to say that lumping swords in with Airshocks, ink cartridges and liquids generally suggests that the perceived threat of shipping a sword is that it will somehow get out of its scabbard, out of the box and start flying around in the cockpit causing mayhem..
While this is patently ridiculous, and with swords both being legal to own across both sides of the North American border, the fact remains that swords have been once again singled out by brainless and fearful bureaucrats and, unable to sustain the shipping costs and losses at our end, we are left with no choice but to – effective immediately – halt all US->Canada sword shipments until further notice..
This has not cut off ALL our products from Canada – Darksword Armory, who are based in Quebec, can still ship for us and the cost remains entirely free. And for the time being, as they ship direct from the Forges in China, Project X, Forge Direct Japanese and Forge Direct Chinese are still able to ship to our Canadian customers..
But everything else is off the table, and so it would seem the only option remains to use the services of a third party shipping service such as Planet Express:

To say that this is yet another blow to our fragile industry is an understatement, but it is what it is and unless and until another economical shipping service surfaces, we are stuck with this very unpleasant situation..
More posts and some additional sales and specials still pending, but we needed to get this bad news out there and stem our losses before it gets out of hand..