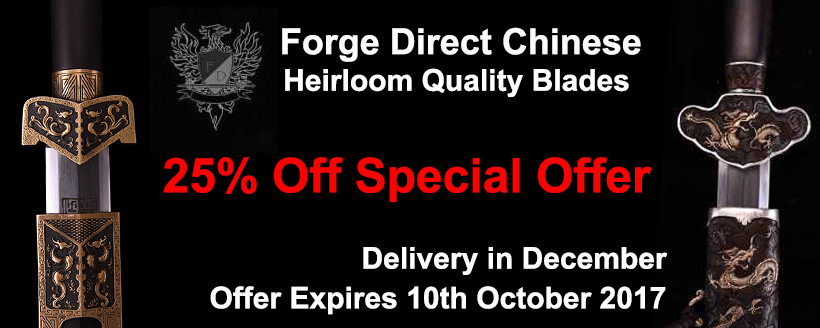 Right now, there is a bit of turmoil for the forges that make traditional Chinese swords for our Forge Direct Project.
Earlier this month, there was a big shakeup of the domestic industry over there.  90% of the time swords made by our Master Smith are for domestic Chinese customers, usually wealthy business owners, who want a Longquan sword for personal and cultural reasons. But this month, the Chinese government effectively hamstrung the traditional Chinese sword market by banning transporting swords domestically in the mail and via any couriers…
It will not be until the end of October before the effects of this are truly known and understood by the traditional Chinese sword making community over there. And indeed, discouraged, our own Master Smith who makes the Forge Direct Chinese line for us has decided to take his annual holidays from now until October – meaning that any orders placed now will not be fulfilled until early to mid December..
This puts us in a bit of a tricky situation – and the easiest solution is to temporarily remove all Forge Direct Chinese Swords from our store until he gets back to the forge. But instead, we made him an offer – if we can work together to provide a massive discount on the Forge Direct Chinese line to make up for the extended wait period and give him a nice boost of orders for when he comes back, well – it would be a win-win for everyone..
So here is the offer – 25% off the entire Forge Direct Chinese line until the 10th of October, after which we will temporarily put a hold on all new orders for Forge Direct Chinese until the effects of this domestic shipping ban are fully understood.
Because the future of this part of the sword market is now very uncertain, we STRONGLY recommend that if you have ever had an interest in historical Chinese swords – NOW is the time to secure one.. How long a forge can survive when 90% of its business has been stripped away overnight is very much in question.. And while I do not have a crystal ball and am not saying that this will be the last time we will ever be able to offer these swords, that future is a distinct possibility..
As stated, the only downside is that work will not commence until the forge re-opens in late October. But the upside is the huge 25% discount – and the possibility that after this promotion – we may not actually be able to offer these swords again.. (like I said, this is not 100% – but it is very possible that if the forge is forced to change direction and make swords purely for export – Chinese swords like these will become almost impossible to procure)…
Click here to see the current line up of swords while they are still available