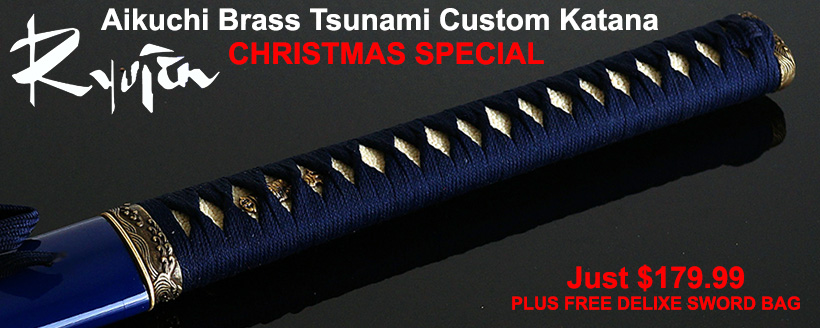 With Christmas just around the corner, and our earlier sale of the Ryujin Musashi Tsuba running out of stock over a week earlier than we had planned, here is our FINAL offer for 2017..
And, as you might expect, it's a GOOD ONE – a BRAND NEW, limited edition Custom Katana – this time the sleek lined Aikuchi Custom Katana Christmas Special which would normally be between $229 – $269, but is now on special until sold out for a ridiculously low $179.99..
An Aikuchi Katana is basically a slim lined blade without a tsuba – and in this case, it is made visually interesting by the use of a new set of solid brass tsunami wave themed fittings that don't NEED a tsuba to look fantastic..!
Here are a couple of pics that show you what I mean..
As stock of these new tsuka are limited (and indeed, almost everything but the blades is running out right now) and with Christmas only just around the corner (especially when you factor in shipping delays and bottlenecks at this time of year) the SOONER you order the better..
While it usually takes up to a week for the workshop to assemble and ship your custom Ryujin order, right now it is all hands on deck and the turnaround time now is typically no more than 2 business days! So there is time, but if you want a custom sword in time for Christmas, you really do need to step on it before it is too late..
And one final bonus – you also get your choice of one of four deluxe sword bags that we usually sell in the accessories section of the store for $19.99 absolutely free!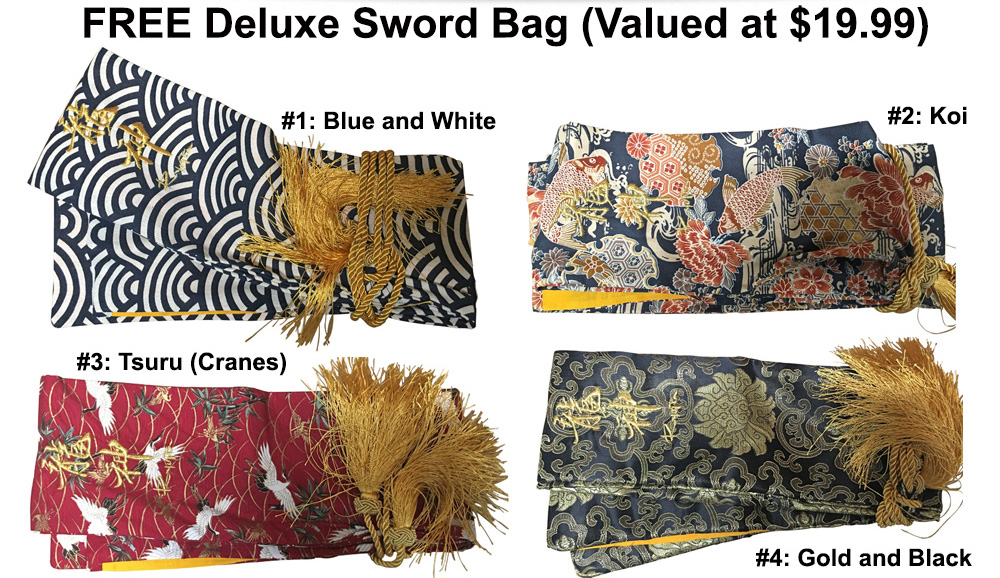 This will be the last major offer in the lead up to Christmas, as by the end of this week if you haven't ordered a sword in time for Christmas, it probably isn't going to make it in time..
So get these while you can – the last sale ran out very quickly, and with the hot looking design and style, like the previous offer they can be withdrawn from sale at any time..
Ryujin T10 Custom Katana – Aikuchi Limited Edition Christmas Special
(P.S. If this link no longer works, it means they are already sold out)..