Plus Some Sneak Peaks at what is planned for the first couple of months…
Hey everyone,
Thanks for bearing with us while we took some time off during the holidays. As of today we are officially back to work, though personally I am still in transit back and there might be some minor delays with personal correspondence until the end of the week as there is a ton of stuff to catch up with, and as you will see in this blog post, a ton of new projects and ideas that need to be addressed..
So in the meantime, we are pleased to advise that the 5% coupon code will remain active until the 17th of January!
---
5% OFF STORE-WIDE COUPON CODE:
---
Simply click the coupon code to automatically add it to any and all products in your cart.
CONDITIONS: Please note that this coupon MUST be used at the time of purchase to qualify. It cannot be retroactively applied to an order, so please ensure you double check it has been applied BEFORE you pay for your order. The coupon code will become inactive at midnight the 17th of January 2020.

What is planned for Jan-Feb 2020..
A sneak peak…
First off, January is the lunar new year – and so as it has become something of a tradition over the previous years, stay tuned for the CHINESE NEW YEAR MEGA-SALE on Forge Direct Chinese..
But another HUGE new project planned that will dominate the early part of 2020 (and continue to expand and grow over the course of the whole year) is related to my current trip to Japan – our first offering of genuine ANTIQUE and GENDAITO Nihonto (Katana made in Japan!).
More on this will be released on the blog, social media and our various newsletters over the course of the coming days and weeks, but in the meantme, here are a few sneak previews..
First off, the Japanese Sword Smith who has made all of this possible as we took a stroll around the Masumida-jinja Shrine in Aichi province, a relatively short distance from his forge on the outskirts of Seki City.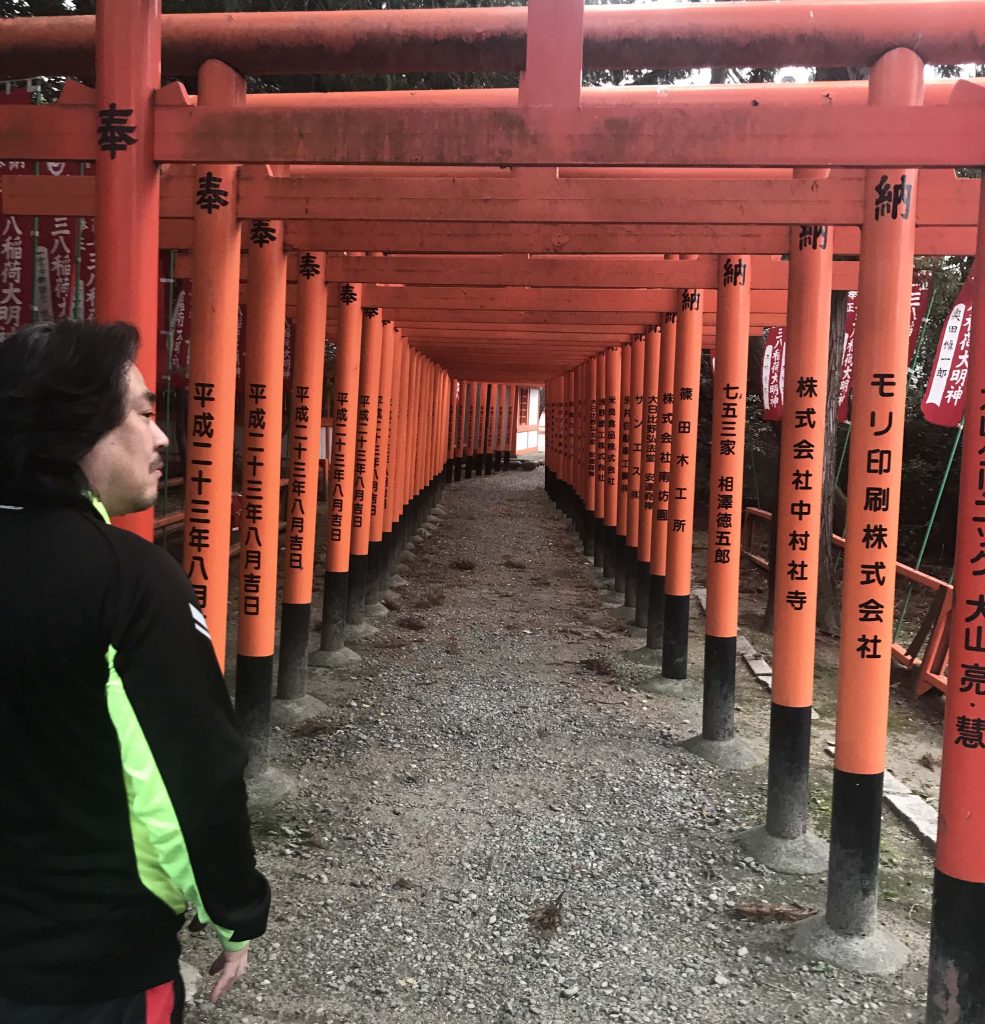 Yours truly inspecting one of the many Nihonto antique swords that we will be making availble to collectors and enthuisiasts over the following weeks right here at the SBG sword store (and yes, it is hard to disguise my feeling of AWE looking at these blades, almost all of which are several hundred years old..)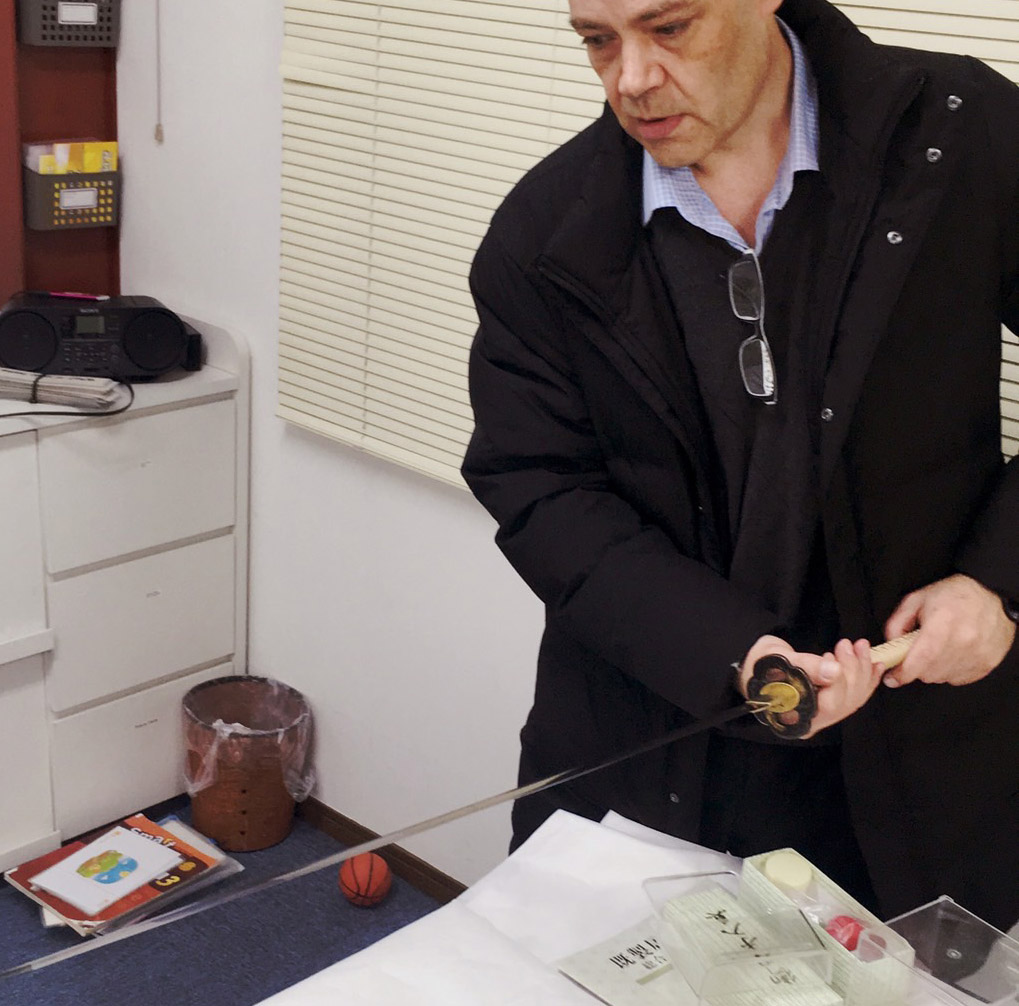 And just a sneak peak at two of the actual antiques that we will be offering at the most reasonable price possible.. (though naturally, being the real deal – they will be more than most swords we usually offer at SBG, but as always, sold with the fairest and best margins we can muster to give collectors the world over a fighting chance to own one).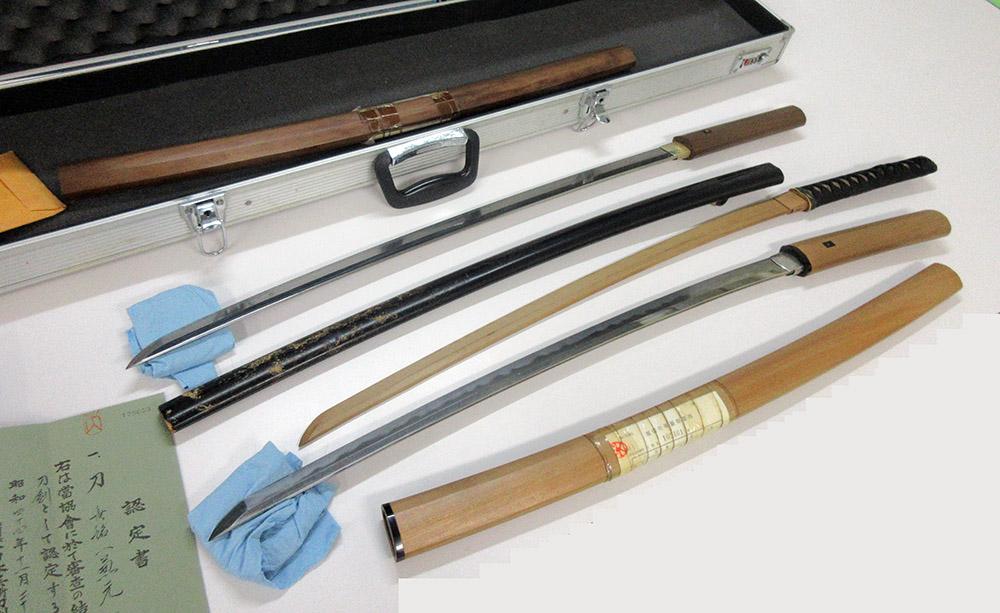 Naturally this 'working holiday' was extremely educational, and I will be doing my best to share what I learned with all of you as many questions I had about Japanese swords were clarified, and I have necer seen or handled as many genuine antiques at one time as I have during this incredibly eye opening trip.
So I hope that you will all bear with me over the coming days as I catch up and prepare to share everything I have learned and everything that we can offer you!
Talk again soon.