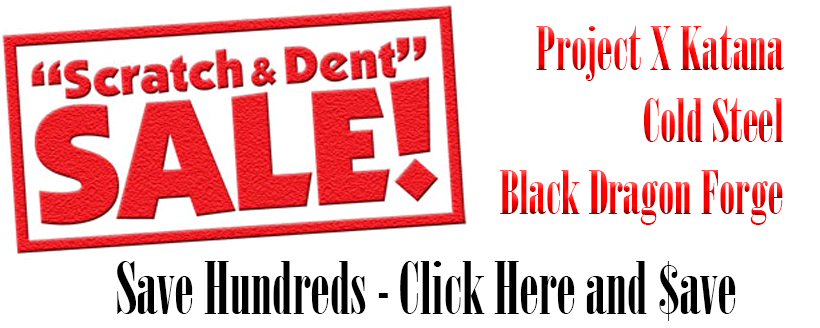 Our misfortune is your chance to save – and the savings are quite significant, as are the bargains..
For example, how about the very last Project X Shoshu Kitae Model #006 Dragon Katana – not only is it the very last one for 2016, but a few minor scuffs on the blade see it discounted by $200..
Or how about another Soshu Kitae blade in Shirasaya – not $574.99 but less than half that price due to a customer returning it without oiling the sword so that it developed a patina of rust.. We cleaned off the rust, but there are still a few marks here and there. But for the price of a beater Katana, it is a bargain hunters delight..
And then there are the last of the SBG Black Dragon Forge swords – heavily discounted because we were not 100% happy with the fit of the tsukas, so permanently attached them – making them super durable, but discounted because you cannot take them apart like a traditional Katana (a move that I have often recommended for entry level cutting blades – it is pretty much impossible to achieve a perfect fit on a sword anywhere near this kind of price point, the cost of a traditional tsuka core is actually several times the cost of these swords!).
And so on it goes, but not for long.. Astute bargain hunters will realize what is on the table here, so grab what you can while it is still available!