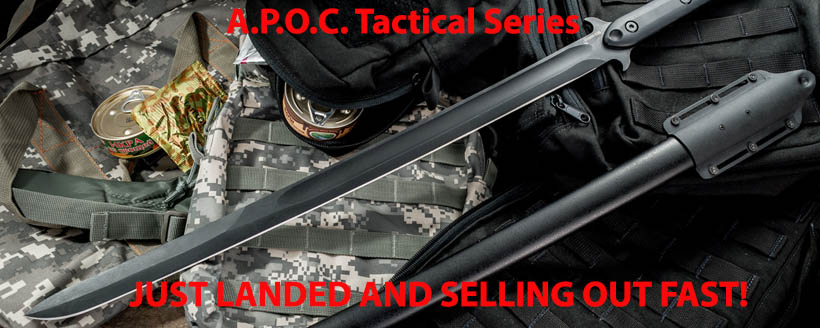 As the sheer number of pre-orders demonstrated (we sold out of our allotted quota in a couple of weeks) the 9260 Spring Steel Swords designed by Gus Trim and brought to life by the good people at Dragon King are proving to be too popular for their own good. Or at least, too popular for those of you who don't pull the trigger on these while they are actually available..
---
---
Well, now is your chance. The pre-orders have all gone out and we have an extremely limited last chance supply of both the Cutlass and the Katana in stock and ready to ship.
The only catch is that demand far exceeds the current supply. And the swords are as good, or even better than many people expected. Here is a quick customer submitted review on the Katana (5 out of 5 star rating):
Alright, finally even though the shipping was earlier than expected. First of all the sword is solid and symmetrical! Sheath is a good intial concept. Just the right amount of weight not too light and not too short. This is sharp as can be. I will re review after a cutting session. And yes this is tatami and bamboo capable from the feel.


Shout outs to Dragon King and SBG for running the interview. And props resonates through out!
So long story short – they are finally here and in stock – so get them while you can..