Man, I can't believe that it has been two years since I last posted on this blog.. But then again, I have been doing almost all the SBG Custom Katana correspondence pretty much directly through the SBG private mailing list, but recently I've been toying with the idea of creating a blog and linking to it from the site as a lot of new visitors will have no idea what has been happening over the last 2 years, creating something of an information gap.
Anyway, I am rambling as usual – the point here is to say that the blog is back – at least for now – and I have quite a bit of news to share so let's get it happening..
Current project status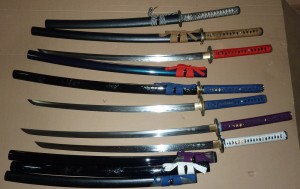 A quick snap from the most recent batch
Our most recent batch of SBG custom swords (batch 17) is currently on its way from the forge to my agent in Canada for sorting and inspecting before shipping out to each swords new owner, so while it is still a few more days before I can tie up all the loose ends and make sure this shipment goes out as smoothly as possible, the next batch (naturally enough, which we will call – er, batch 18) will be taking orders within the next few days so that the forge isn't just sitting around twiddling their thumbs.
Since batch 15 we have been offering some 'optional extras' to the basic $330 custom Katana design, such as folded steel, engravings, etc and this time around we are trialling two more – an optional battlewrap: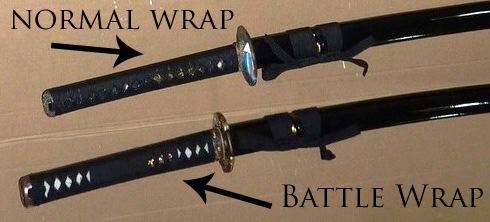 And also a cool black leather wrap option:
I've actually wanted to add a leather option for a long time but was originally told we can only do it on orders of 100 swords at a time, which didn't really suit the project of course.. But the forge was able to find a good supplier so I am really pleased to be able to offer this for the first time..
So anyway, we are definitely gearing up and while incredibly busy doesn't even begin to describe what is going on behind the scenes at the moment, if all goes to plan we should start taking pre-orders within a week!
As places fill up faster and faster each time the custom swords are offered (last time we reached the swords maximum capacity in a week) it is highly recommended to sign up to the news notification list here because this will be the last batch for 2011 and the next one is not likely to open until Feb/March 2012 (as stated elsewhere, it typically takes around 90 days from batching the swords until they are shipped out to you – but this batch may be slightly longer than this due to Chinese New Year occuring in January – an event that pretty much closes down the entire country for 1-2 weeks, so will likely add AT LEAST this additional time to the production.. We may not be the fastest option, but as far as value for money goes and reliability, I don't want to sound immodest here but this project has been going for several years now and just keeps on getting better and better with each generation)..
One more thing – A Sneak Peak
As you are probably well aware, SBG is involved in a lot of projects, and one of them is to showcase just how far we have come since I made the first SBG custom Katana prototype in 2008..
So this secret project was to recreate the original two prototypes I had made to see what the forge could do – the two swords you see tested on my site here: The original tests
Here's a picture of one of the original designs: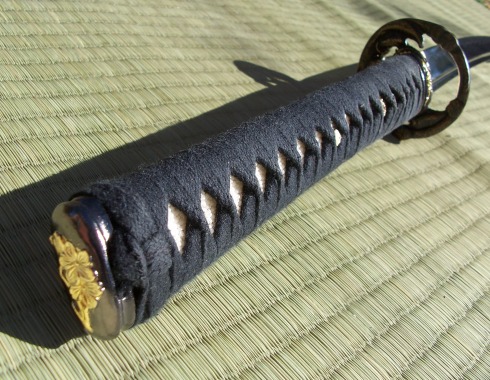 And here's a very quick preview of the "Dragon Claw 2.0″…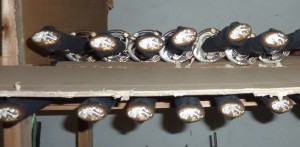 Ok, well I know you can't see ALL that much – but let's just say that the new design is what I would have made the first time (if it was possible back then)…
Only a VERY limited number of these are being made as commemorative pieces, and they will have a lot of the new upgrades that were offered since batch 15.. So stay tuned for this one..!
Time to wrap up this post as there is an absolute ton of work that needs to be done, so I'll post again as soon as I get a chance.
Thanks for reading.
– Paul