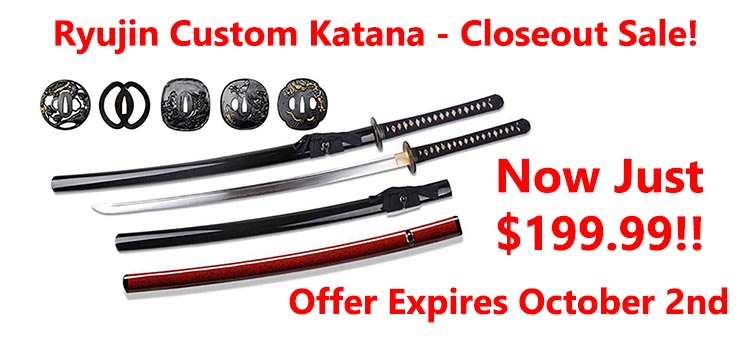 It was never meant to be a permanent item in the first place – and now the time has come for the Ryujin T10 Katana – Custom Tsuba and Saya Option sword to be discontinued..
But before it goes, here is the last hurrah – a $30 discount, bringing the price under $200 AND an ADDITIONAL option to be able to select a bo-hi or solid bodied blade.
This offer expires the 2nd of October 2016, after which this sword will be removed from our site entirely and no longer available to order.
Get in while you can guys, a T10 Tool Steel Katana with real hamon and your choice of bo-hi (fuller/blood groove) or solid bodied blade, 8 Iron tsuba with genuine gold inlay and 6 different saya/sheathe options to make it your own personal sword at this kind of price is not the kind of thing you see every day!
Click here to order yours while you still can
Please Note: Due to demand, it may take a little longer than a week to assemble and ship your sword. Orders will be fulfilled on a first come, first served basis, but we appreciate your patience if it takes just a little longer than usual to fulfill your order.