Until the 31st of July and while stocks last, the distributor for 4 of the biggest, hottest sword brands including the Hanwei Forge, Kingston Arms, Dragon King and A.P.O.C. (among many others) is offering all their vendors a juicy discount to stimulate slow sales (as July is typically the slowest month of the year for the sword industry).
While many vendors will grab what they can and stock up – we are passing the discounts DIRECT TO YOU!
Popular swords are going to sell out VERY QUICKLY (both via our store, and from other sword sellers grabbing what they can) so have a look through what we have available for each of these brands and then use the coupon below to save 20%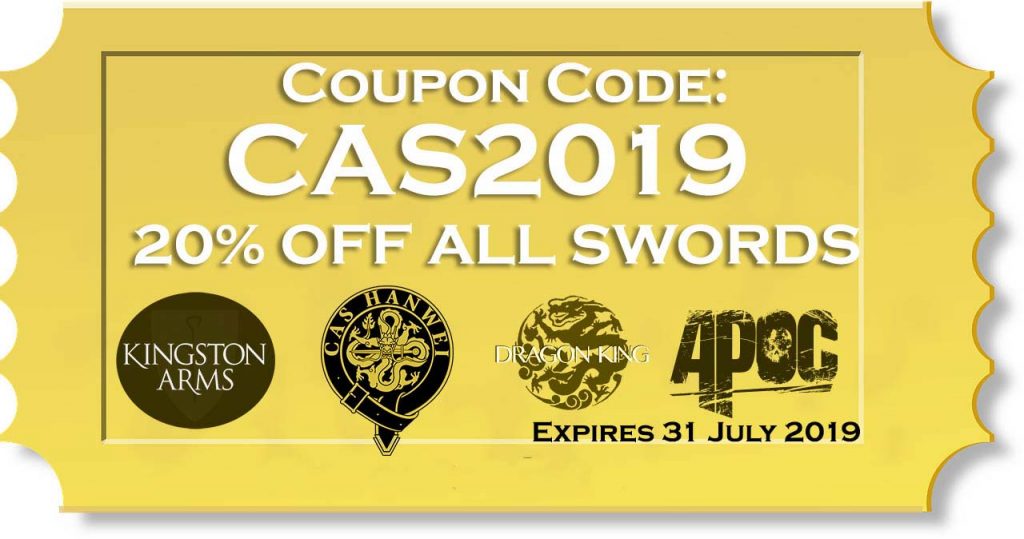 We have done and will continue to do our best to keep the stock levels accurate, but in all honesty, the sooner you get your order in the better otherwise you may well miss out (and discounts like this happen once every blue moon).
---
LINKS TO THE 4 DISCOUNTED SWORD LINES
---
After the 31st of July, the coupon code will no longer work – so get in while you can..!!
NOTE: We had less than 24 hours notice on this sale, and so this discount can ONLY be applied to new orders. Because the discount is coming from the distributor and we are passing it on to you, no extensions or rainchecks are possible.
P.S. Don't forget, order 3 or more swords at the same time and get FREE SHIPPING on top of the 20% discount.
P.P.S. To get the discount you MUST use it at the time of purchase. We will not refund the discount to you after the fact as it damages our standing with our payment processors and requires a surprisingly large workload for our staff. Thank you for your understanding.