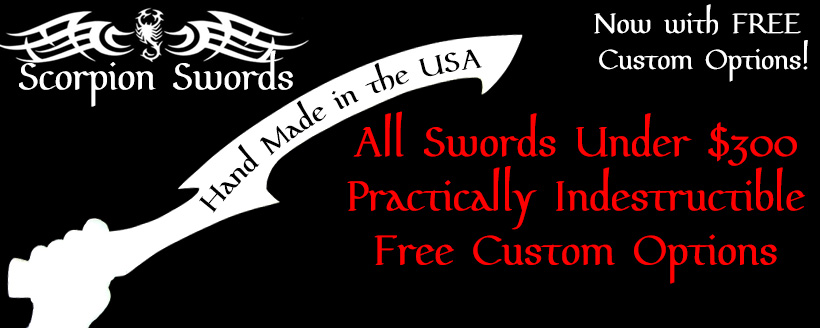 Exclusive to SBG – now when you order one of the ancient or fantasy inspired almost indestructible hand made in the USA swords from Scorpion Swords you get four new custom options for each and every sword in the line up!
Don't like the black blade of our SBG designed Tactical Ko Katana? No problem! Customize it and select either a 2 toned black and steel color or just plain 'silver' (steel). Or want to change the black Mircarta wooden handle to bloodwood, walnut or maple? No problem there either you can do that too!
How about a lanyard hole to attach a lanyard? With or without, its up to you (Lanyard not included).
And the best part is, all the customization options are FREE (and no hidden price rise to cover it either)! Just select what you would like using the dropdown selections when you order and have it made YOUR way..!
And Speaking of Scorpion Swords..
Their Ancient Khopesh Sword of the Pharaoh recently made a guest appearance on 'Elementary' by CBS starring Johnny Lee Miller as Sherlock Holmes and Lucy Liu as 'Watson'.
They actually requested that the sword be sent to them unsharpened for their story line (an option you can select now too!) – but what they ended up doing with it surprised everyone..
See the highlights from its 'cameo' role in the video below.
Now imagine what the damage would have been like if they used the regular sharpened one..