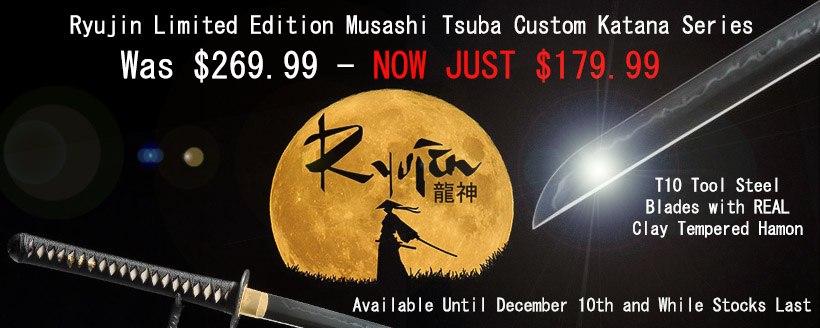 Our friends at the Ryujin Custom Katana warehouse are overstocked – and with Christmas just around the corner, we are offering the very best deal on genuine Ryujin T10 Tool Steel Custom Katana EVER seen..!
From today until the 10th of December you can pick up the classic Musashi iron tsuba themed limited edition version of the Ryujin Custom Katana for not $269.99 but just $179.99!!
And even the Elite Choji Hamon Musashi Tsuba version is also on special, down to just $399.99!!
And for those of you who are quick enough, we also have a very limited restock of the Custom O-Katana, available at the special introductory price of just $229.99! (but this one, due to its overall length, is only available to US customers).
Assembled and shipped in less than a week from the Ryujin workshop in California, this is a truly amazing deal that experienced sword buyers know doesn't come around like this very often.
So grab what you can while you can!