Hi Everyone,
First off, a quick update for casual readers of this blog (customers have already been notified some time ago) – but batch 21 of the custom Katana has ended up somewhat delayed due to two factors:
1) The most senior Smiths father died as we were trying to wrap everything up to go out before Chinese New Year – and naturally he stopped work to grieve and make arrangements for the funeral.
2) Half of the shipment went out before Chinese New Year, but the other half was not completed due to the Senior Smith absense, and as the Chinese New Year celebration lasts almost a full month, I regret to advise that for half of the shipment at least, we are again seriously behind schedule..
It's all rather unfortunate, because as you can see from the pictures below – some of the swords in this batch are really quite special..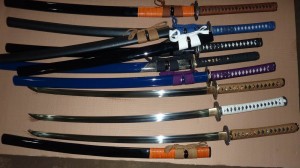 Some of the batch 21 swords (click for larger image)
And the blades have continued to improve, below you can see the prominent natural hamon that this line has been famous for, and the continually refined yokote line and boshi of the kissaki (tip), an area that is so often left unfinished or unsatsifactory on swords around this price point (simply because, it is so time consuming to do).

A batch 21 blade, note the true geometric kissaki with yokote and boshi
Sadly, it would seem that recently – every batch has been delayed much longer than what we are happy with – and the stresses of managing delayed shipments is really getting to be too much. But it is compounded by the fact that we are still selling these swords at 2008 prices despite massive increases in our costs, domestic and international shipping hikes and the fact that with more possible combinations than every before, the slightest error causes us to either remake the sword or offer some kind of compensation – and the losses have reached the point where it is no longer viable to continue the operation as it stands – especially when the amount of time spent managing the project is in the hundreds of hours per batch…
So as customers from batch 21 know, the future of the project is very uncertain..
As such, we are basically left with three choices:
1) Raise the base price and lower the number of orders within a batch to make it more manageable. The demand is such that now when we open a batch, orders literally flood in and we have to close it up very quickly.
2) Create a new line, custom Katana 3.0 as it were, with less but better options (and again, at a higher base price). Options on ito colors and fittings will still be available, but blade lengths will be standardized and the fittings will be all iron and brass.
OR
3) Call it a day and end the project entirely…
Essentially, we won't know for certain which direction we will take until batch 21 is all in and accounted for, so I regret to advise to everyone who is waiting for batch 22 – I cannot provide an estimate as to when or if this will happen..
The only good news is that we do not plan on ending our relationship with the forge itself. Their blades are some of the best I have seen, and the SBG exclusive design line – such as the Black Dragon Katana, Yukiken and other limited edition designs that I create myself will continue, and indeed will likely grow larger as the year goes on. Indeed, right now we have two designs in stock and for sale – the SBG Black Dragon Ko Katana and the Oyabun Shirasaya (pictured below)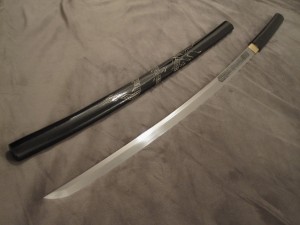 One of my own designs, the 'Oyabun' (Yakuza Godfather). More designs coming soon..
Anyway, I really can't say too much more until batch 21 comes in, the forge re-opens from the Chinese New Year shutdown and we sit down and do some serious price calculations..
I'll keep you all posted, but in the meantime – thanks to everyone for their support. Hopefully we will be able to come up with something in the coming months – I already have some rather interesting designs for the SBG Limited Edition series – but in the meantime for the freestyle custom Katana series, let's get batch 21 in and see..
Thanks all,
– Paul Southren