Chinese New Year is coming very soon – and that means that the Forge and the Master Smiths who make our Forge Direct Series swords will shortly be downing tools and taking a break for 2-3 weeks to visit family, recharge their batteries and otherwise do everything we in the West did over the Christmas/New Years period (but for longer and on an even grander scale!).
The bad news for us is that of course any orders placed from now until they get back to work in early February on our Forge Direct Line will not have anything done on them until they get back to work. The good news is that when they do get back to work, they will be rather refreshed and keen to put hammer to anvil – and the period immediately following Chinese New Year is when the forges tend to do their best work!
And the BEST news is – to make up for the delay – any orders placed from now until the 18th of January are not only going to be the very best quality of any swords ordered this year.. But you can also save yourself 20% off the price to make up for having to wait a couple of weeks longer!
ANNOUNCING..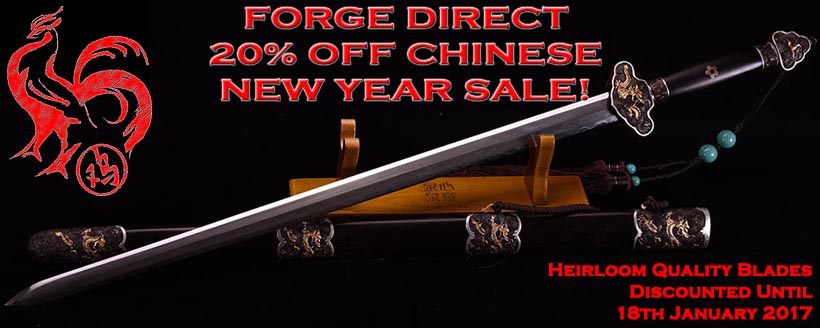 As mentioned in a previous post – we were about to and have just added THREE NEW SWORDS to the Forge Direct Line Up – and they are hitting the ground running at the best price you will see them for with the 20% off discount.
Check out the full Forge Direct Chinese line up HERE
And be sure to grab yourself a bargain while you can to start of the year of the Fire Rooster in the most auspicious way – with 2500 years of living Chinese history in your hand!