Out of all of the Custom Katana Projects we have offered to date – our line of Custom Swords by Forge Direct and Custom Soshu Kitae Swords by Project X have the most custom options to choose from. While this is great, sometimes selecting what combination of components can be a bit tricky – especially if you cannot clearly see all the options (our product pages in the store do their best, but sometimes you just want to see everything all on one page)
Well, this page of the blog is designed to fix that problem, providing the largest pics we have available of all custom options so there are NO nasty surprises when your sword finally comes in (there hasn't been to date, but the clearer the pics, the better is the idea).
CLICK ON ANY OF THE IMAGES FOR FULL SIZE HIGH RESOLUTION VERSION – then click escape or hit the back button to return to the main page.
---
QUICK JUMP MENU
Elite Copper, Gold and Silver Themed Sets
Elite DRAGON Themed Sets (same style as above)
Elite Saya (additional payment may be required)
---
IRON TSUBA COLLECTION # 1 – Gold Painted Iron Tsuba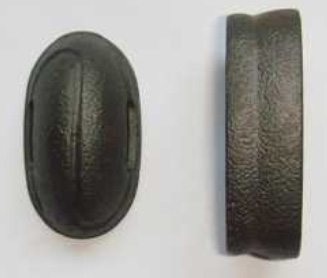 In most cases we attempt to show the front and back of the tsuba – apologies for those tsuba where this was not available. All tsuba come with a generic black iron fuchi and kashira set (pictured left).
All of these tsuba are made from solid iron with a hand application of genuine gold paint. Widely available, these tsuba are not exclusive to the forge and are valued at approx $60-$75 each (not sold separately). When combined with the Fuchigashira fittings, the end result looks something like this.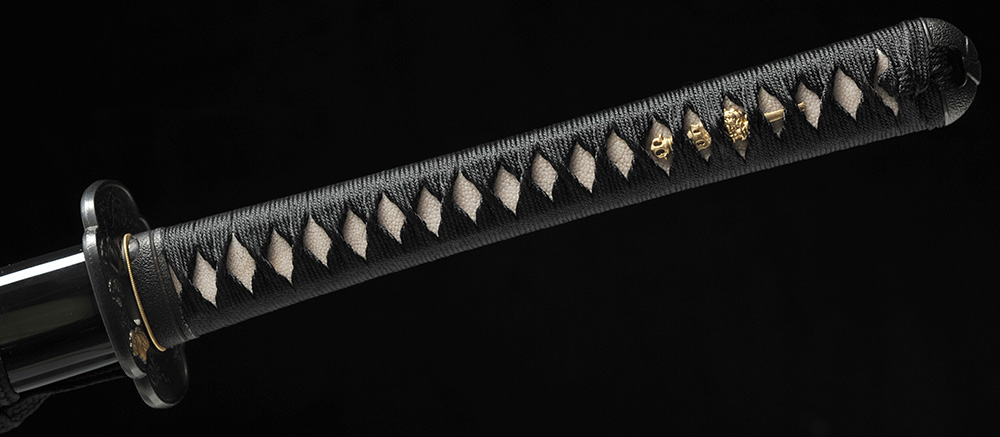 So without any further ado, here are the first selections of iron tsuba (iron is stronger than any other material for sword fittings, so suggests the sword belongs to a real fighting Samurai, not just a member of the gentry class).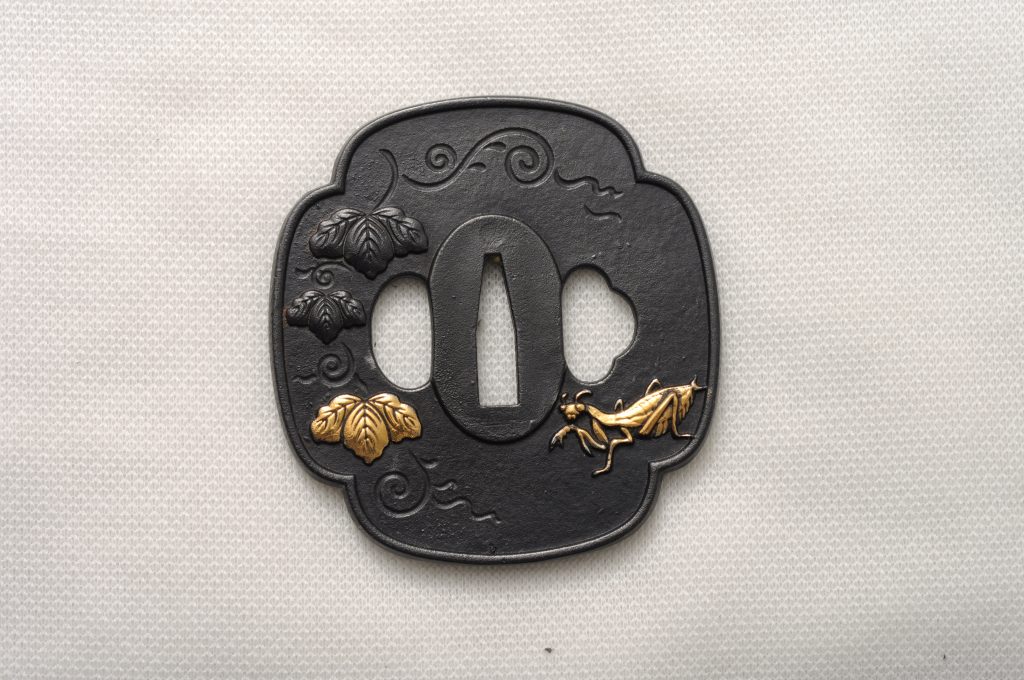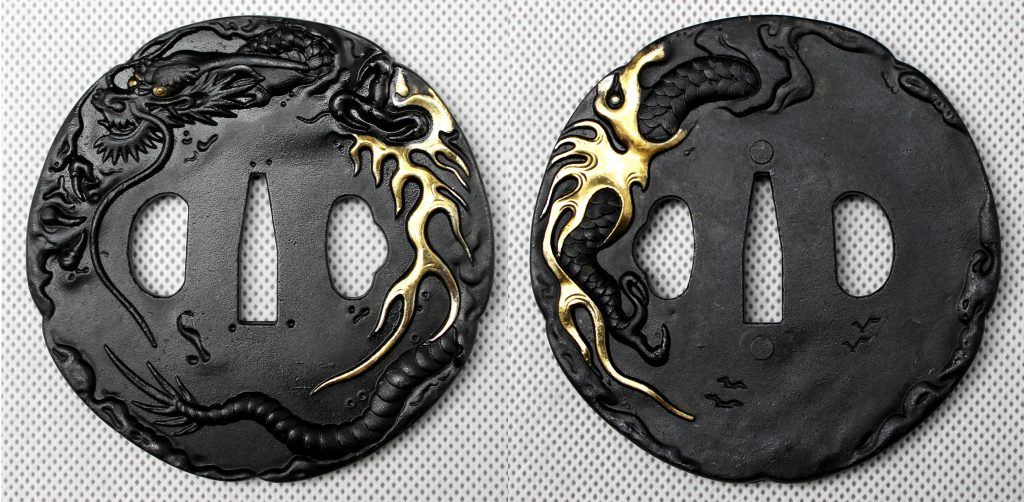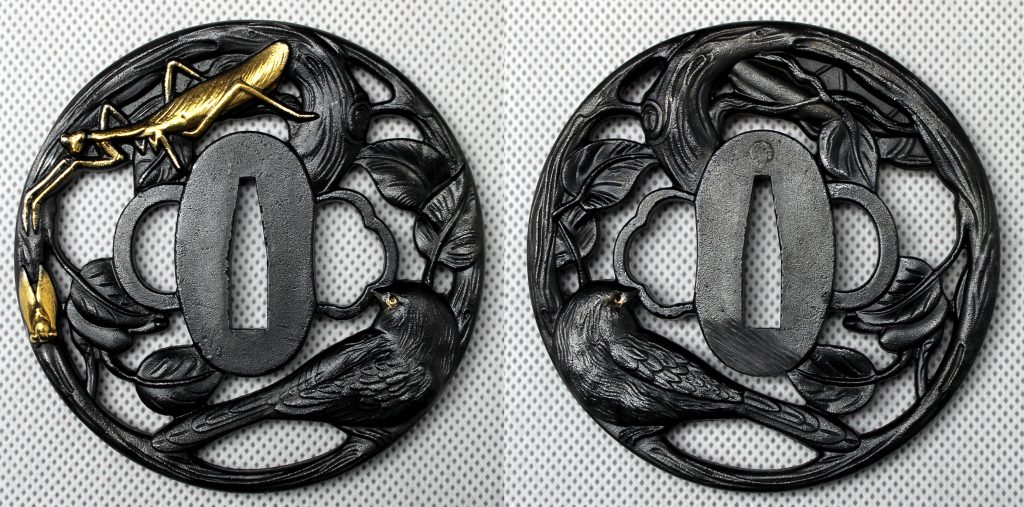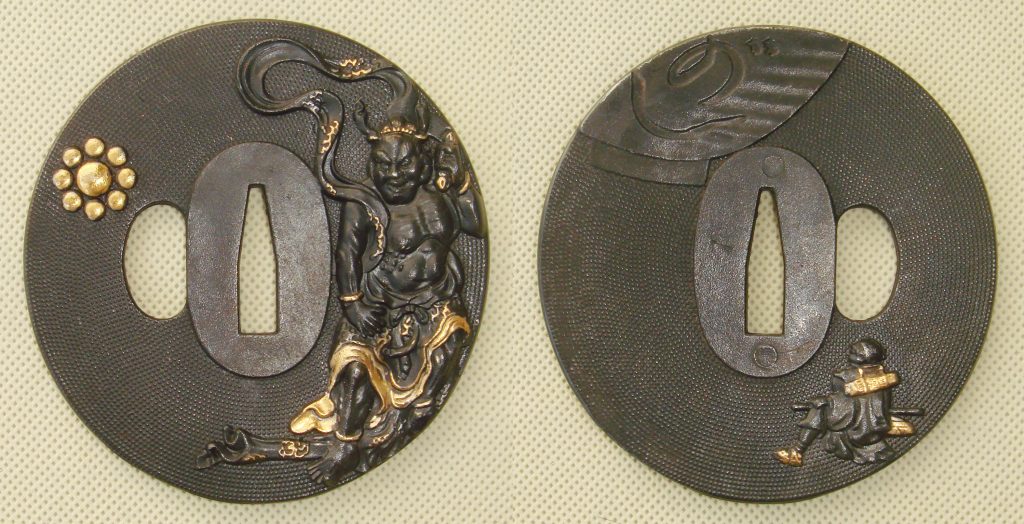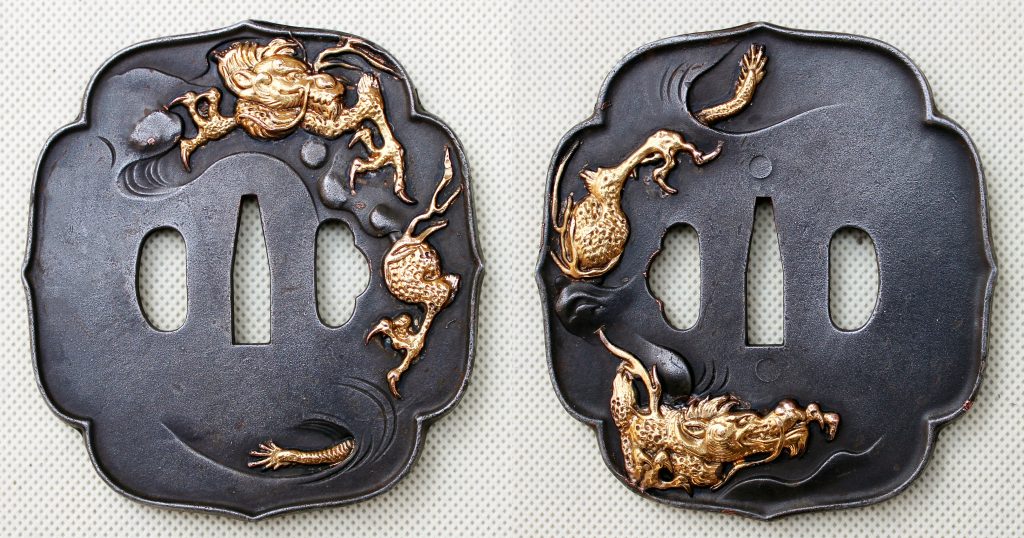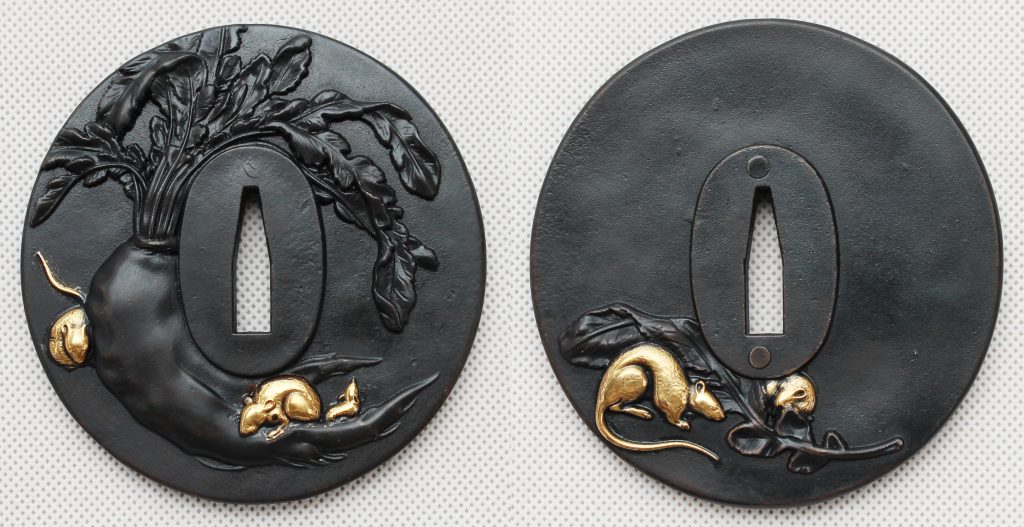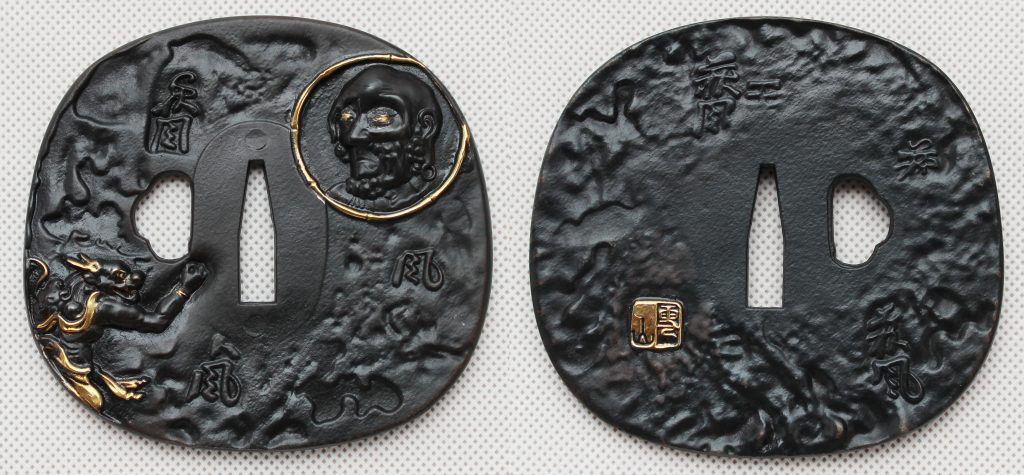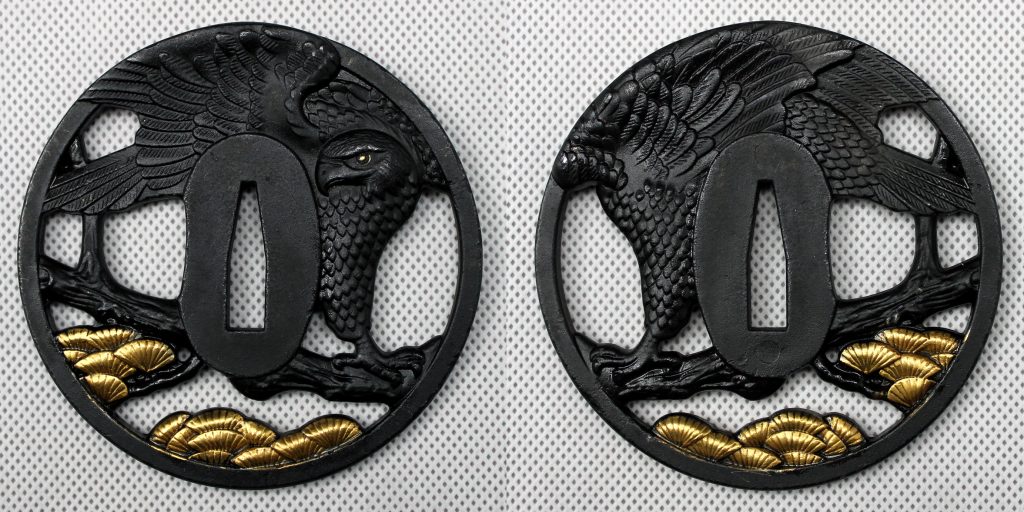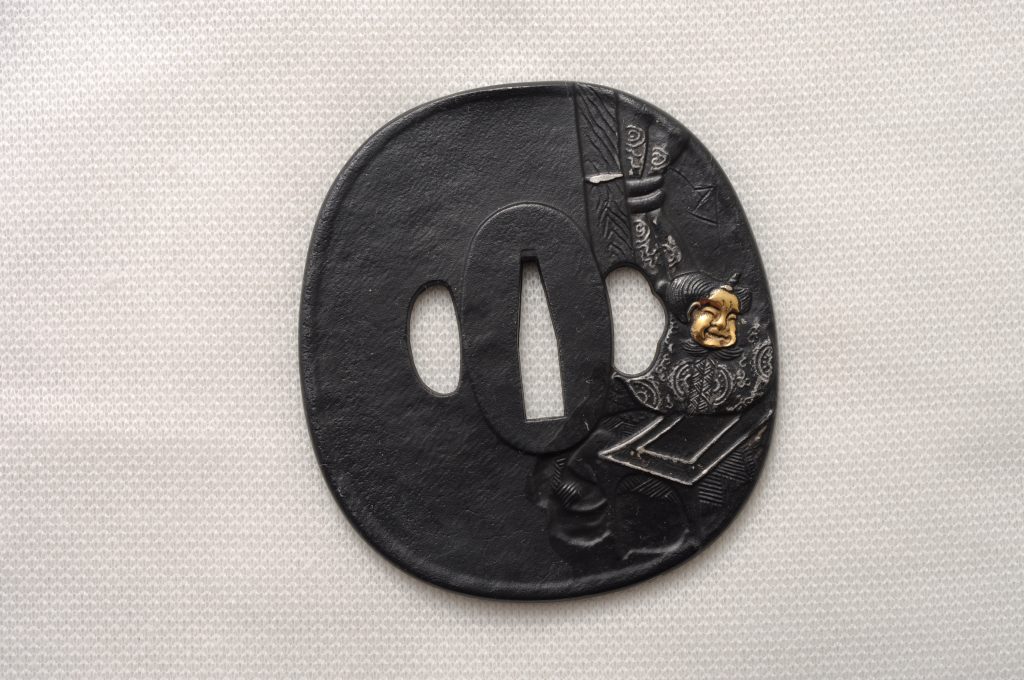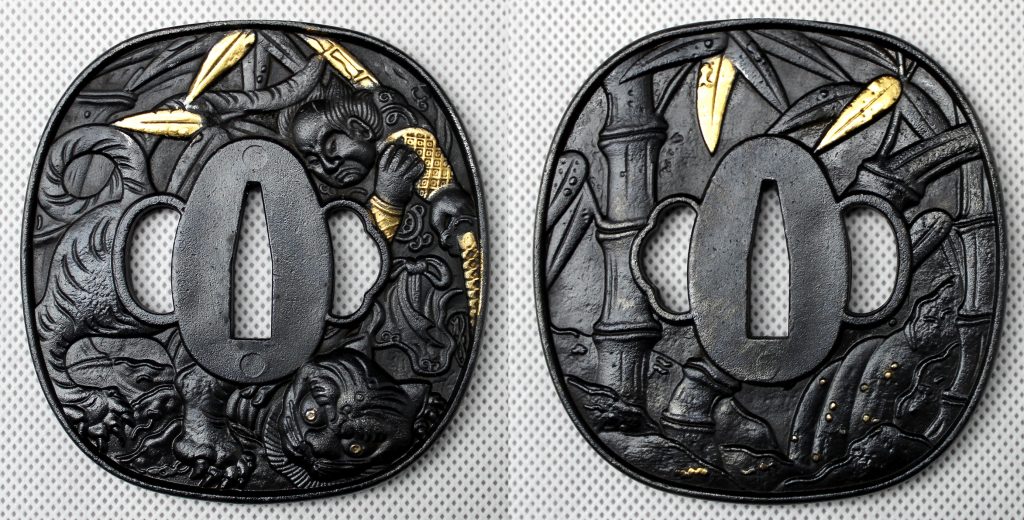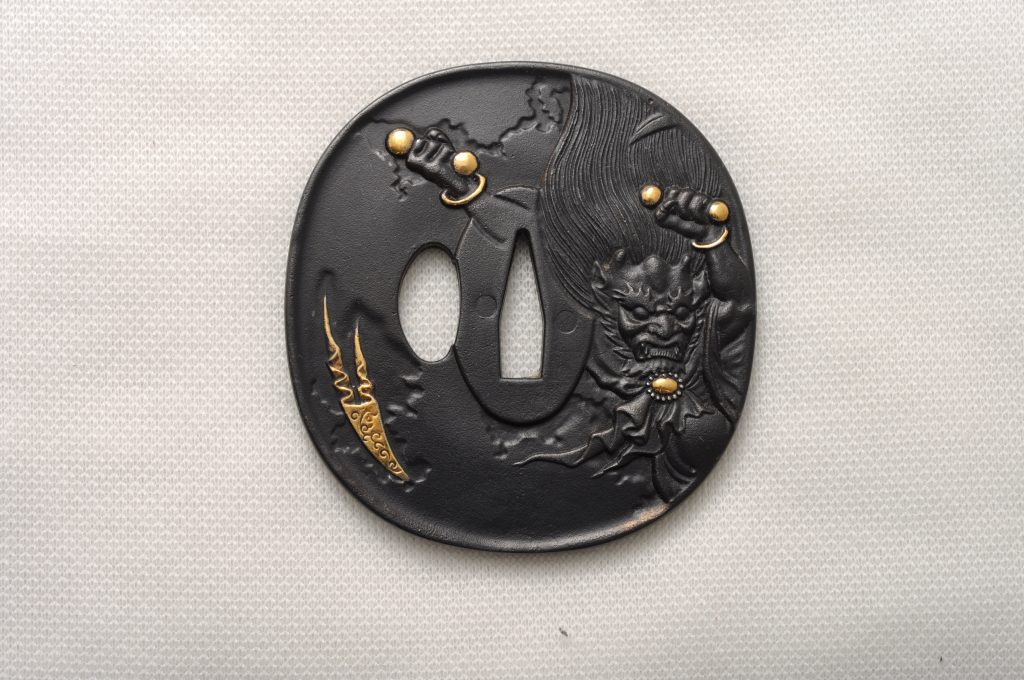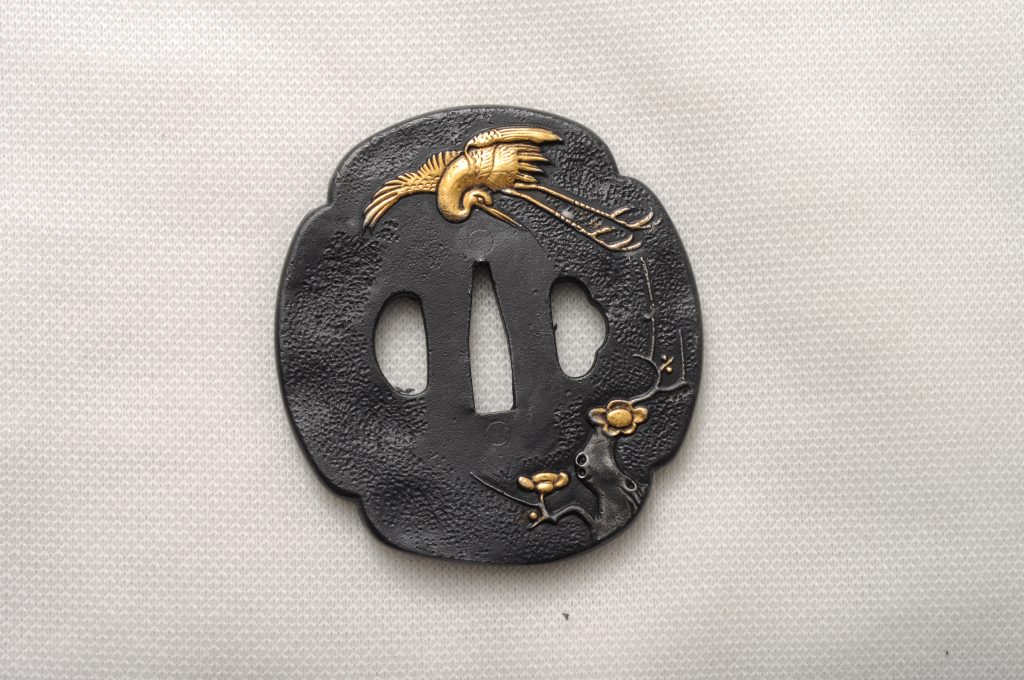 Iron Sukashi Tsuba
The second selection of tsuba are again made from solid iron. Even the delicate looking ones are incredibly strong. As a rule of thumb, the lighter the tsuba, the more forward cutting power the sword will have and the more solid, the closer the balance is moved towards the hilt. Since the detail is pretty simple on these, the images on the main site should suffice. I mean, how hard it is to misinterpret this design..?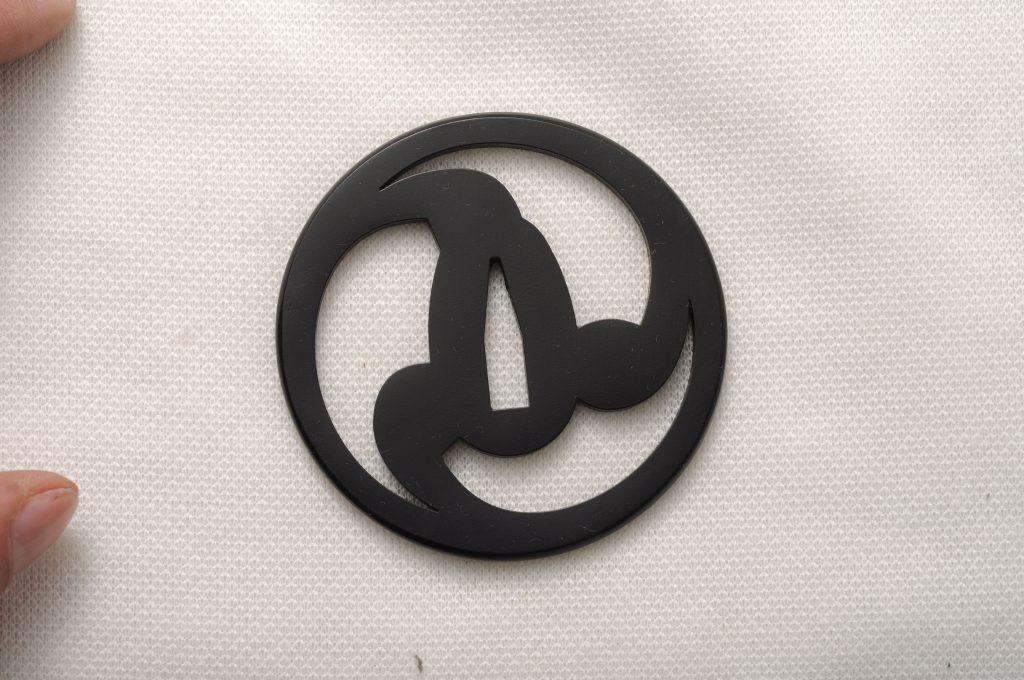 Where it starts to need close ups again begins with the so called 'exotics' – designs that are quite unique and stand out on their own.
Exotic Tsuba
The following iron tsuba selection was changed in early 2021 during downtime as we transitioned towards the custom Katana version 4.0. Here is what the original selection looked like – some work hardened copper, and the eT02 NOT silver as pictured but copper!!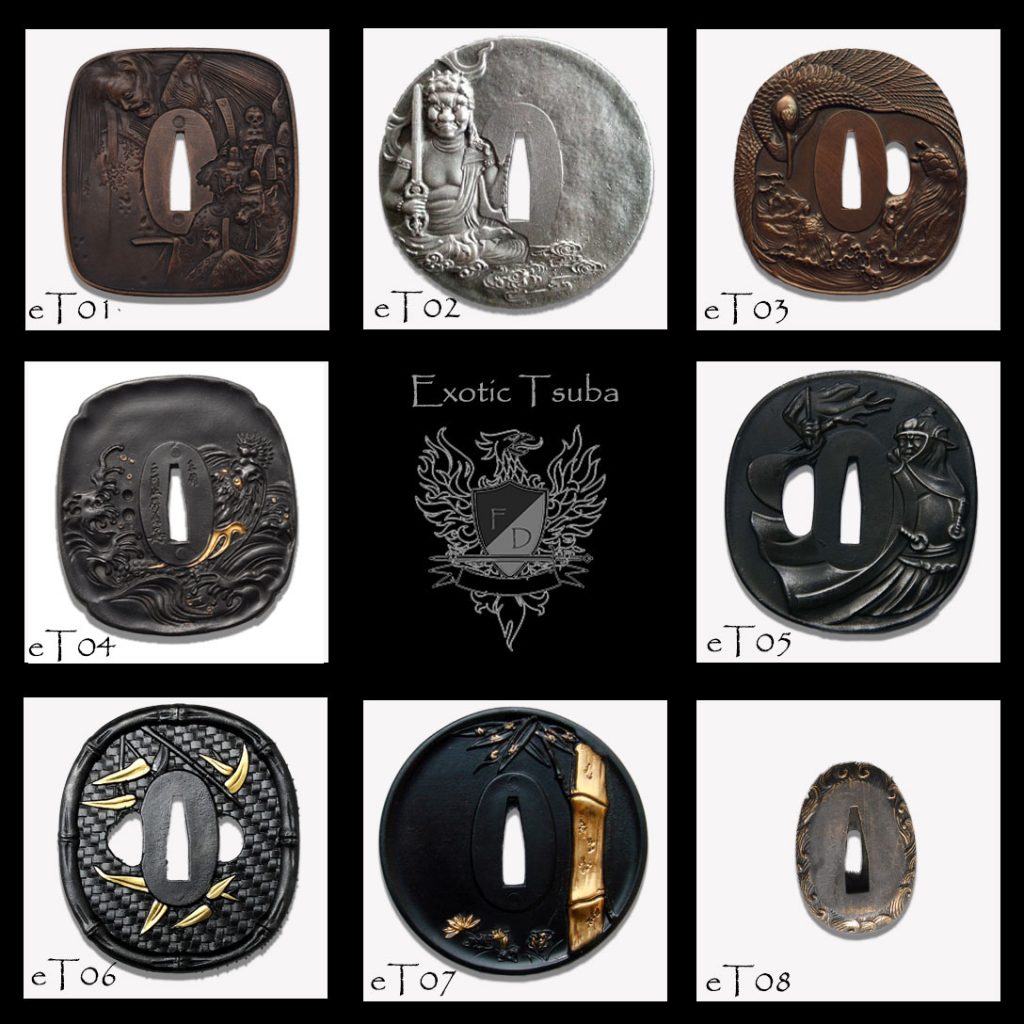 And here is the current line up, first and overview for comparison and then the details – some are similar, some are the same, but others brand new and all are IRON (some with real gold embossing):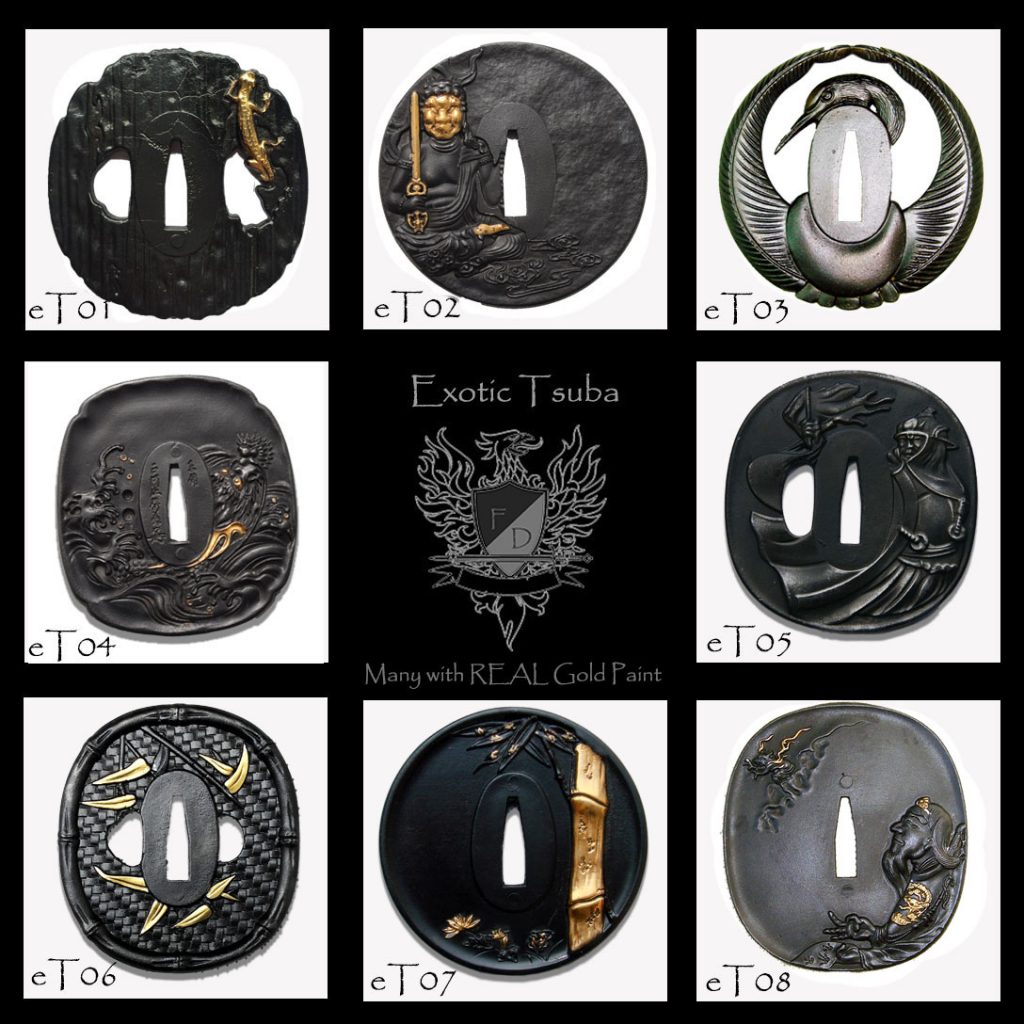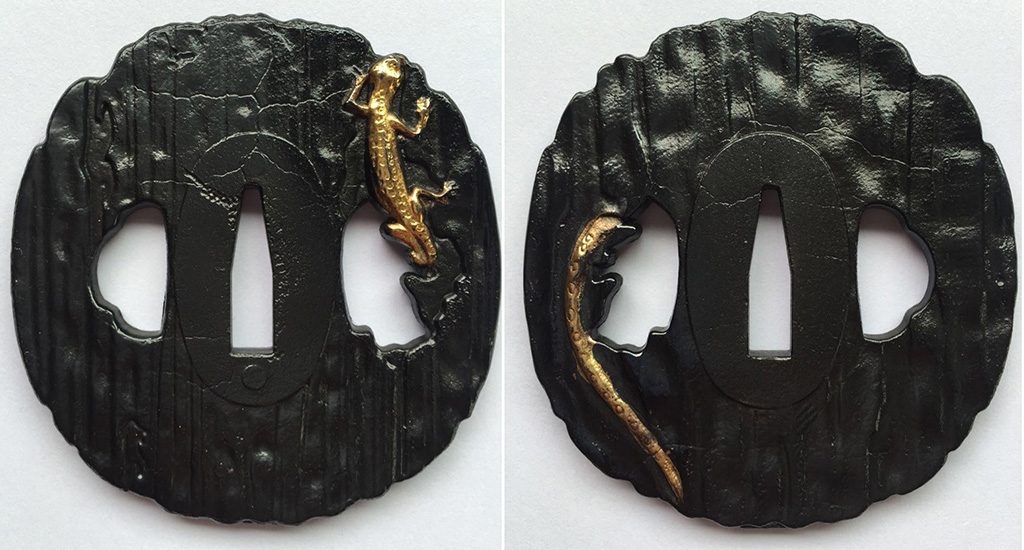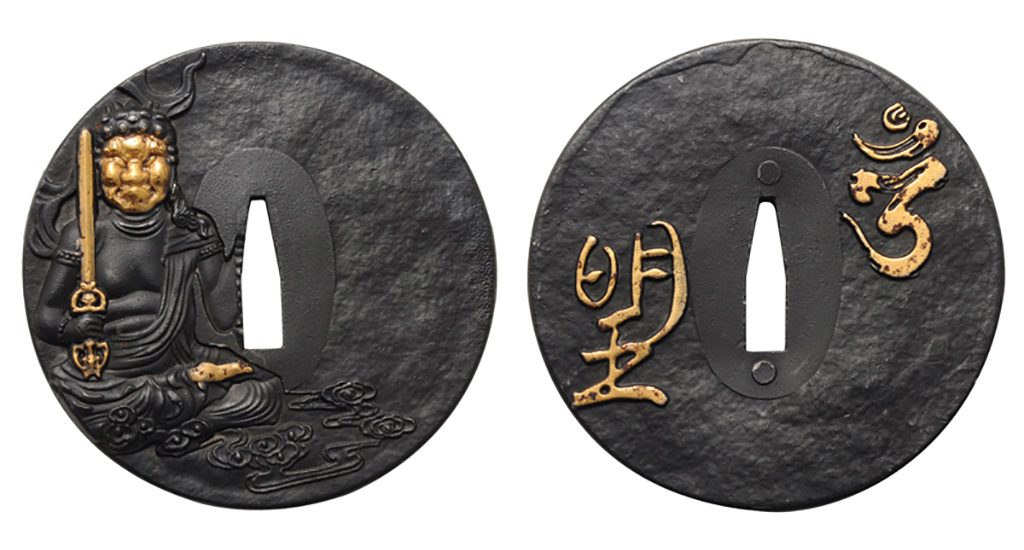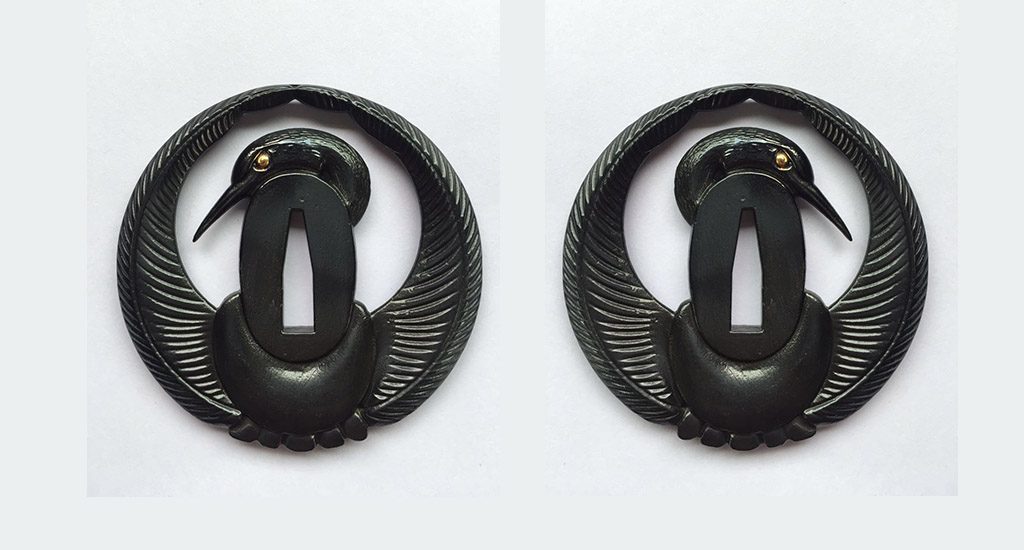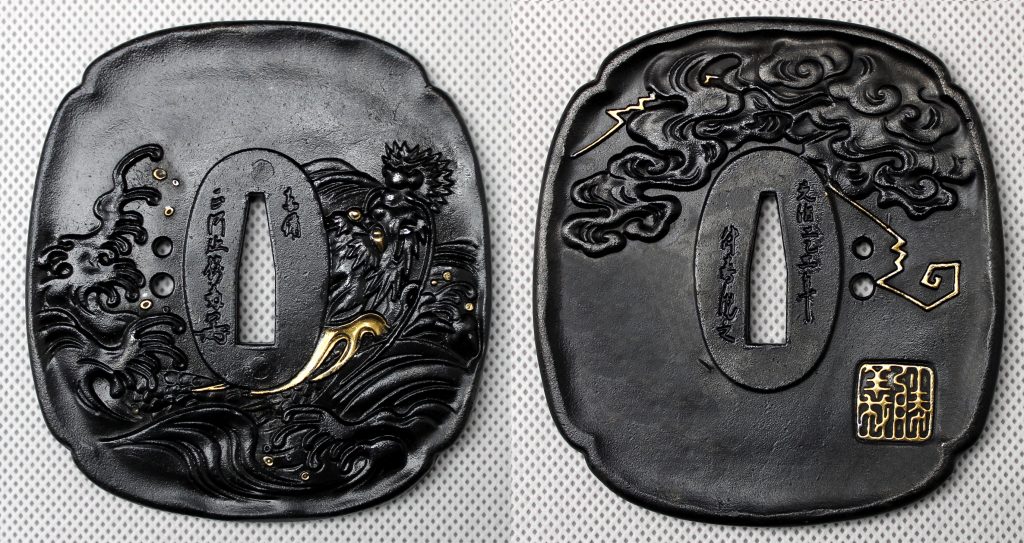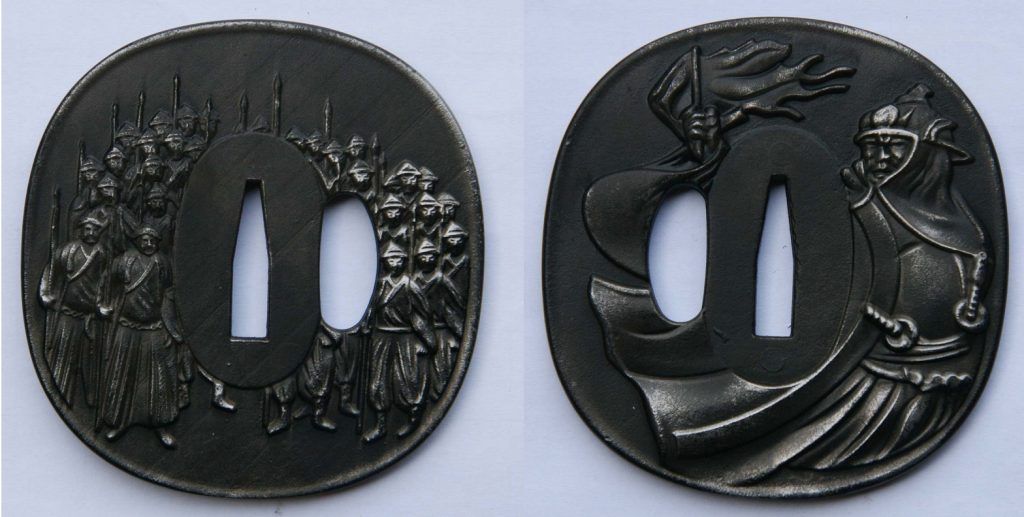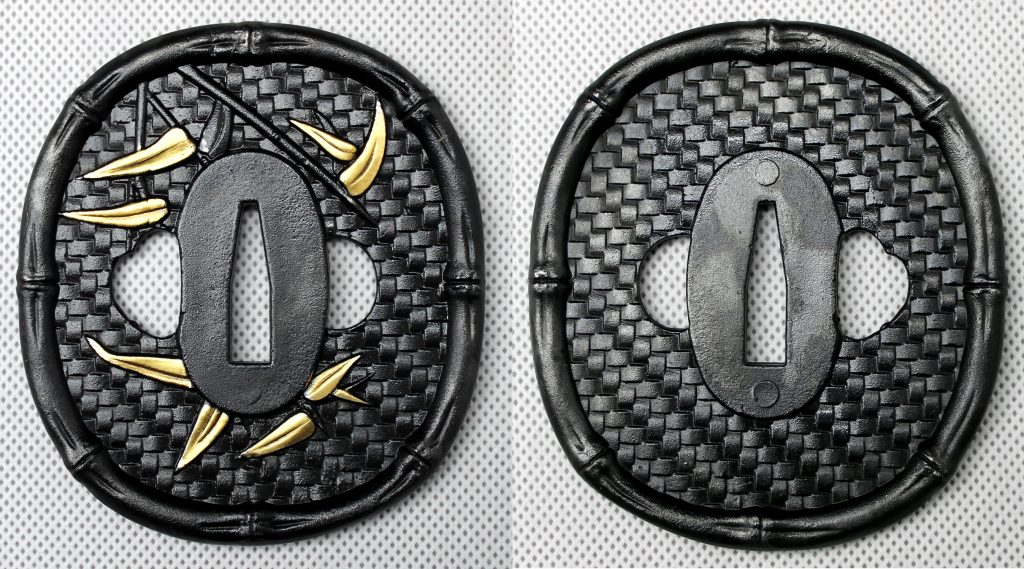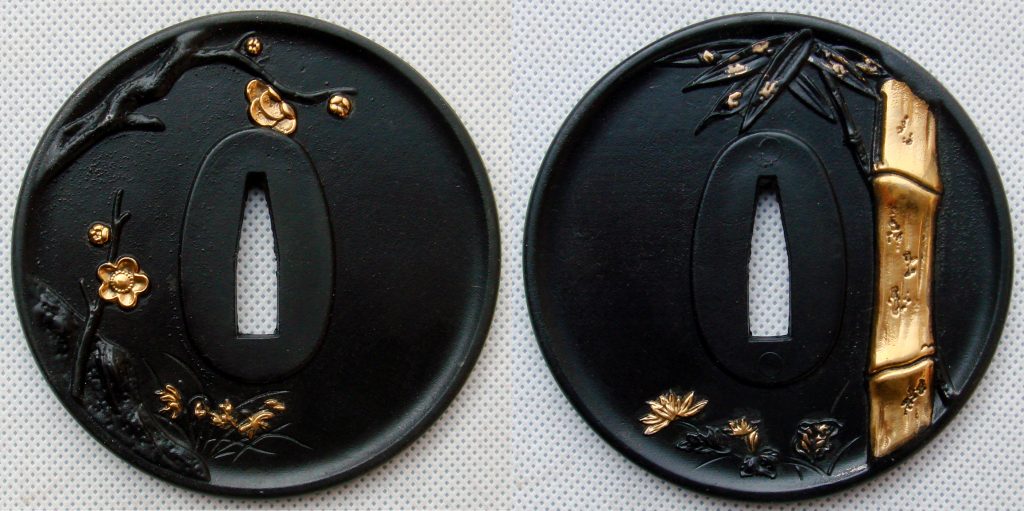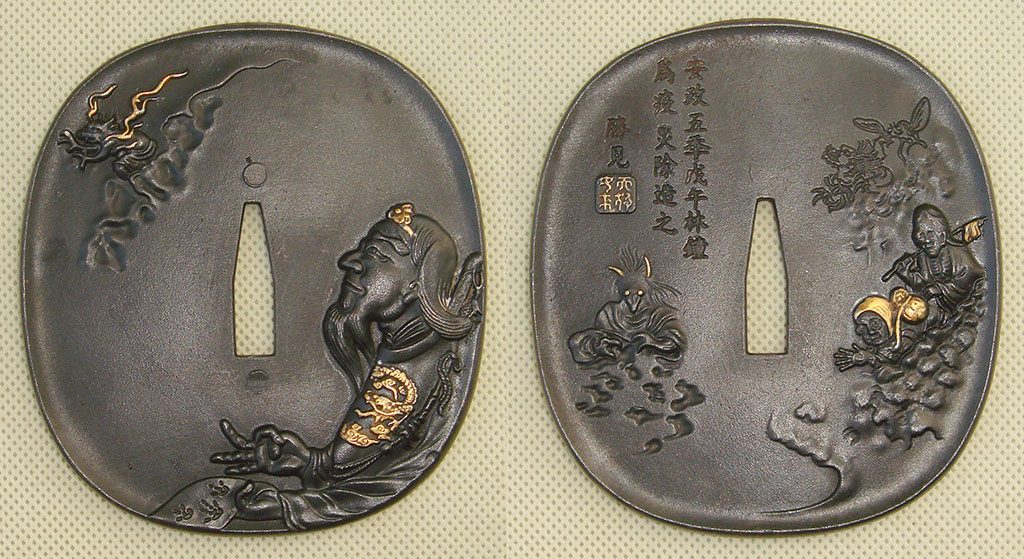 Optional Extras: Work Hardened Copper Sets
Sometimes, you want a simple looking cutter – function over form. And while it's not as strong as iron, if you want fittings with more detail, for a small additional fee you can upgrade to any of the following 'Elite' sets.
Please note that each of these sets is hand painted with copious amounts of genuine gold and silver paint. Due to the hand made nature of the painting, at times there may be less than perfect application due to the extreme cost of this embellishment (i.e. if someone makes a small mistake, it is not economical to start again).
These sets are not made by the forge and are widely available as a premium choice. While we do not sell them separately, they are typically sold at websites such as Artsfeng for around $49-99 (we charge an extra $29).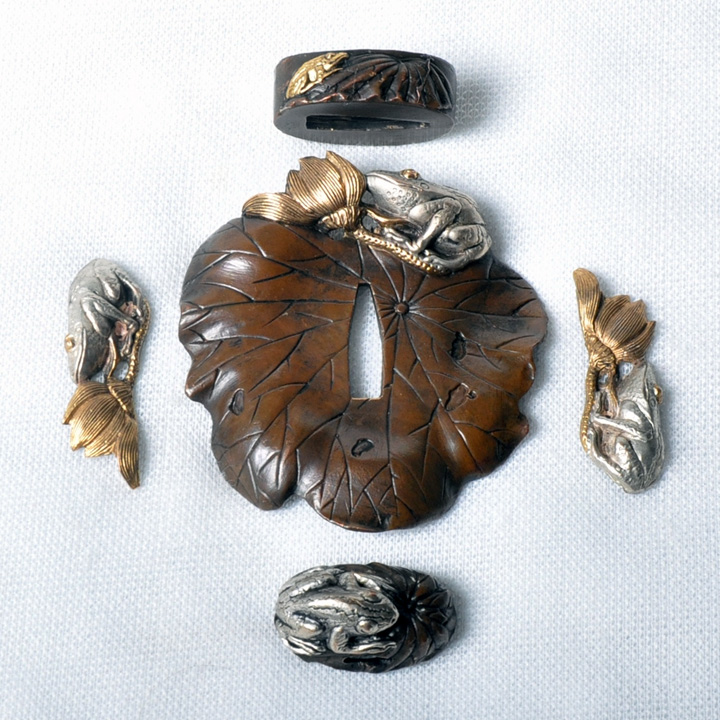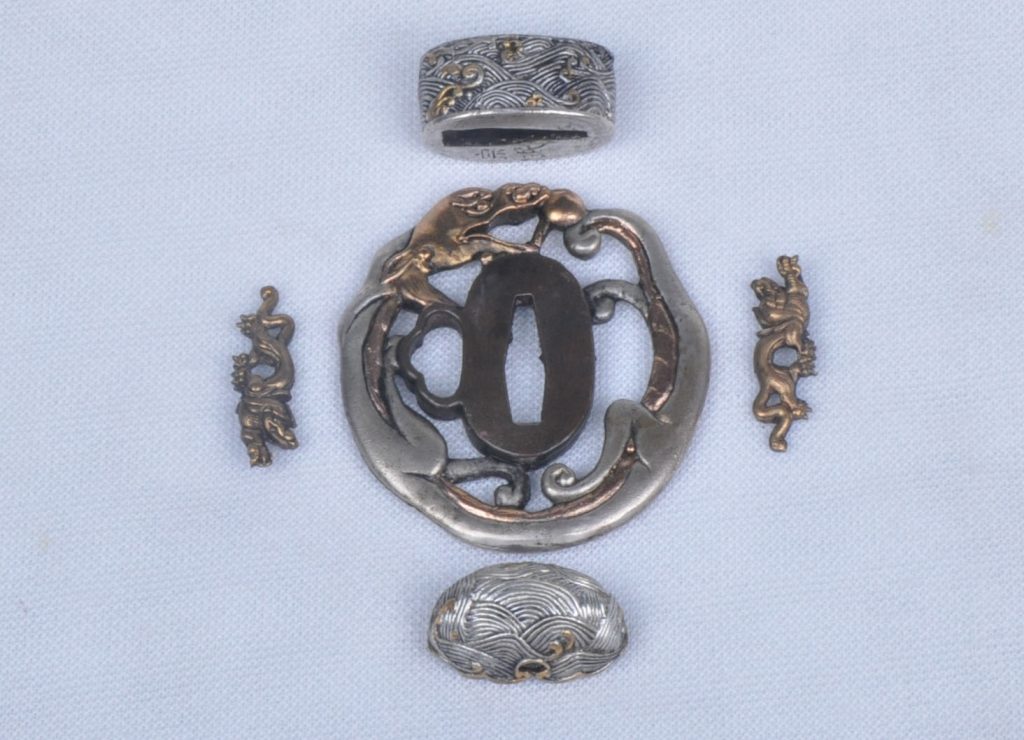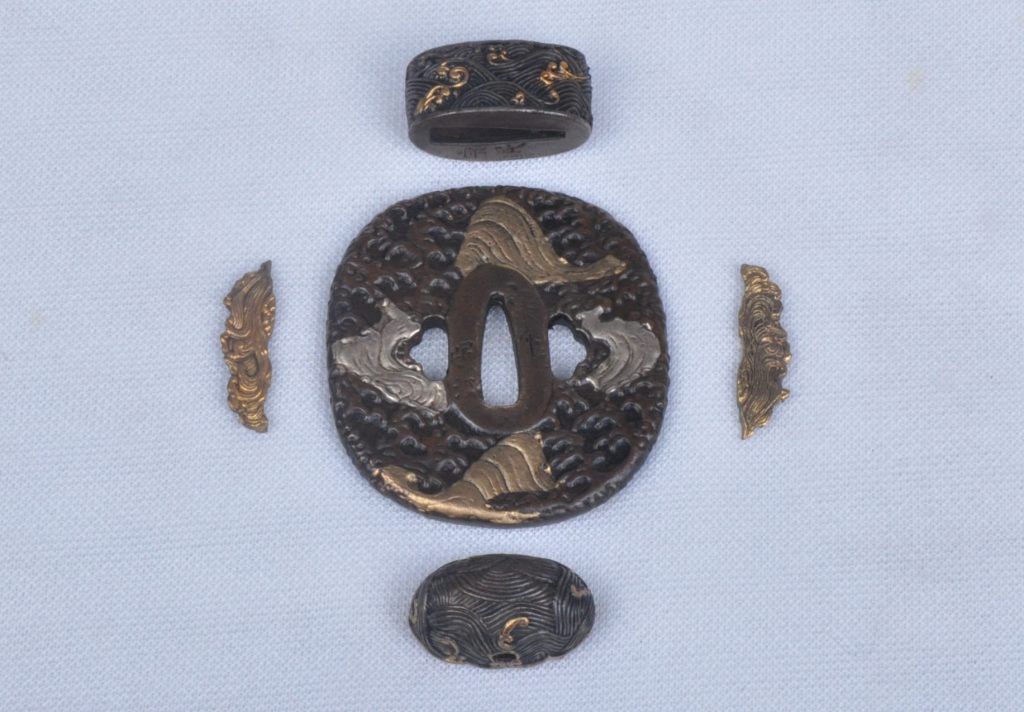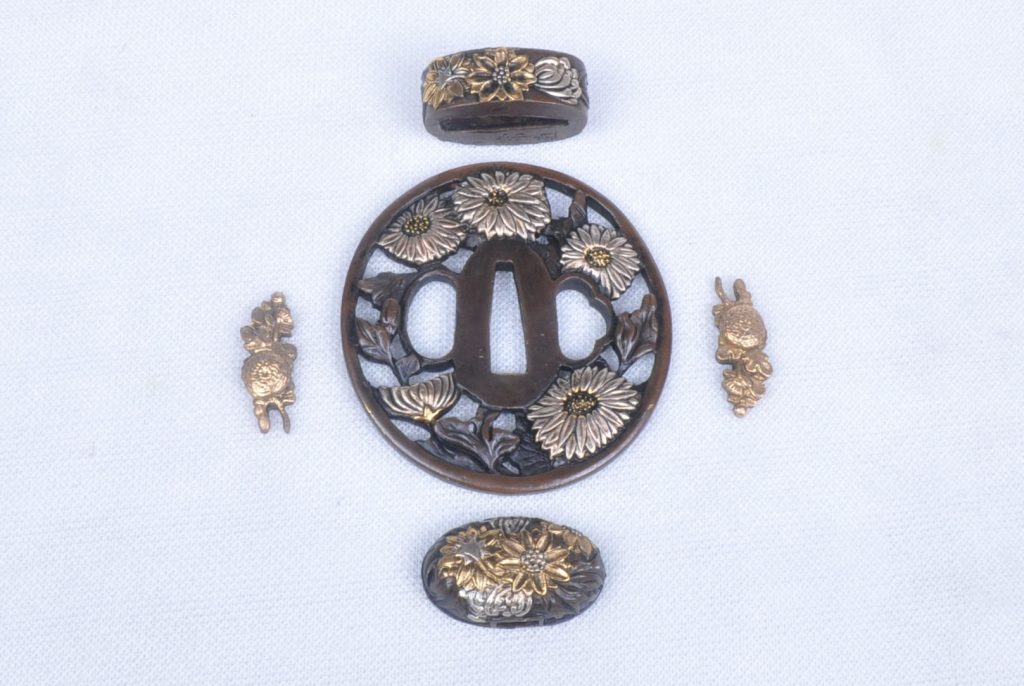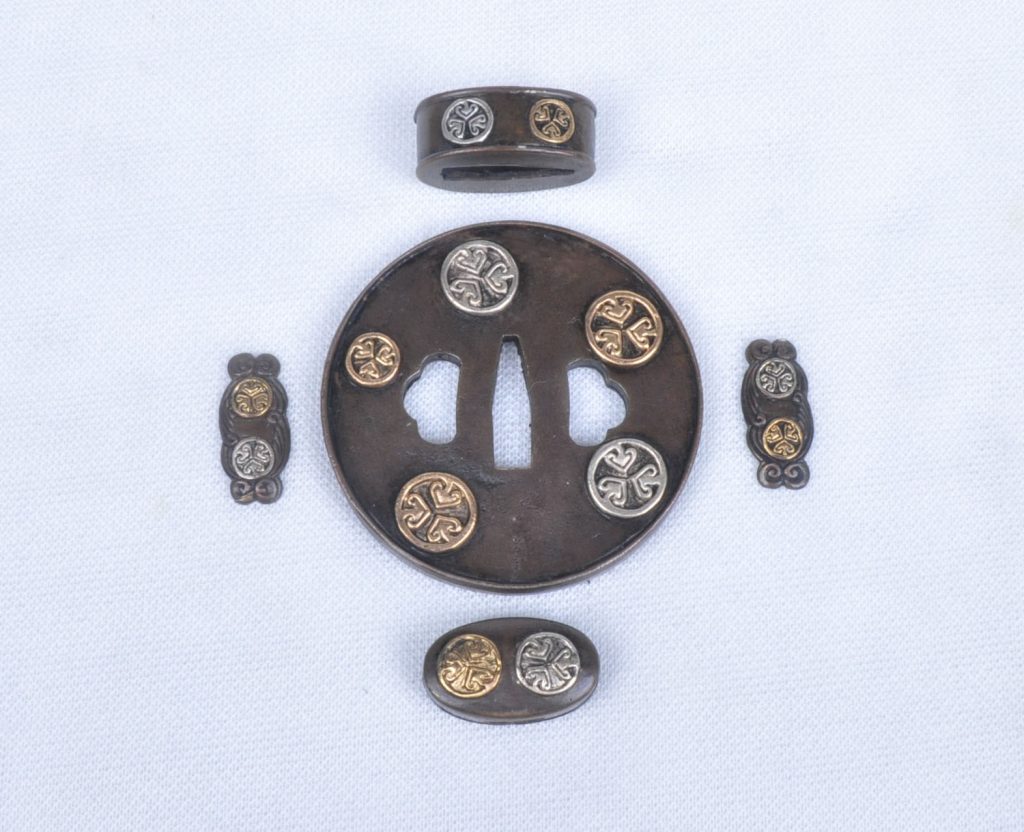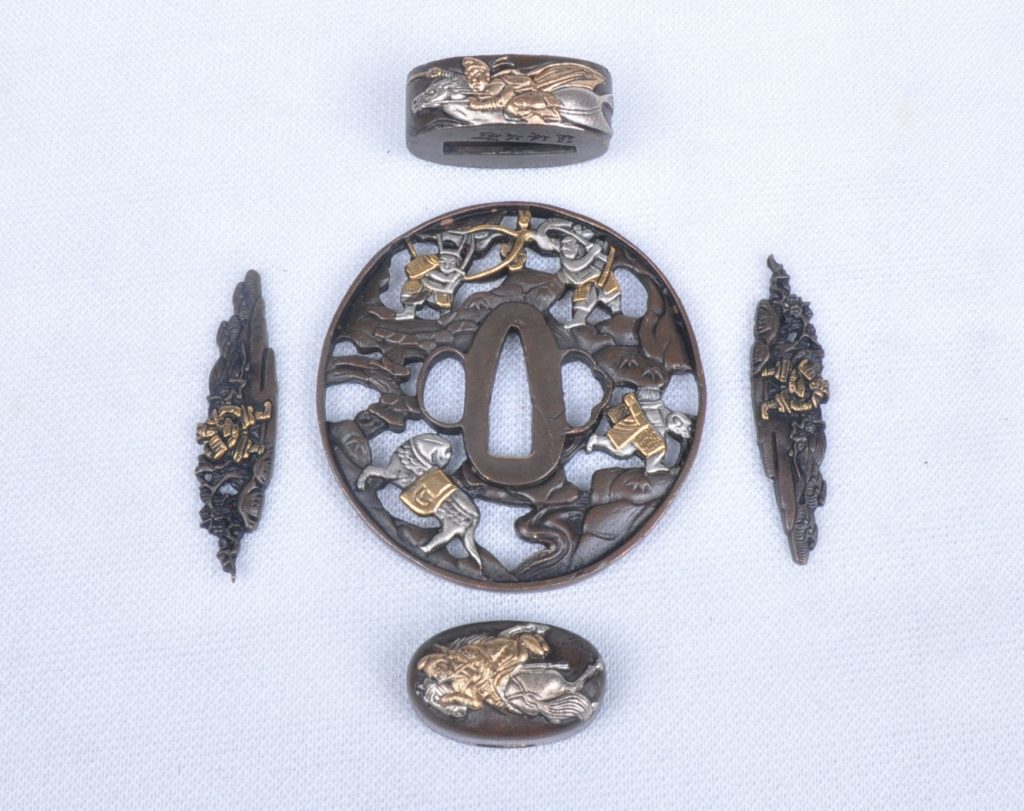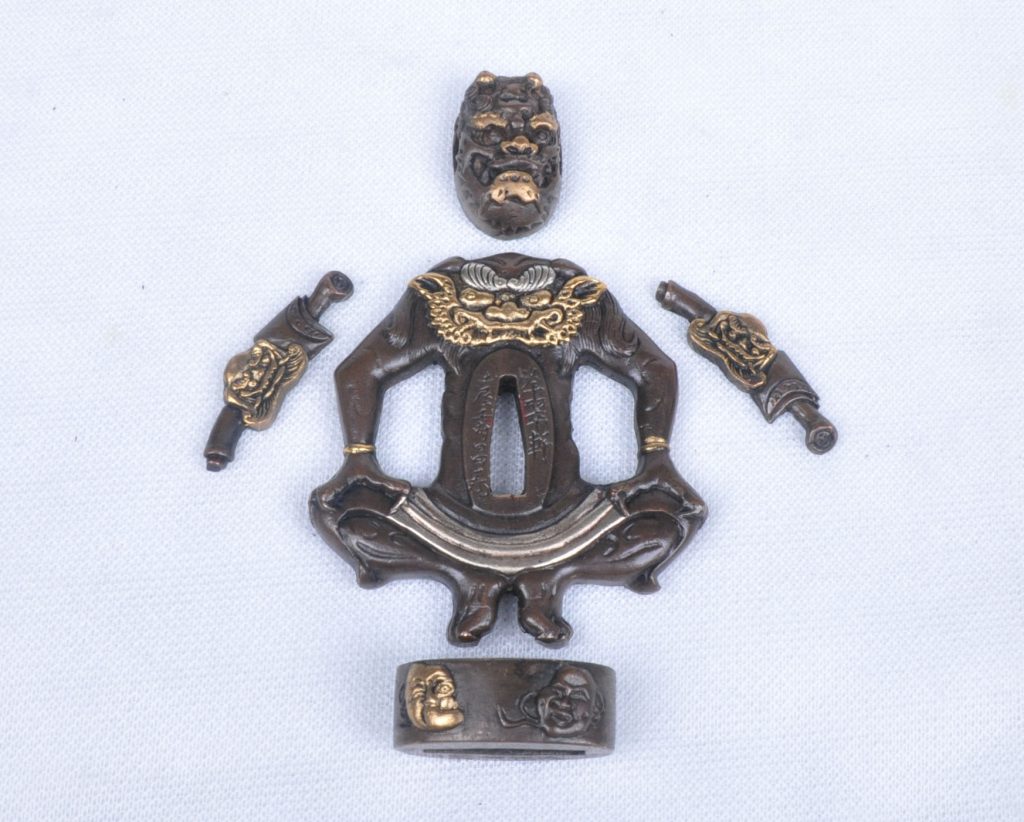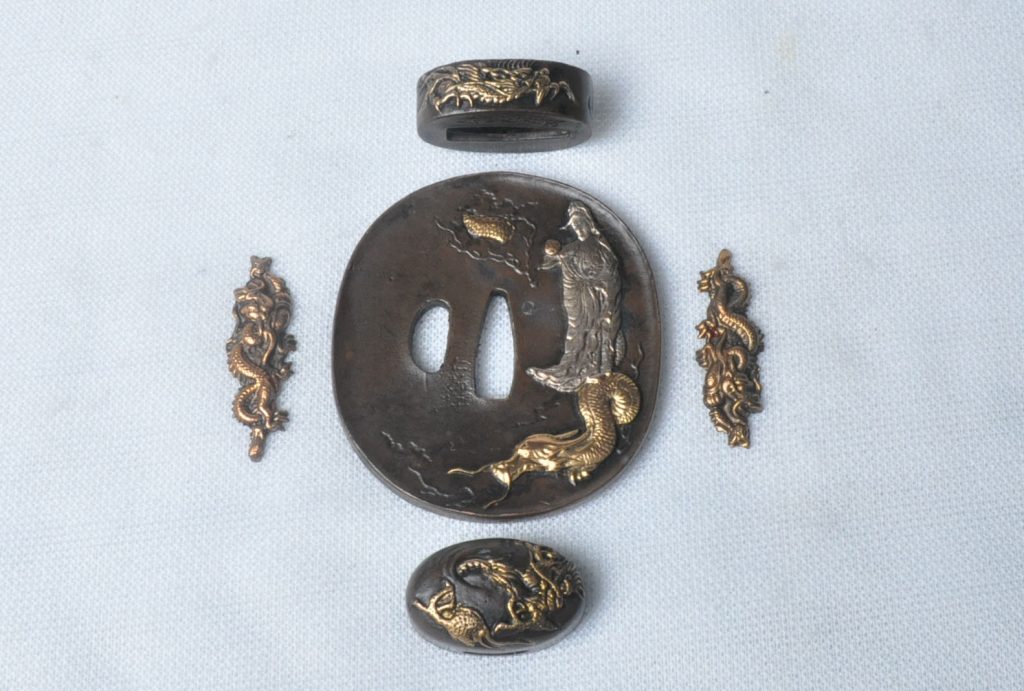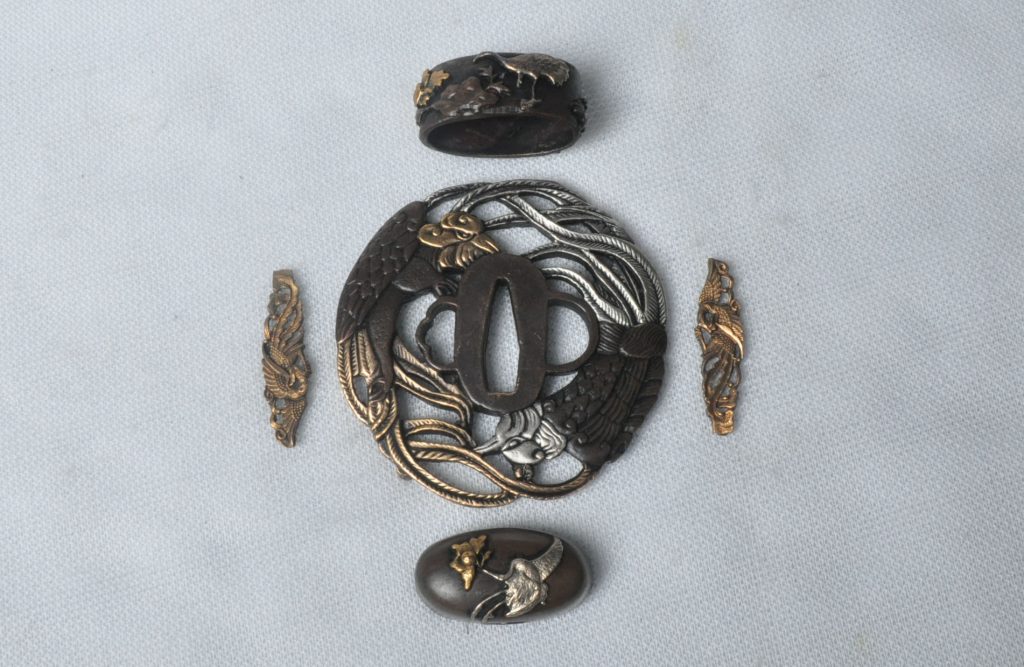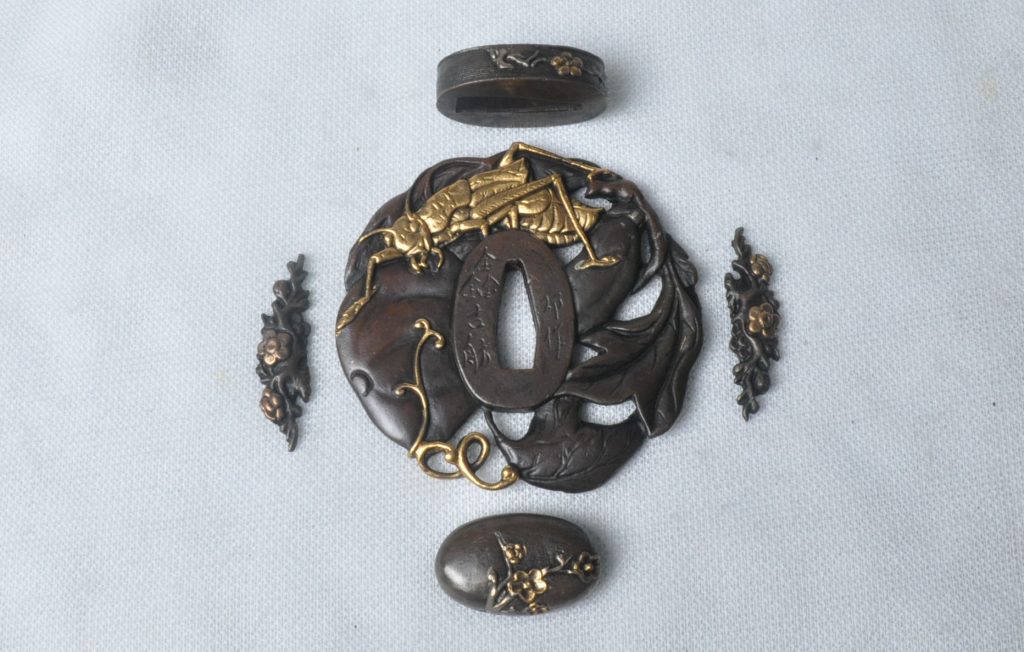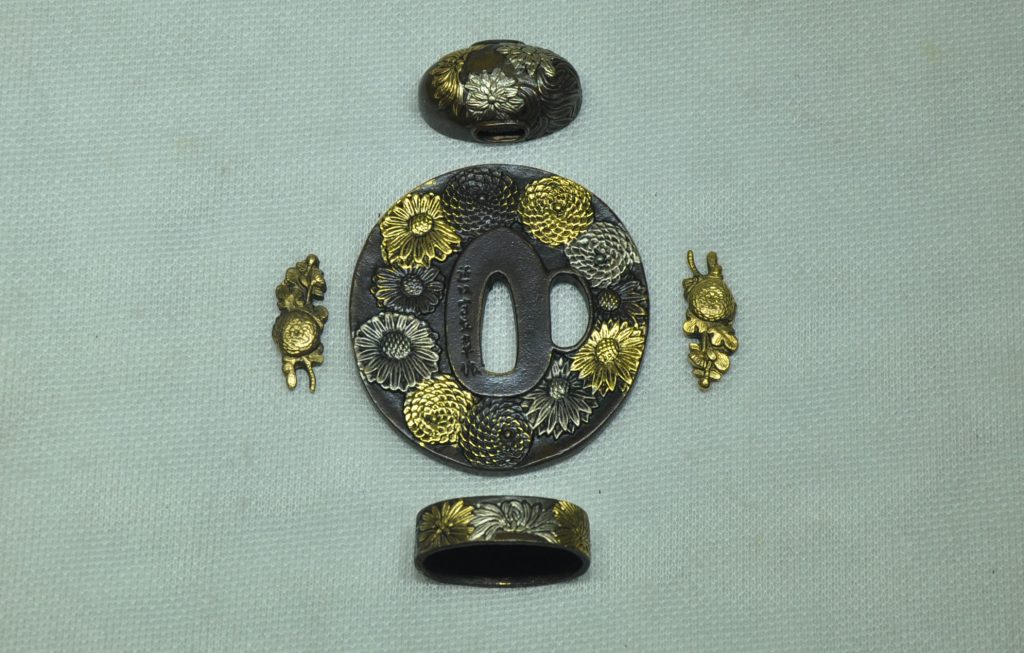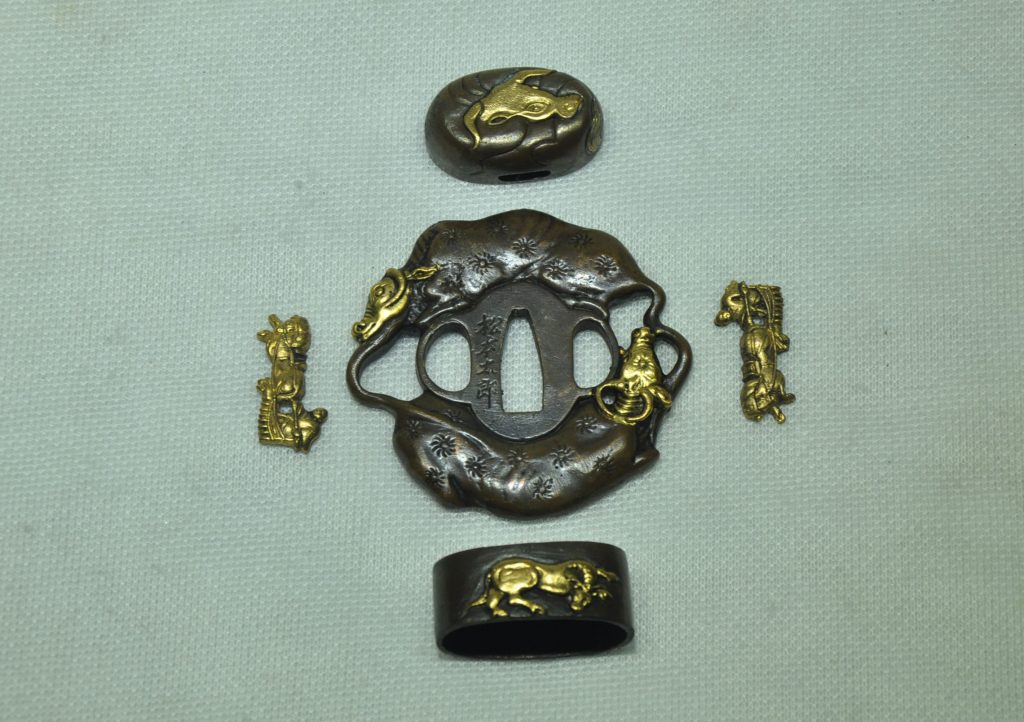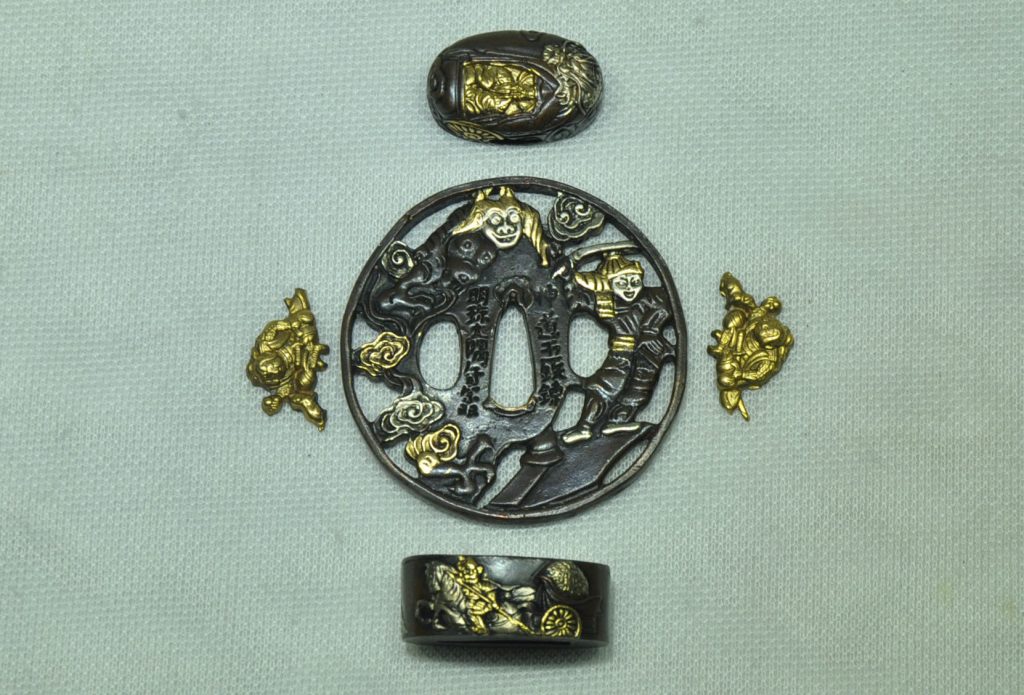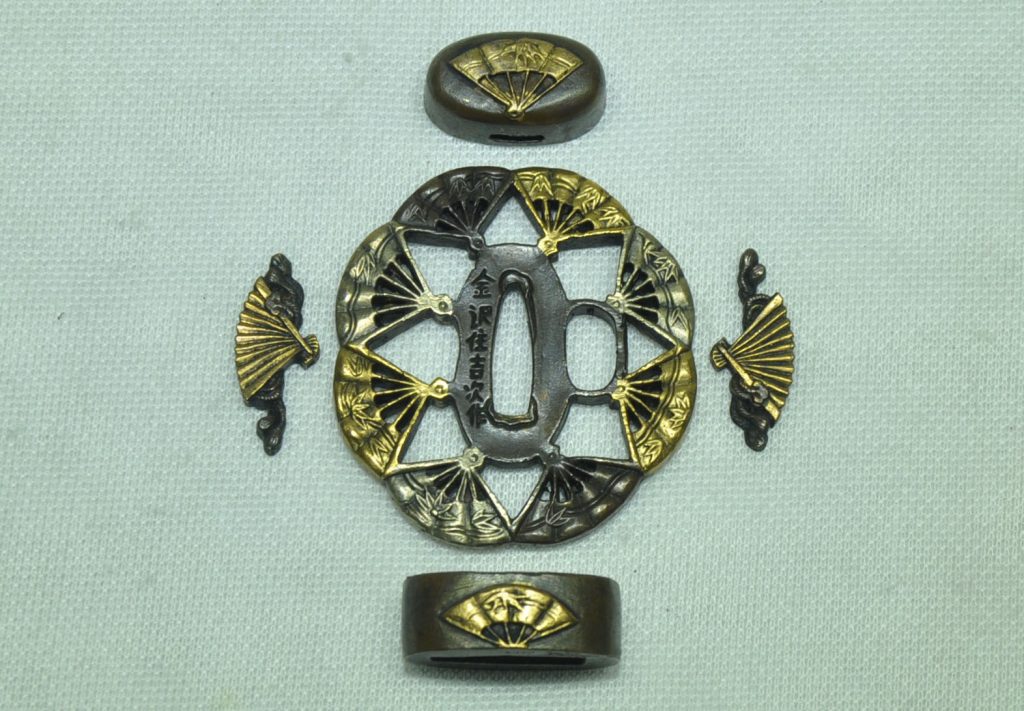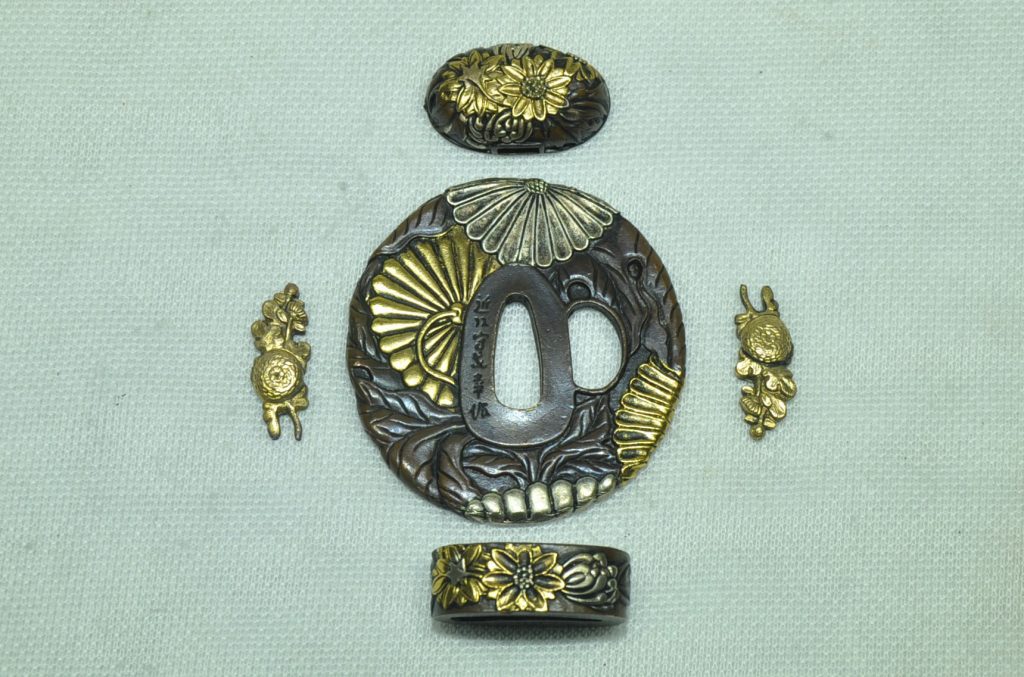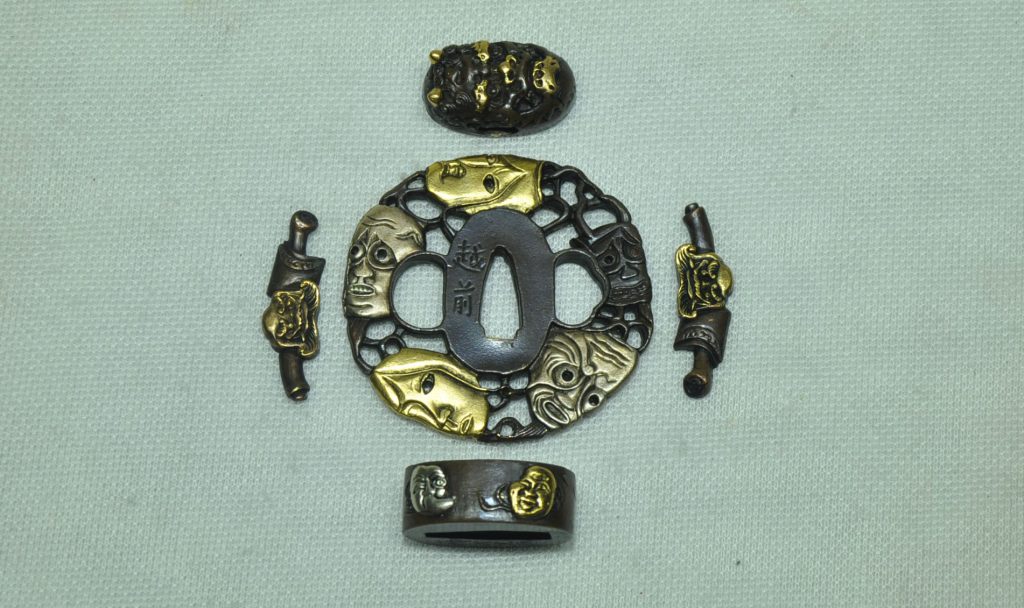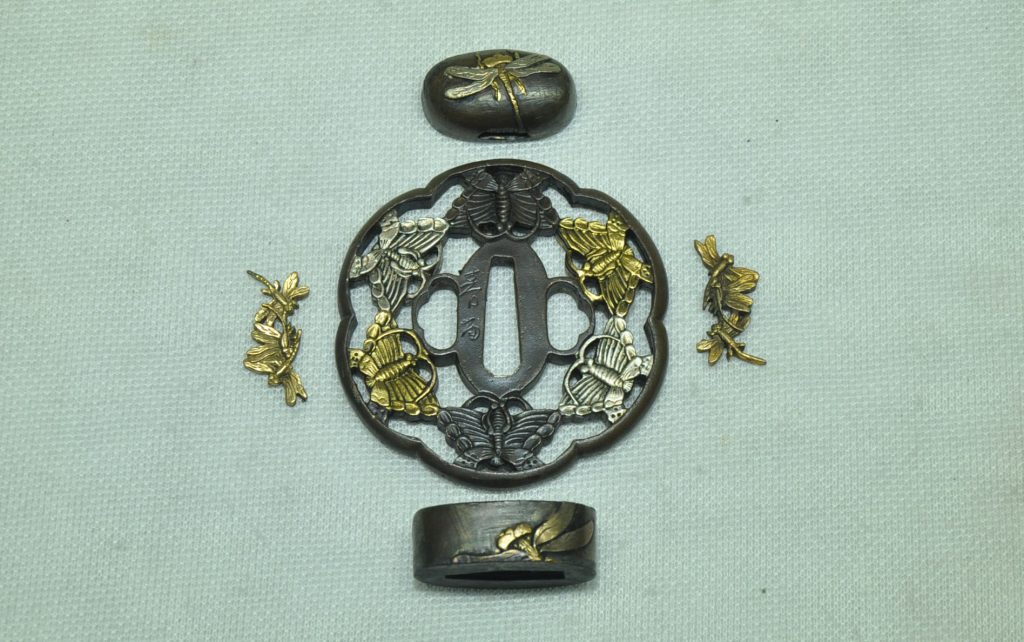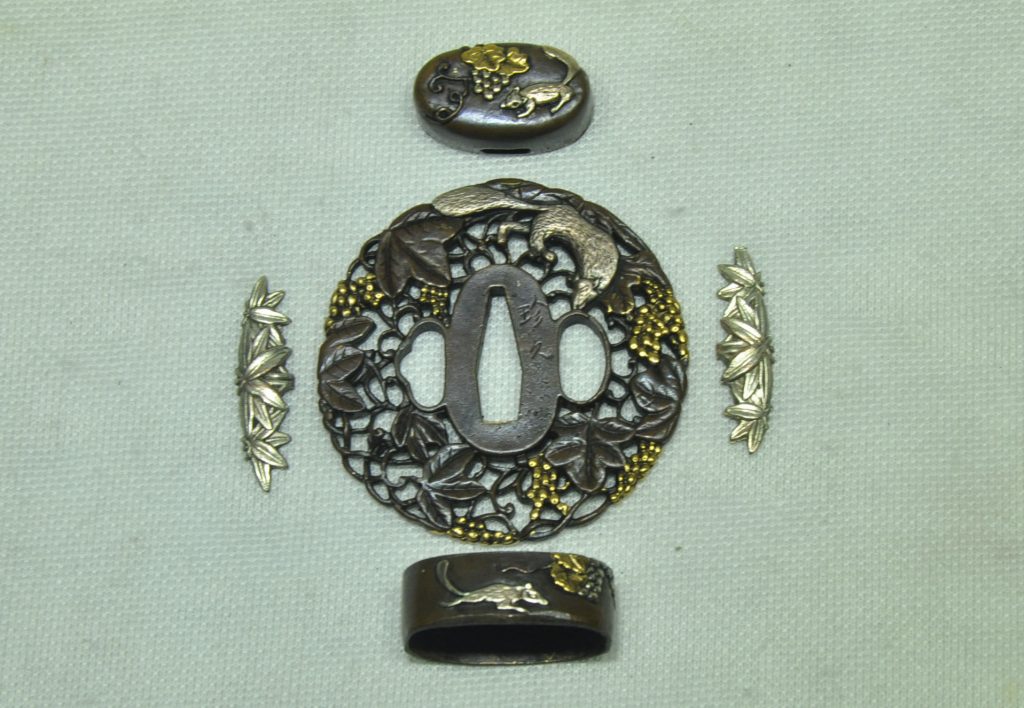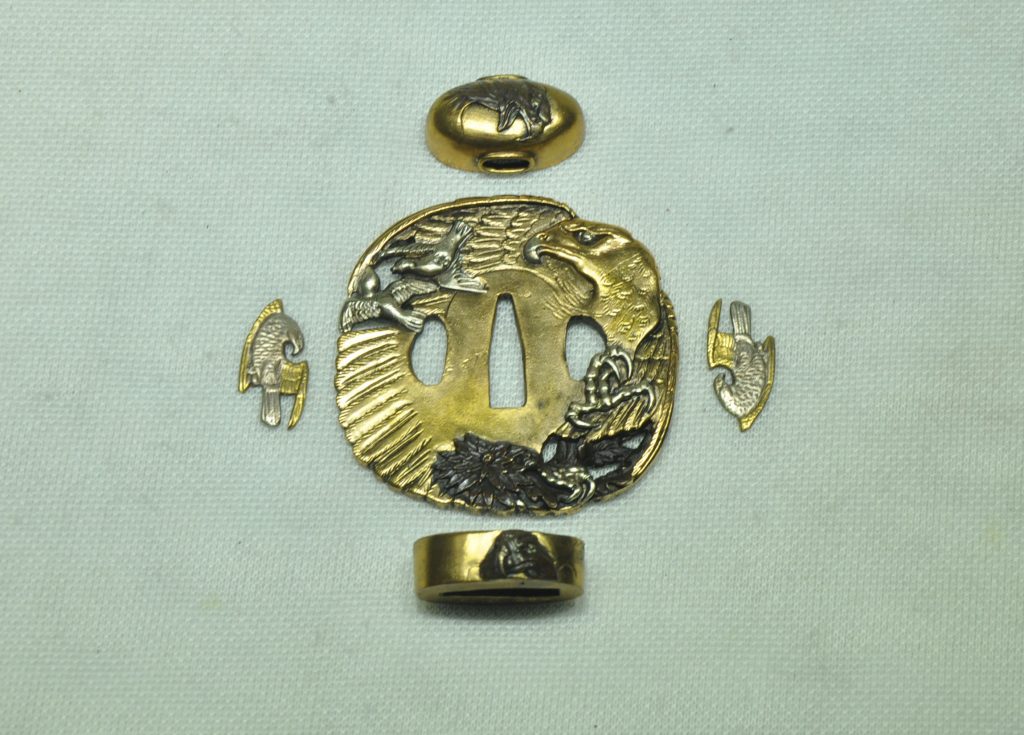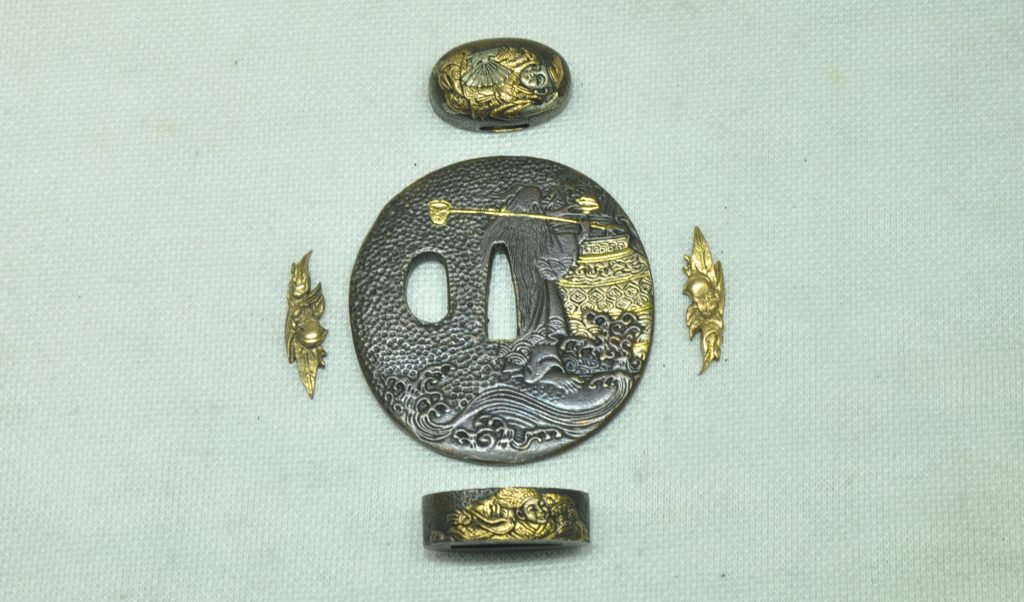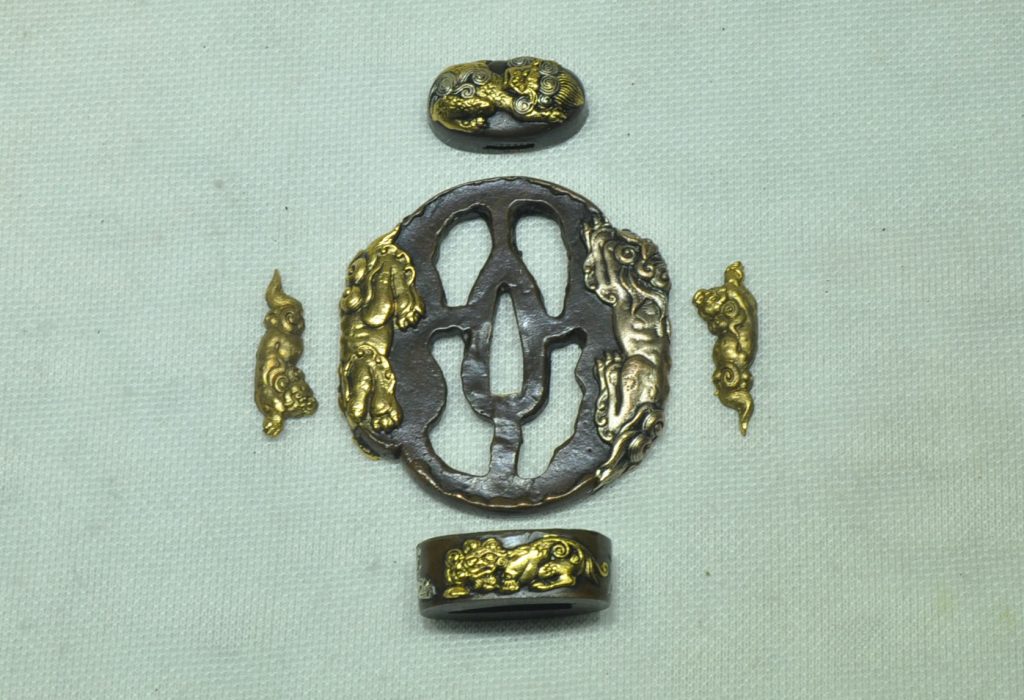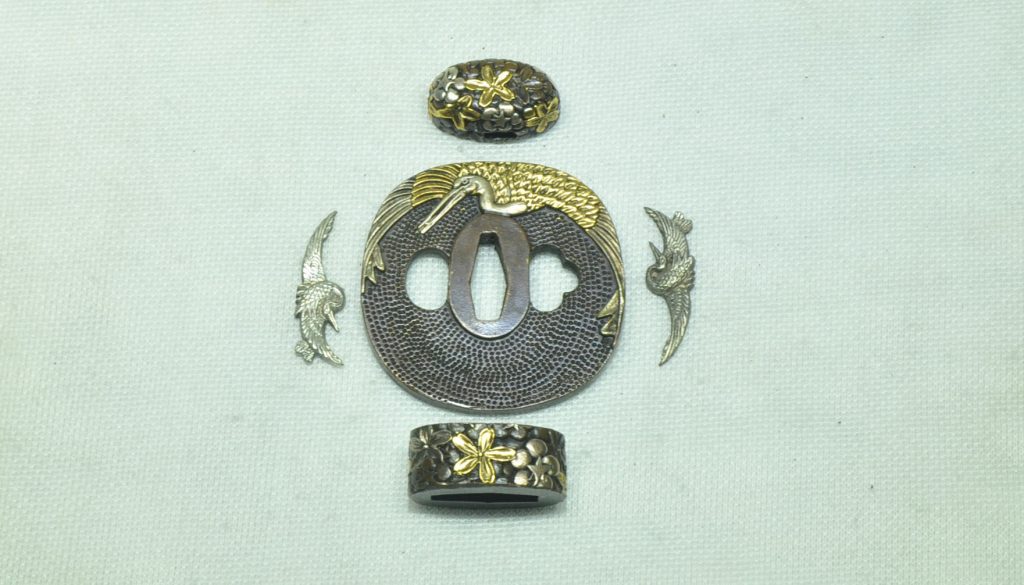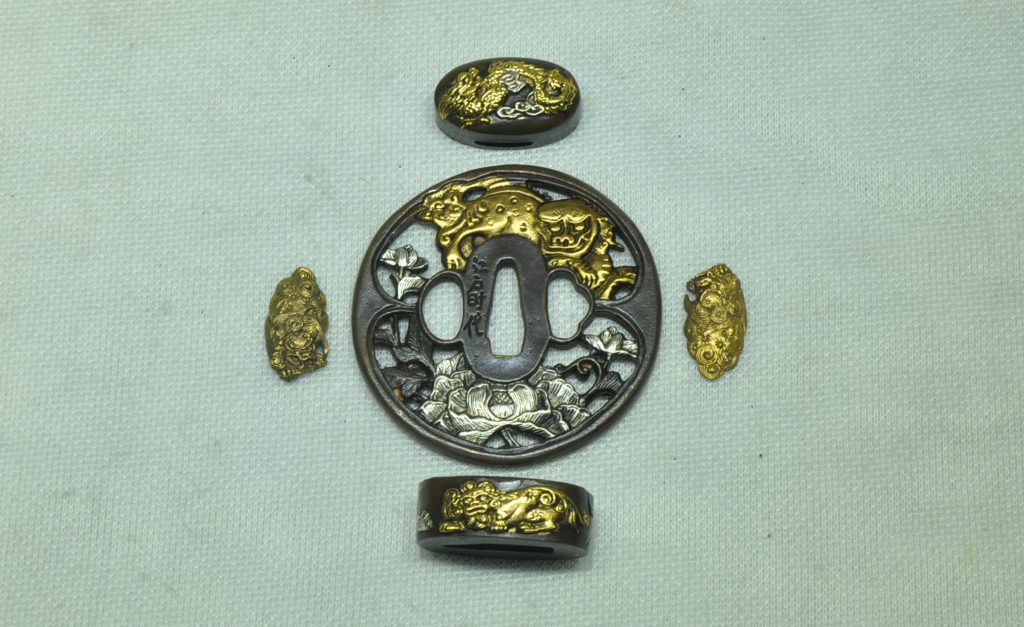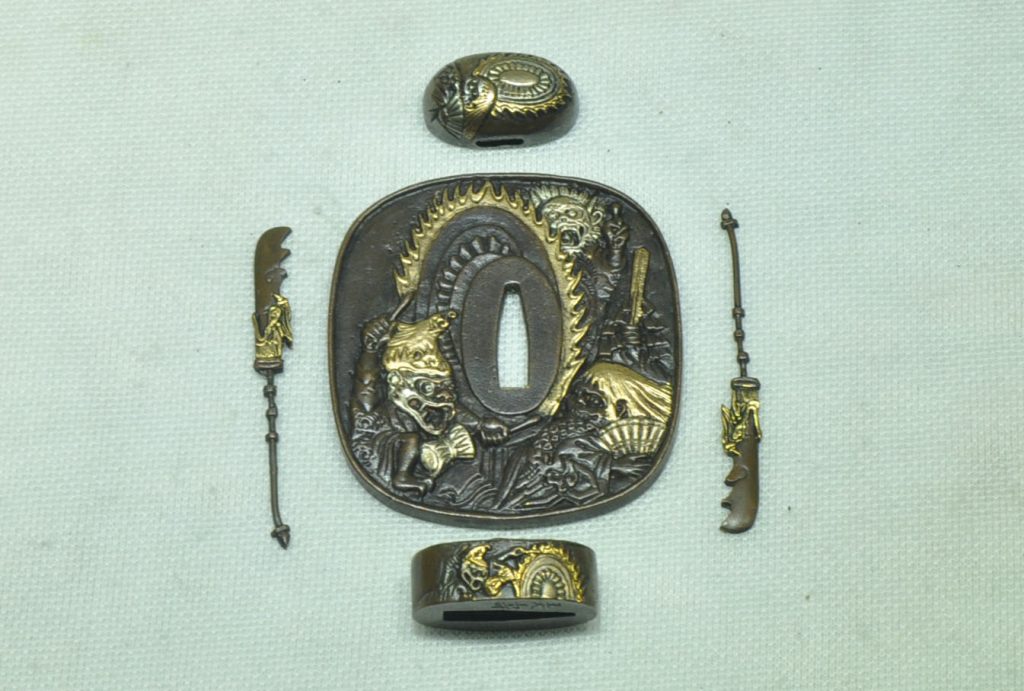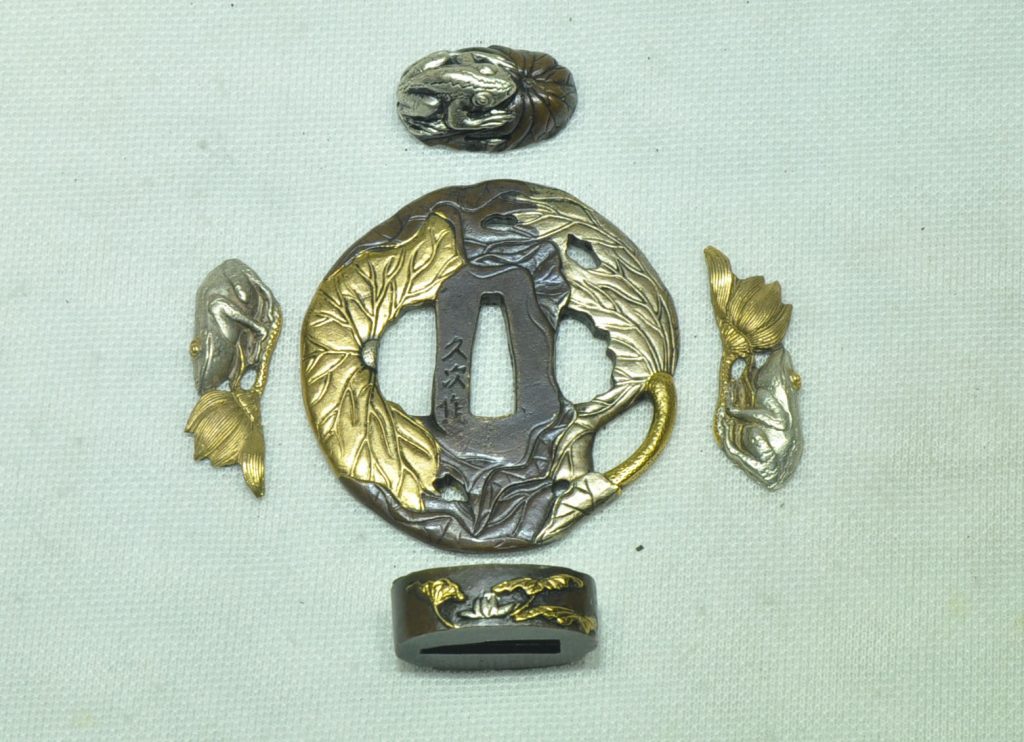 Dragon Themed Elite Fittings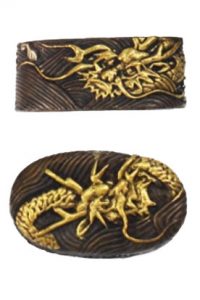 You may have noticed that in all the 28 sets listed above, only 1 or 2 have Dragons in them. Well worry not, if you are a fan of Dragon themed swords, the final 8 sword sets T0029 to T0037 are ALL Dragon themed in one way or another.. The details are pretty easy to make out, and the fitting sets the same in every case – as you might expect – with a Dragon theme that matches the tsuba, usually like the one (pictured left).
Otherwise, here be dragons.. (sorry, images are a bit small on these and do not resize, but should be clear enough to see which one you like best).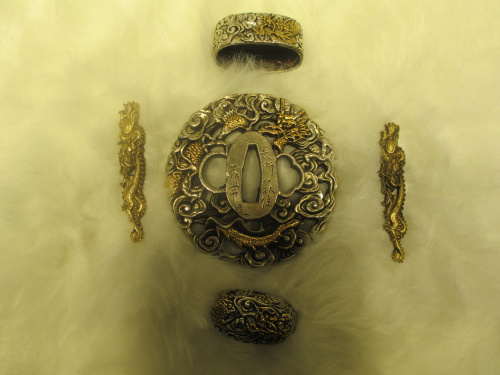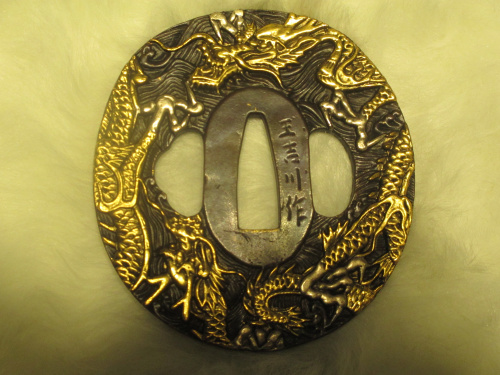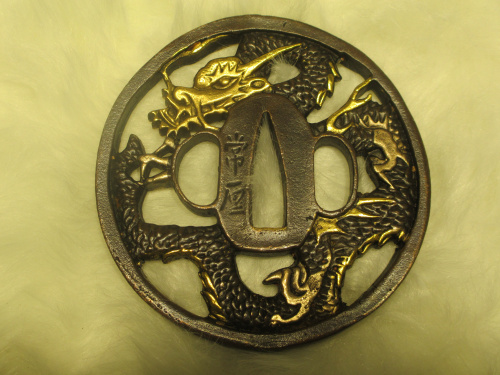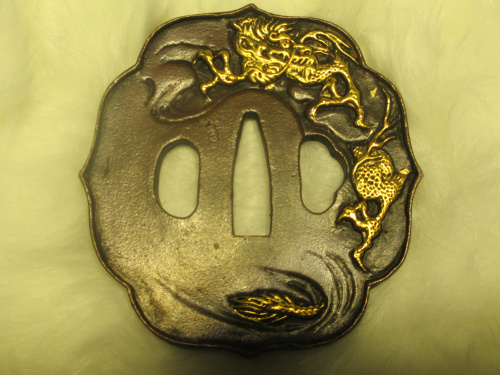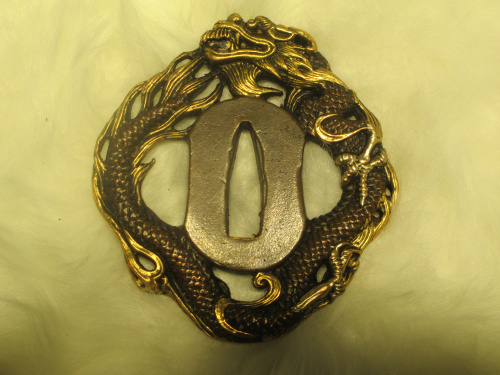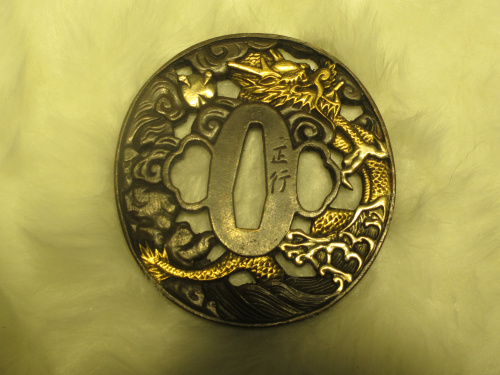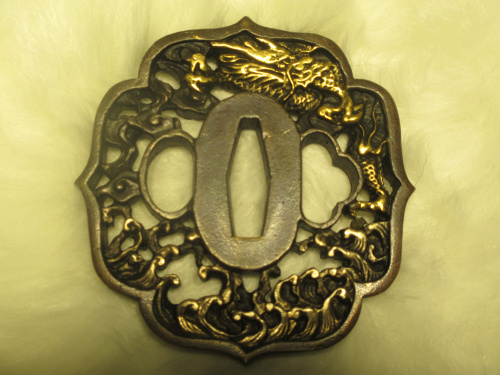 Itomaki and Same (Handlewrap and Rayskin)
All standard option handles are made from silk and are available in 5 colors. They can be combined with natural white rayskin or dyed black or red.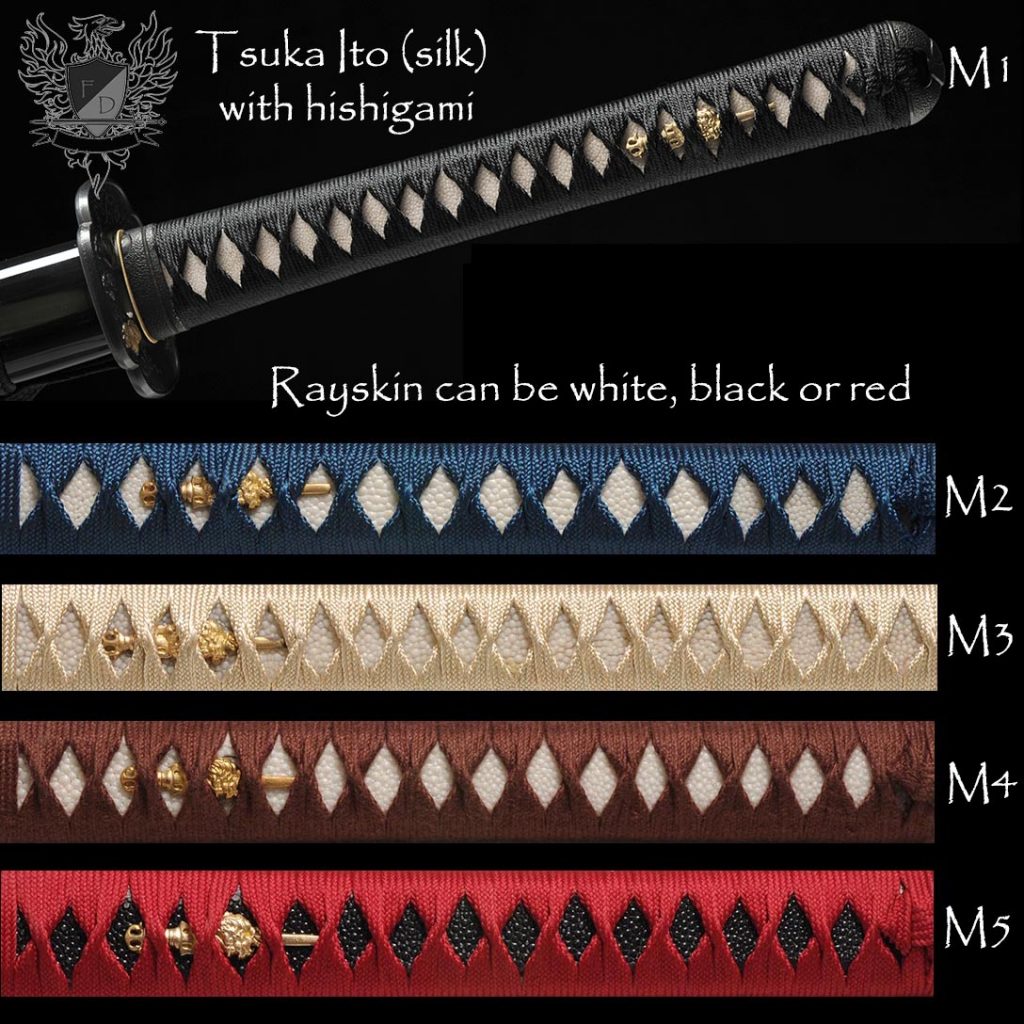 Optional Extra – Leather Wrap
A genuine suede backed cow leather ito wrap version is also available for a small extra fee of $50. It may not be the prettiest, but it is extremely tight, durable and hard wearing.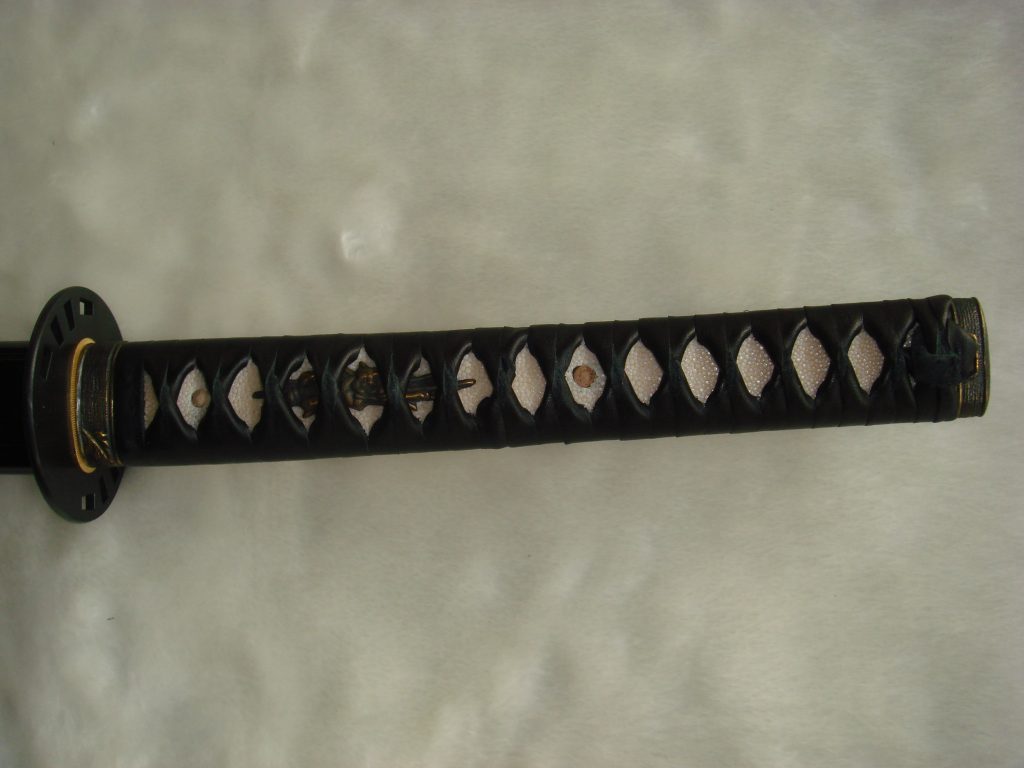 If you go to the product page, note the thickness and quality of the rayskin panels..
Sageo (scabbard cordage)
Sageo cord is traditionally used to tie the sword to the warriors Obi (belt) but when not being worn is usually tied in an elaborate way. In most cases the sageo is close in color to the ito handle wrap, but there are no hard and fast rules. The Sageo is thick, hard wearing and strong. When in doubt, select solid black – it goes with almost everything.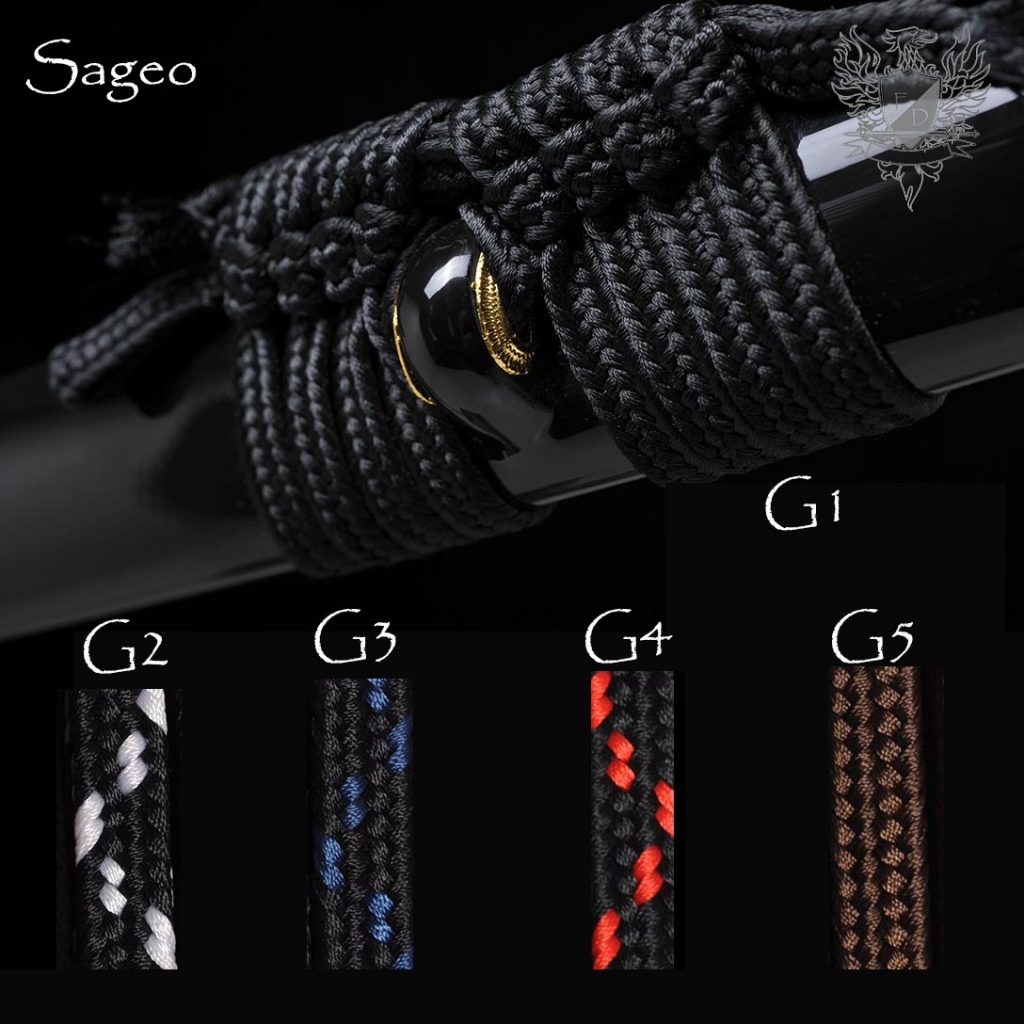 The Saya (Scabbard)
Probably one of the most frequent questions we get asked for is bigger pictures of the saya. So your wish is our command!
Please note that due to the different settings of individual monitors the actual saya may look slightly different than what you are seeing on your screen. If in doubt, please contact us for clarification.
The first 12 saya are available at no additional charge, but the more elaborate designs (such as those with rayskin, gold leaf or that have been extensively hand painted) have their prices listed next to them in the dropdown menu and below accordingly.
Free Saya (no additional charges)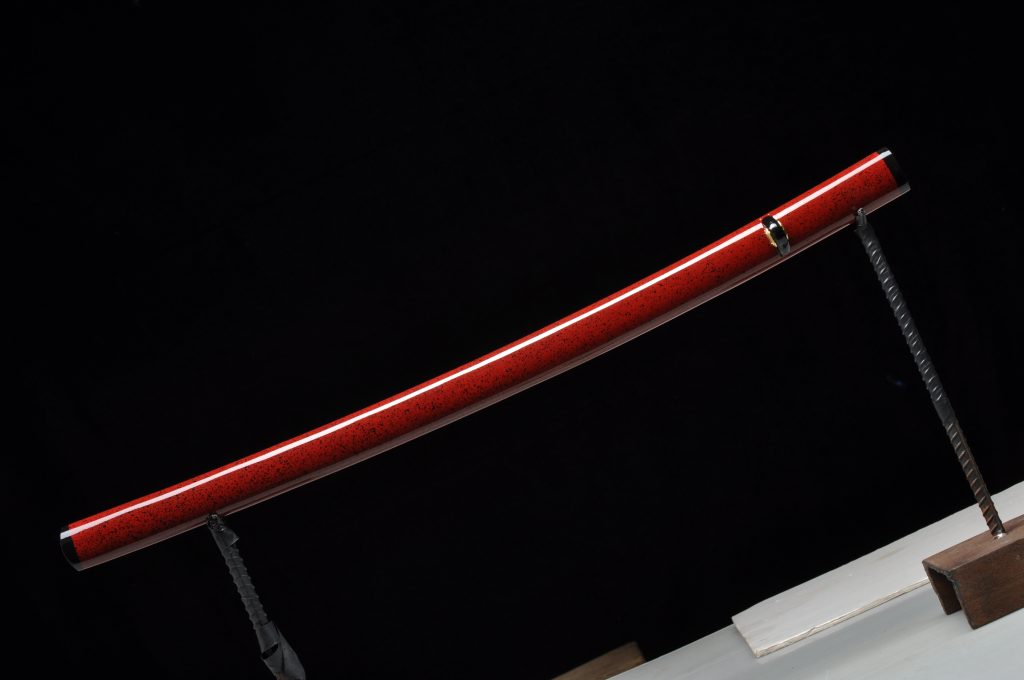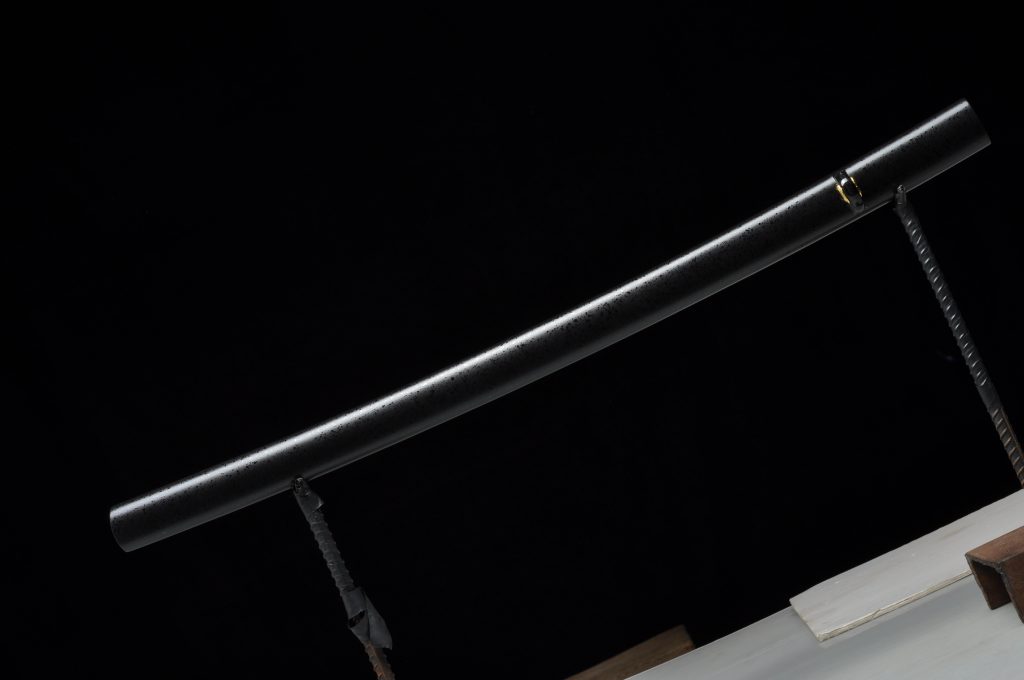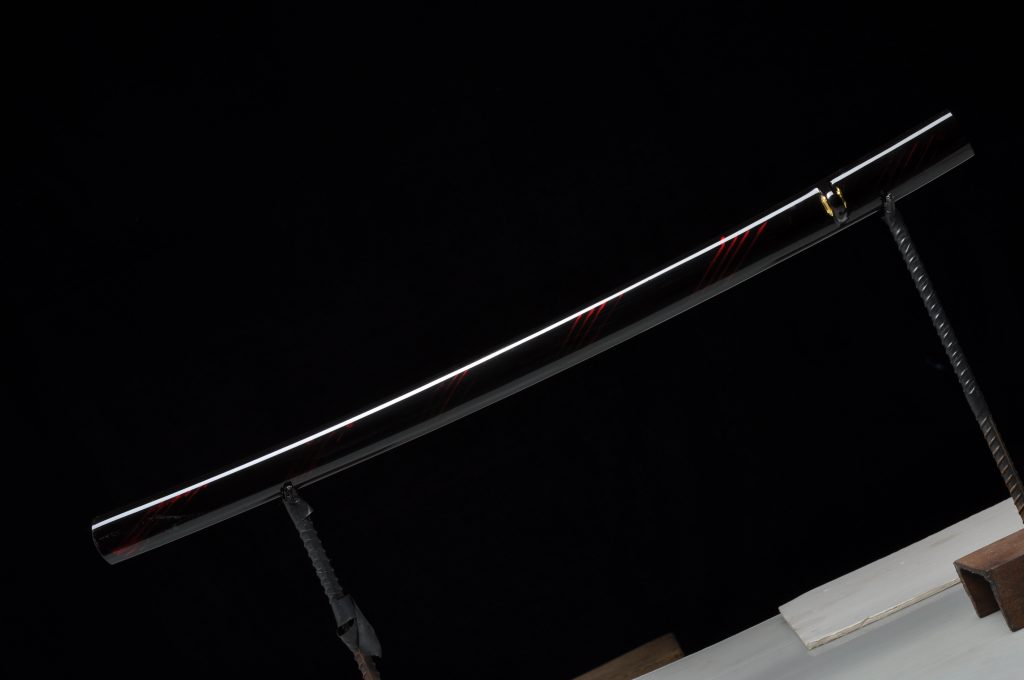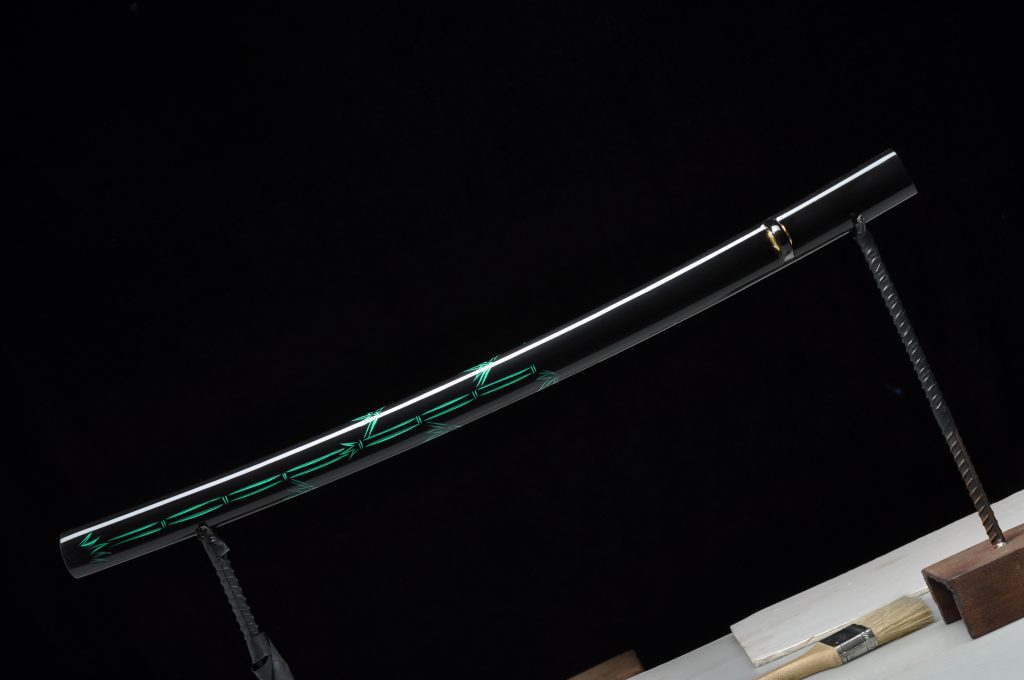 Elite Saya (additional charges apply)
We absorb as much and sometimes ALL of the extra charges we face with these higher end to truly Elite level Saya. Because of this, they are not sold separately and only one saya can be ordered per sword.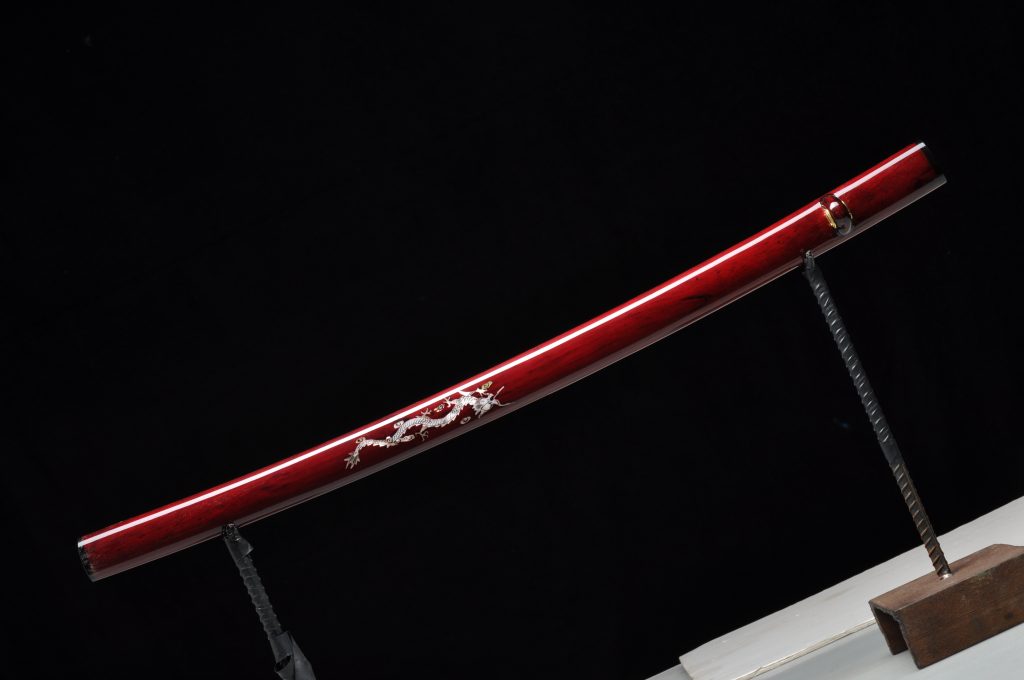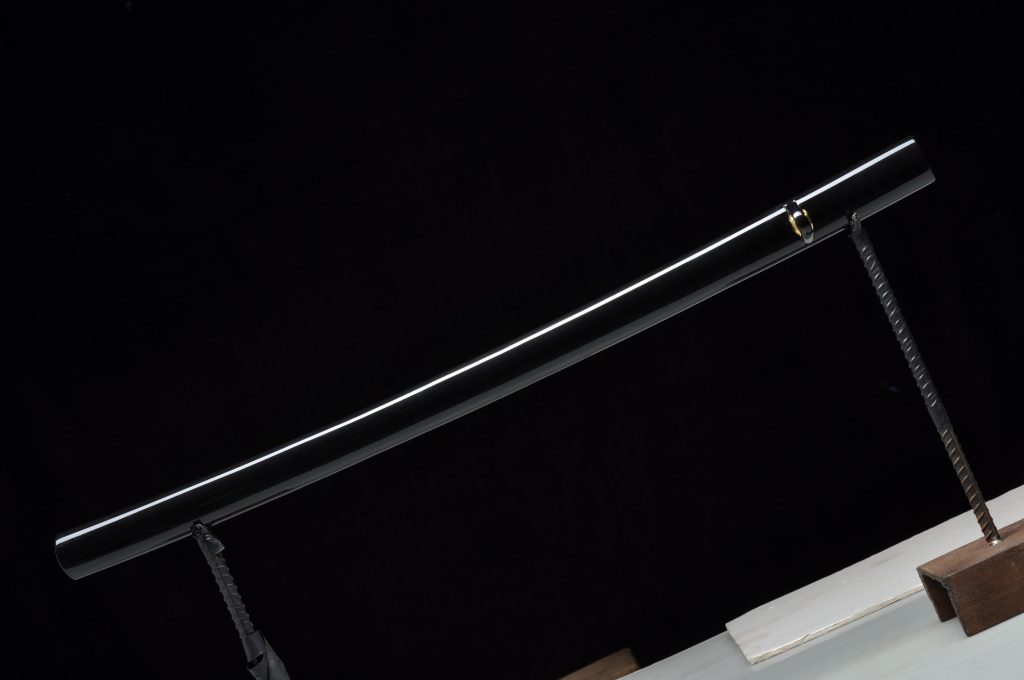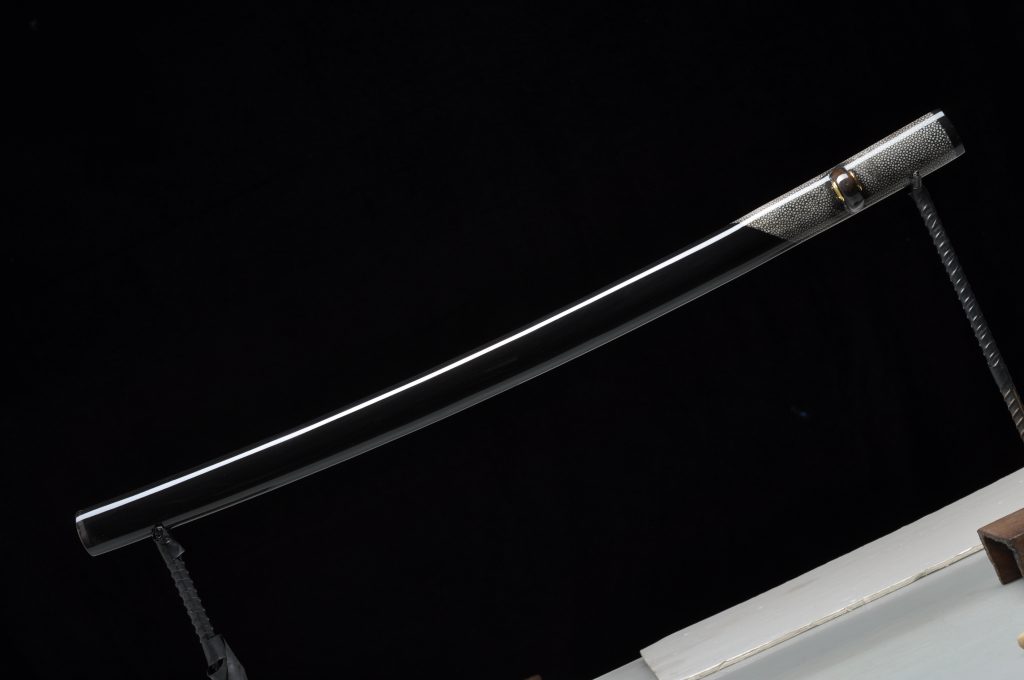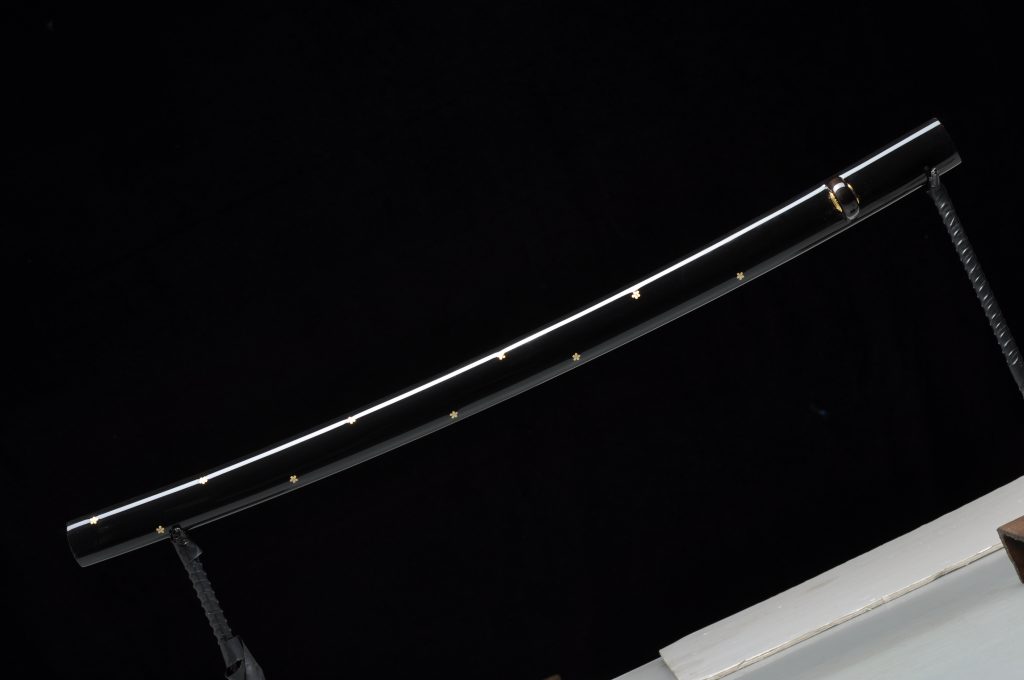 Design Tips
For design inspiration, select one prominent component to represent the core theme. Maybe choose a saya you like and then find other components that compliment it or fit the general theme. Or, as many do, pick the tsuba first and build the sword around it.
Others may be inspired by a particular color – all black with iron fittings is very popular. Or you might want to mix it up, black and red, all purple, dark brown – the choice is yours and you are always welcome to contact us if you would like some advice or our opinion on a design idea you are not 100% sure on.
One Last Quick Word
Of all the Katana we offer at the SBG Sword Store – this line has one of the highest satisfaction rates ever (99%). Errors are extremely rare and while not perfect, the forge behind Forge Direct Japanese is one of the most respected (and expensive) forges in Longquan. We stand by these swords 100% and if you are not satisfied with your purchase, we will work with you until you are not just satisfied, but delighted..