Over the course of this year, Legacy Arms has begun a rather dramatic transformation. For the first time ever we were able to secure a lower price structure, and we have marked down our prices across the board by 25% on average, with swords previously costing $329 now available for just $250 or so..
But as we have alluded to in previous editions of the blog, they are also a sword line undergoing rapid transformation. After many years of great products but with severe supply chain issues preventing their expansion, Legacy Arms sought out a highly experienced Chinese supplier, and after both price and quality was assured (indeed, even improved) the new line has already seen two new models, the Templar Sword and Riding Sword, and you can see from the images below how the changes are subtle, but important..
ORIGINAL PHILIPPINE MODEL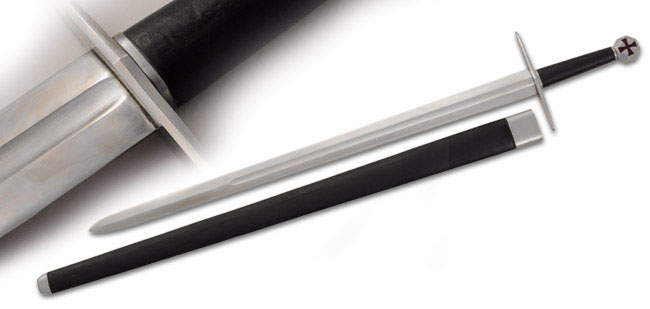 NEW CHINESE MODEL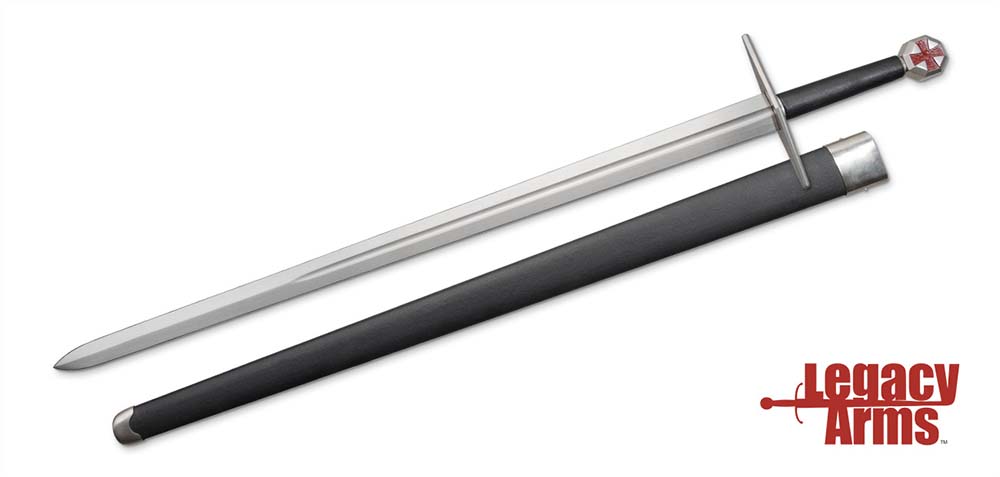 Same basic measurements but at least 5oz lighter and with state of the art tempering. But the small details are apparent with much cleaner lines and even better fit and finish. For example, take a look at the original pommel and hilt details of the Philippine version: it's quite rustic and clearly hand made, from the application of the paint to residual epoxy at the hilt.
ORIGINAL PHILIPPINE MODEL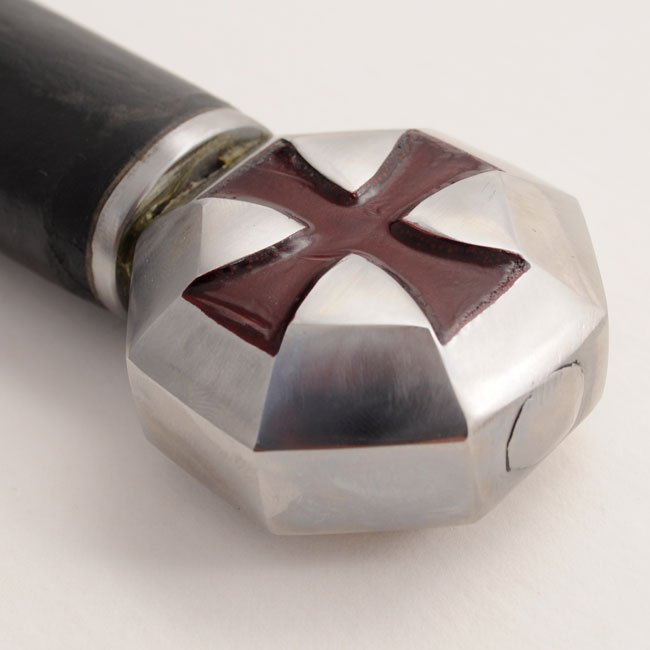 Compare it to the new version, and you will see that the new models are much more in line with modern expectations and sensibilities..
NEW CHINESE MODEL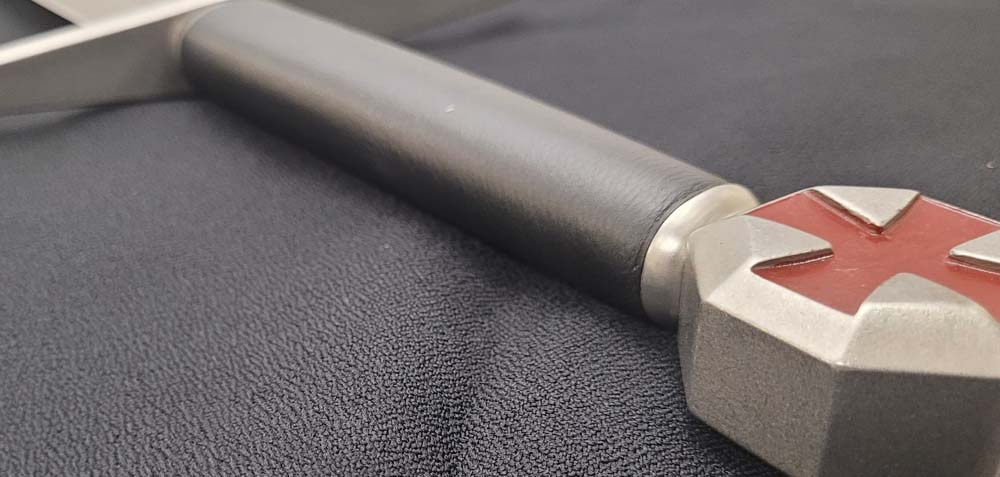 So as the line slowly begins to be replaced by the new Chinese versions, the time has come to start to CLEAR OUT the remaining Filipino made versions.
This will be your final chance to pick up the original versions of Generation 2 swords that have been in more or less continuous production since the early 2000s at prices even lower than they ever were back in the day. We aren't just winding back the clock on these prices, we are blowing them into another dimension.
Just take a look at these final offers before they are gone for good.
FINAL CLOSEOUT SALE – LEGACY ARMS
Excalibur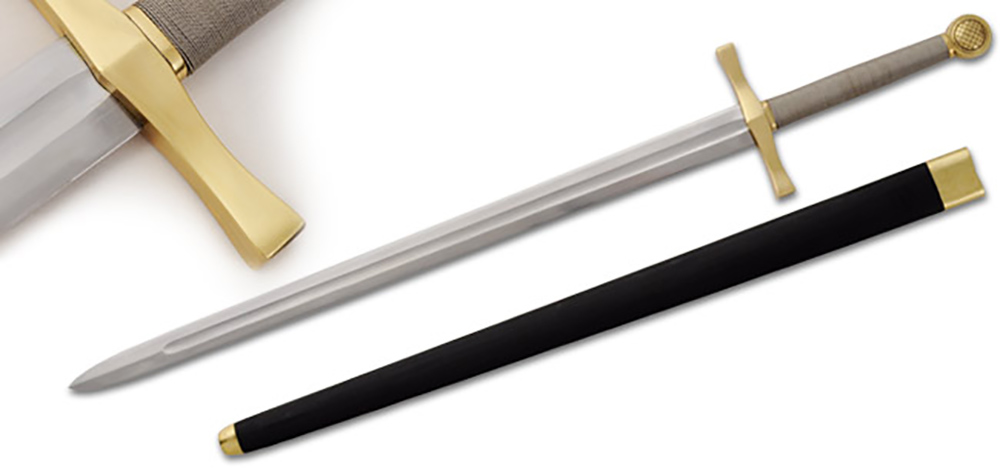 Very accurate battle ready replica of King Arthurs' Sword as seen in the Cult Classic "Excalibur" by John Boorman. Amazing craftsmanship with solid brass fittings, wire wrapped handle and an incredibly powerful blade.. MSRP $519.00, Recent Marked Down Price $379.99
---
Brookhart Hospitaller Sword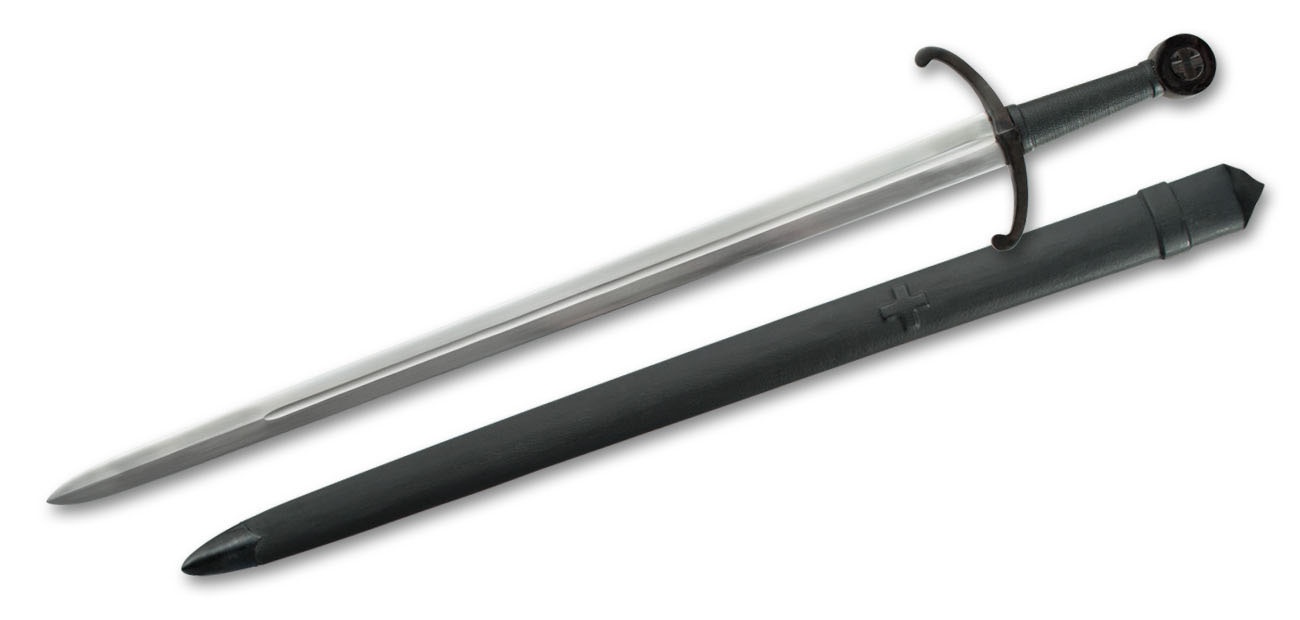 Designed by Bruce Brookhart and quite a historically plausible tribute to the other Crusading Order, the Black clad, white cross emblazoned on the chest insignia of the Knights Hospitaller. MSRP $329.00, Recent Marked Down Price $249.95
---
Black Prince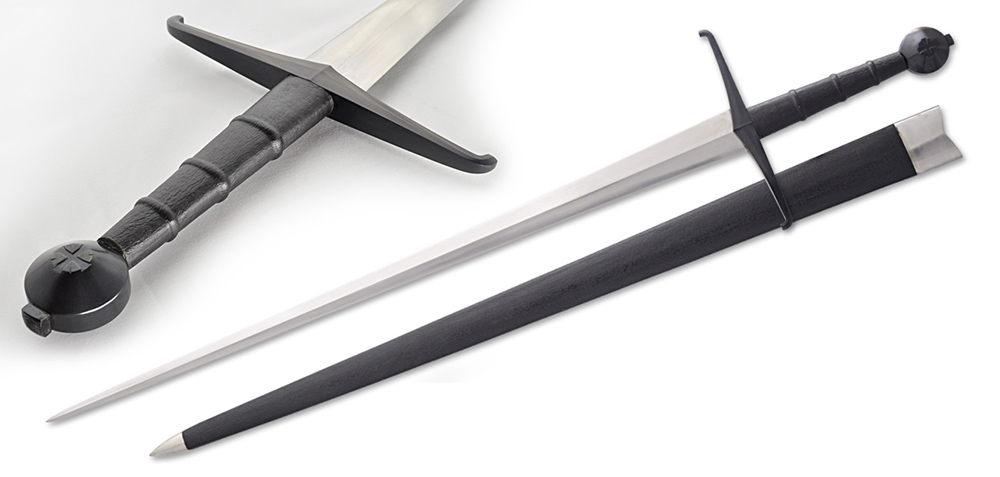 This iconic sword based on the sword believed to have been the personal blade of the 'Black Prince' Edward of Woodstock has evolved over the years to the current form which closely replicates the historical original. A true Legacy Arms Classic. MSRP $329.00, Recent Marked Down Price $249.95
---
Irish Sword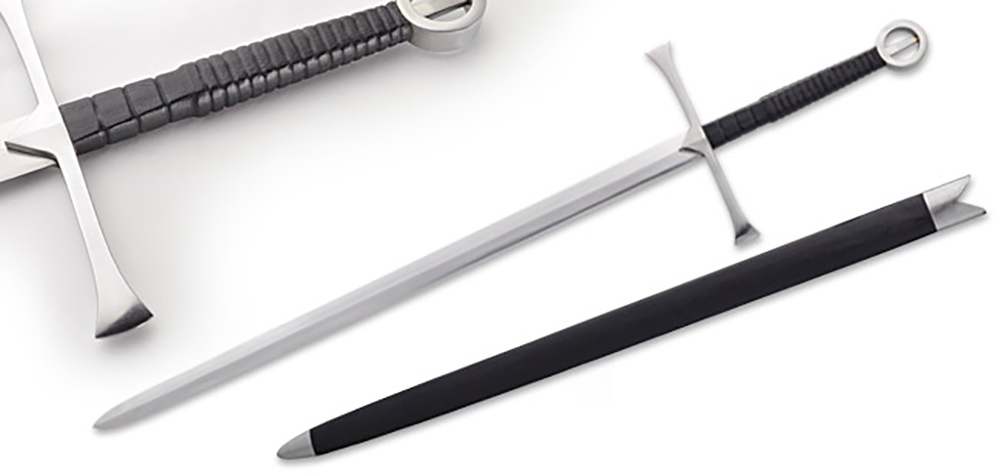 This was the FLAGSHIP sword of Generation 2. Amazingly well balanced and extremely attractive celebration of a proud Irish heritage. MSRP $329.00, Recent Marked Down Price $249.95, NOW $209.99
---
Roman Gladius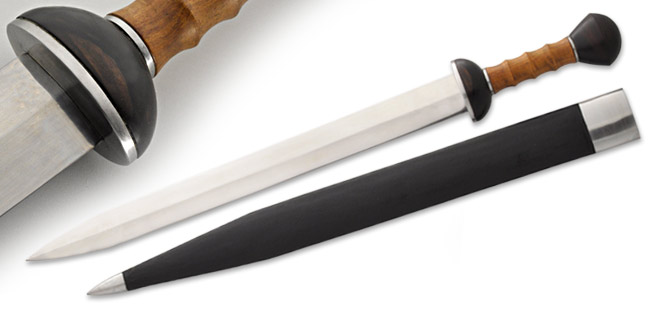 The scabbard may not be all that historically accurate, but this powerful blade is highly effective in both the cut and a fight ending thrust and the actual sword quite historically plausible and is based on an actual antique preserved in the ruins of Pompeii. MSRP $255.00, Recent Marked Down Price $199.95
---
Maintz Gladius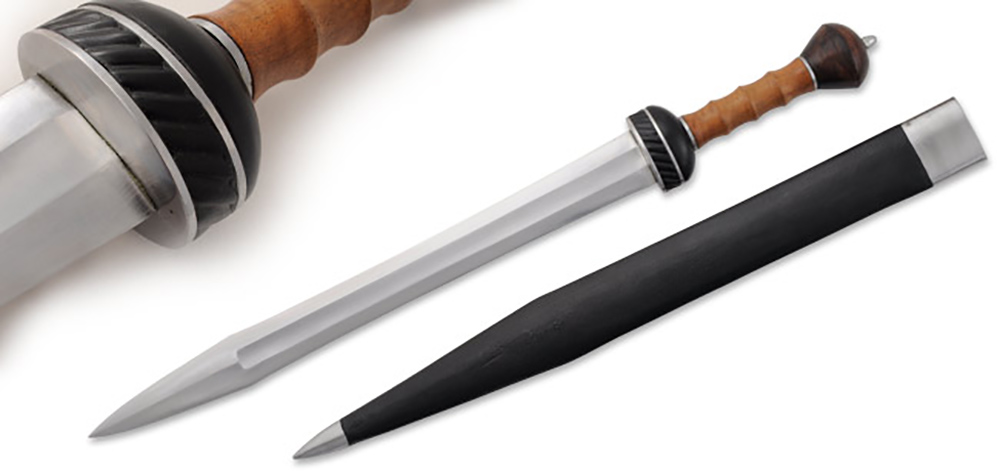 Variation of the Roman Gladius, please note that the blade is flat – that is not a fuller in the picture. MSRP $255.00, Recent Marked Down Price $199.95, NOW $169.99
---
Iberian Falcata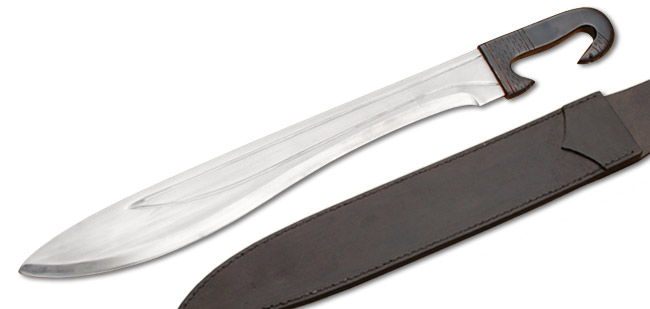 One of the most fearsome weapons the Romans ever faced, the Celtic-Iberian Falcata. MSRP $255.00, Recent Marked Down Price $199.95
---
Celtic Anthropomorphic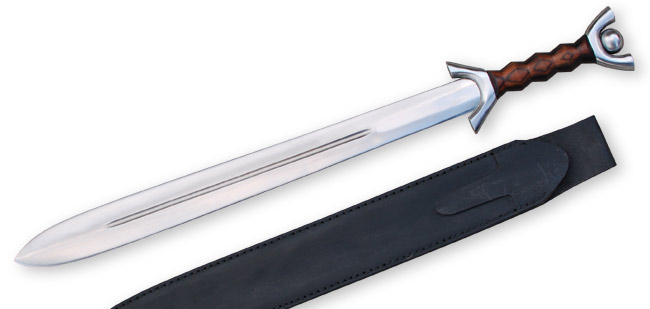 A rare Celtic design combination of powerful cutting leaf blade and the abstract hilt meant to represent mankind with a head, arms and legs. MSRP $269.00, Recent Marked Down Price $199.95
---
Brookhart Templar Dagger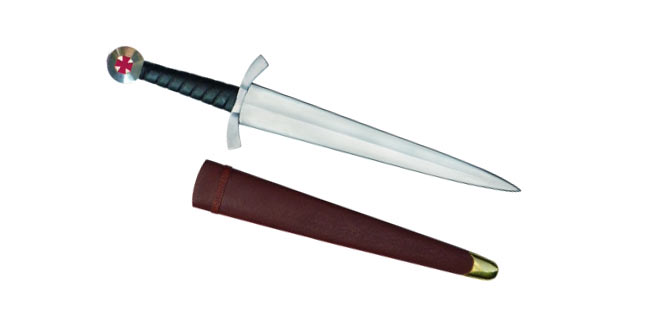 Matching dagger to the Brookhart Templar Sword. MSRP $155.00, Recent Marked Down Price $119.95
---
Ranger Dagger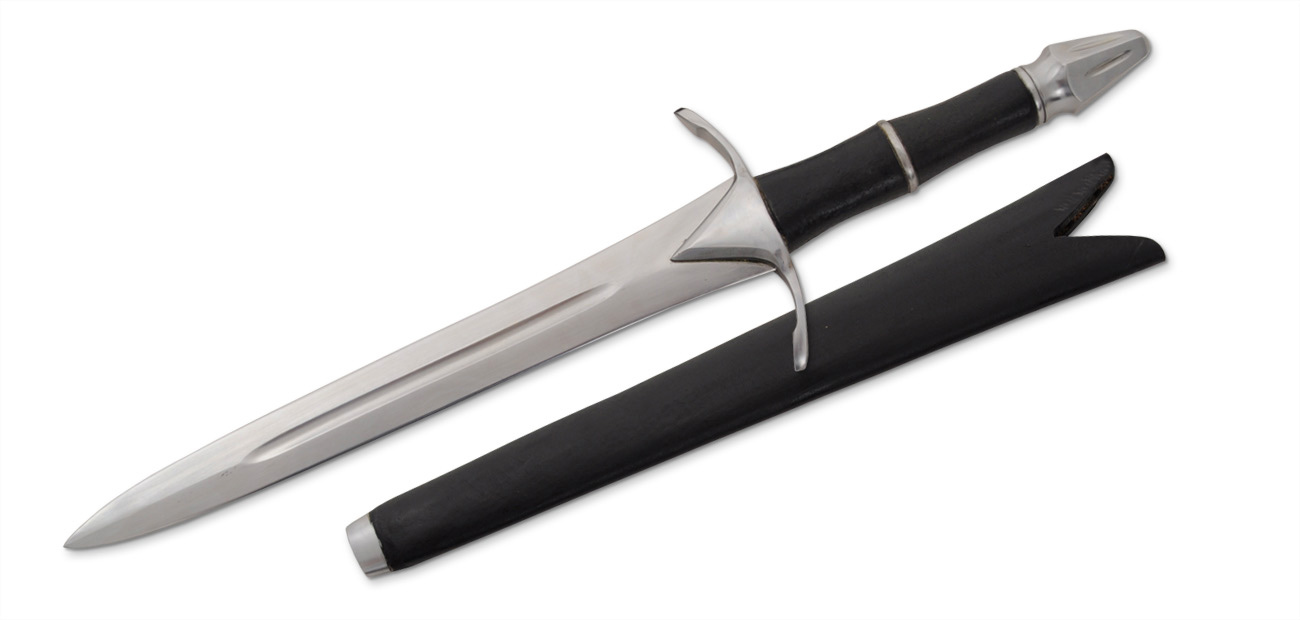 The matching sword may already have been discontinued and is being re-tooled by the Chinese Forge, but here is your last chance to grab the LoTR inspired Ranger Dagger. MSRP $159.99, Recent Marked Down Price $119.99, NOW $99.99
---
Seax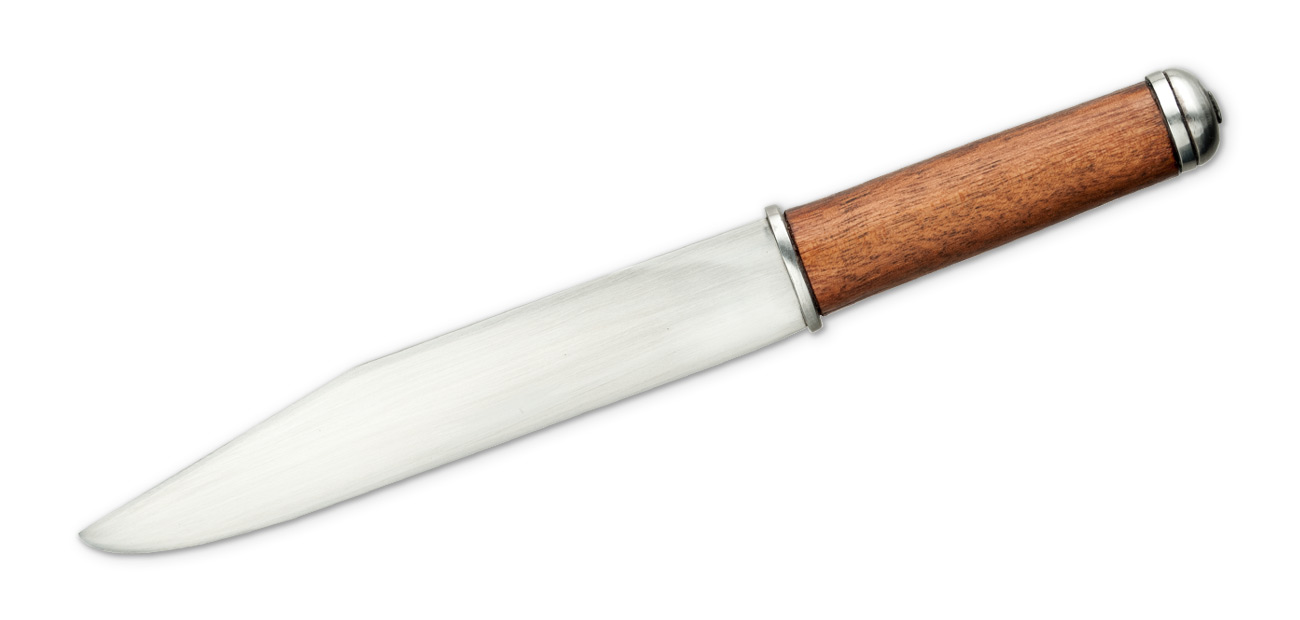 Viking Utility Knife – a total bargain at the closeout price. MSRP $75.00, Recent Marked Down Price $59.95
---
An end to an era indeed, and some real bargains here if you are quick. Once the original models are gone, they will simply be another page in modern sword production history..