It has been a very, very rough 12 months for our flagship custom Japanese sword lines Project X and it's offshoot, Project X – Forge Direct.
By June 2020 it had become apparent that the Pandemic had ground production to a halt and on the 23rd of June 2020 Forge Direct, which was usually available all year round, had been put on hold and remains on hold to this day..
In addition to shipping issues (when in June, nothing was going anywhere – but now simply limit shipments from the Forge to North America only) supply chain issues have been a MASSIVE headache. On top of everything else, the regions only major supplier of sword parts was temporarily shut down, and when it re-opened it found itself – like almost every business in the Sword Making Capital of the world – Longquan, overwhelmed with new orders as online sword sales exploded, draining stock levels down to never before seen levels.
Here's an Infographic that clearly shows the quadruple whammy we have been experiencing..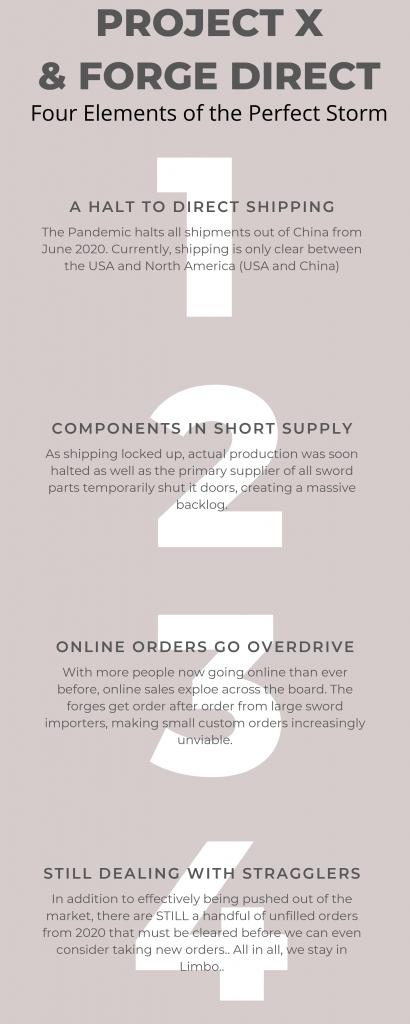 As you can plainly see, it is less than ideal..
We have taken quite a few steps to try and get back in the saddle – and while there is nothing we can do about the direct shipping issue, behind the scenes we have been preparing as best as we can – so here is where we are up to now..
PROJECT X
In late August 2020 the shipping situation had cleared enough for us to resume North American orders – and at the time we confirmed with the Forge that everything would be complete within the usual 4 month time frame..
Well, this is what the orders look like running 2 months behind schedule (the reason why is that for a handful of blades a few cracks were found during the polishing stage, and the swords had to be re-made, but first Chinese New Year, and now the sheer number of orders the forge is dealing with – have pushed it back so the last few swords are running 2 months late).

Because it is STILL not quite completed – and yet due to open for new orders around, well, around NOW – we have decided to simply focus on getting these last few orders completed and wait until the forge is not so swamped with production sword orders..
Exactly when this will be is unknown but I would estimate it will be sometime in late Summer/early Autumn this year..
In the meantime:
Forge Direct
Once again, we still have around half a dozen orders that are trapped in a kind of Limbo – mostly due to the 'great saya shortage of 2021' and the fact that we need to get these orders addressed before we can take new orders with a clear conscience (we always prioritize existing orders over future ones, business 101 is taking care of your existing customers first – we believe in lifelong customer service, not 'churning' and always fishing for new ones!).
Steps have been taken to address this as best we can – for our Forge Direct Custom Katana – we have dramatically decreased the number of available saya options to only the best and most popular our customers have actually ordered in the past – and of course, this means that if we want different blade lengths, we will have to create a dedicated product based around the different length – and so we will start with a fairly generic blade and expand as we go..
Forge Direct Chinese has also been trimmed down – first due to the retirement of Master Michael Yi, who was quite prolific for our project, and then from shortages in parts and supplies. But the good news is that other than the limitation of only being able to ship to North America – Forge Direct Chinese is only held back by the 'straggler' orders that are still blocking up the whole thing..
To say it is frustrating for everyone involved is an understatement – after all, this project was a culmination of many years of experience dealing with custom made items – but I must thank our customers for being so patient and understanding..
The good news is that we do seem to be on the home stretch for Forge Direct – and if all goes well, we could see it return next month. But for now, our priority remains on getting those last orders fixed up – and when we do, I think a celebration will be in order as we re-launch.
So as we are fond to say, stay tuned..!