As we draw close to Halloween, the sword industry is experiencing it's own little horror show..
International shipping has been problematic for quite a few years now as carriers and customs agents across the world become increasingly paranoid and incredibly difficult to deal with, stepping up to an almost complete halt to sword shipping worldwide in 2019..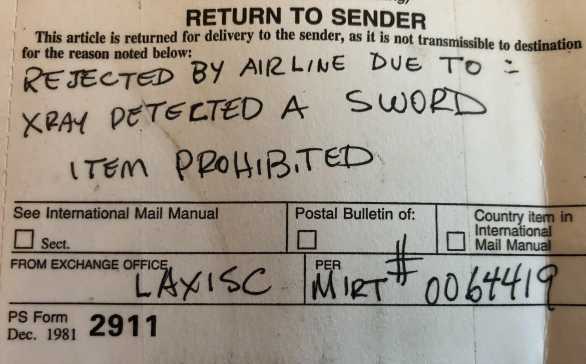 "XRAY DETECTED A SWORD"! HELP, RED ALERT! RED ALERT!
Of course, we all know what happened in 2020..
But now in late 2021, long term effects of shutdowns and lockdowns has shaken our rather fragile niche industry to its foundations. Prices are skyrocketing, shipping is jammed up, stock is out across the board and restocks are gobbled up faster than they can come in and as of the 25th of October – suddenly brings the majority of International shipping options to a complete halt with this announcement..
The Postal Service™ is temporarily suspending international mail acceptance for certain destinations due to impacts related to the COVID-19 pandemic and other unrelated service disruptions. Customers: please refrain from mailing items addressed to the countries listed here, until further notice.
While most the countries they listed we don't usually ship to anyway, Australia and New Zealand certainly do effect us (we already had some idea this may be happening ahead of this announcement when we had a few shipments to New Zealand rejected and are currently dealing with the fallout -average cost to ship is $60, so it hurts a lot when we lose shipments suddenly for no good reason!).
Add this these losses extremely low stock levels across the board (heck, despite some successful restocks this year, we no longer have ANY Hanwei Swords available, have seen a couple of suppliers exit the industry, are suffering from lower sales, lower margins and higher prices – it just keeps on getting better and better!
Will definitely want to blow off some steam this Halloween – in the meantime, our apologies to our Australasian customers – we will do our best to update you as soon as this situation changes. Our little industry must be due for a break sometime soon right? (You would certainly think so, the last 3 years have been extraordinarily challenging)..