Timely in a slightly disturbing way – CAS Iberia, the master distributor for such brands as the Hanwei Forge, Kingston Arms, Legacy Arms, Citadel Swords, Rawlings Red Dragon and of course, the A.P.O.C. line, did not restock in September as we initially expected and the big restock for 2020 is delayed until early November 2020.
However, they did receive a small shipment to top up stock for Kingston Arms (most notably, the extremely popular Renaissance Side Sword and the Oakeshott Type XIV Arming Sword) and of course, the A.P.O.C. series.
Almost every blade in the series has been restocked. And joining the line up, a new, extremely practical design – the Tac Brutus Gladius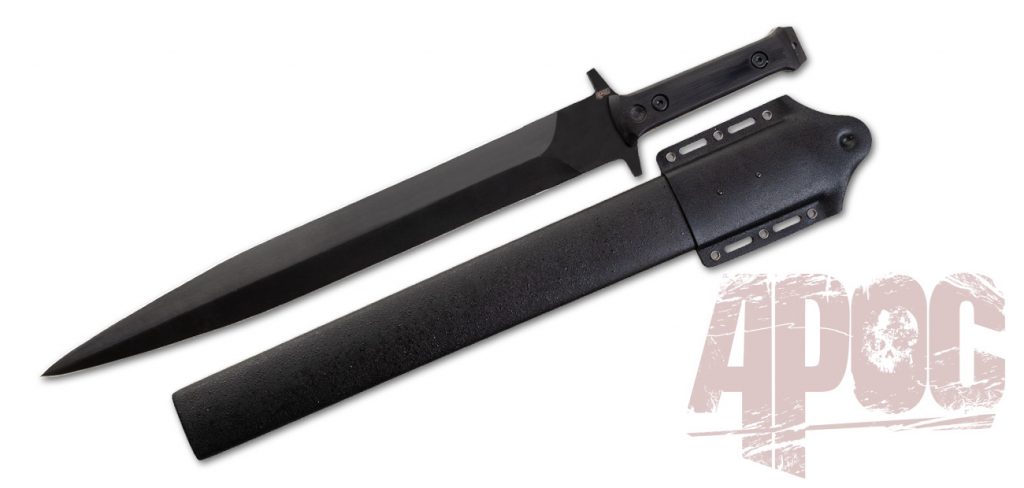 While many lay collectors, biased by pop culture references such as the Walking dead, think that the Katana is the best tool in a zombie apocalypse or post apocalypse home invasion – experts all tend to suggest that a Gladius is much more practical.
Here's some reasons why a Gladius is the ULTIMATE sword for self defense in the 21st century:
Historically, thrusts to the torso were 'fight stoppers' while cuts did not stop a determined attacker.
It is almost impossible for an attacker to get 'past' the tip of the sword.
It is extremely versatile – while optimized for a thrust can also be used to hack, slash and cut as the situation allows.
Is extremely fast, multiple attacks from every angle imaginable are possible, quickly overwhelming an opponent.
Can be combined with a shield to fight an opponent by blocking a doorway or with a second, smaller blade in the off hand for dual wielding (such as the A.P.O.C. Last Chance Bowie or the A.P.O.C. Wayward Camper).
All of these reasons make a Gladius a good choice, but the A.P.O.C. Tac Brute has a lot more going from it than most other Gladii on the market..
For a start, it is made from 9260 Spring steel and is constructed so that it is effectively a solid piece, with the full tang sandwich style handle. Furthermore, it is thoughtfully designed by none-other than the legendary Angus Trim – so is one of the most optimized, practical Gladii to ever hit the sword market.
Normal price for this baby is $159 but as always we cut our margins to the bone and offer it to you for just $129.95. Check it out firsthand, you will be glad you did – at this price, it truly is a bargain.