As this month draws to a close we are delighted to introduce several brand new additions to the ever expanding line up of Katana from our friends at Ryujin Swords – starting with one of the best balanced and fastest Katana they have made to date, the Grey Wolf Katana: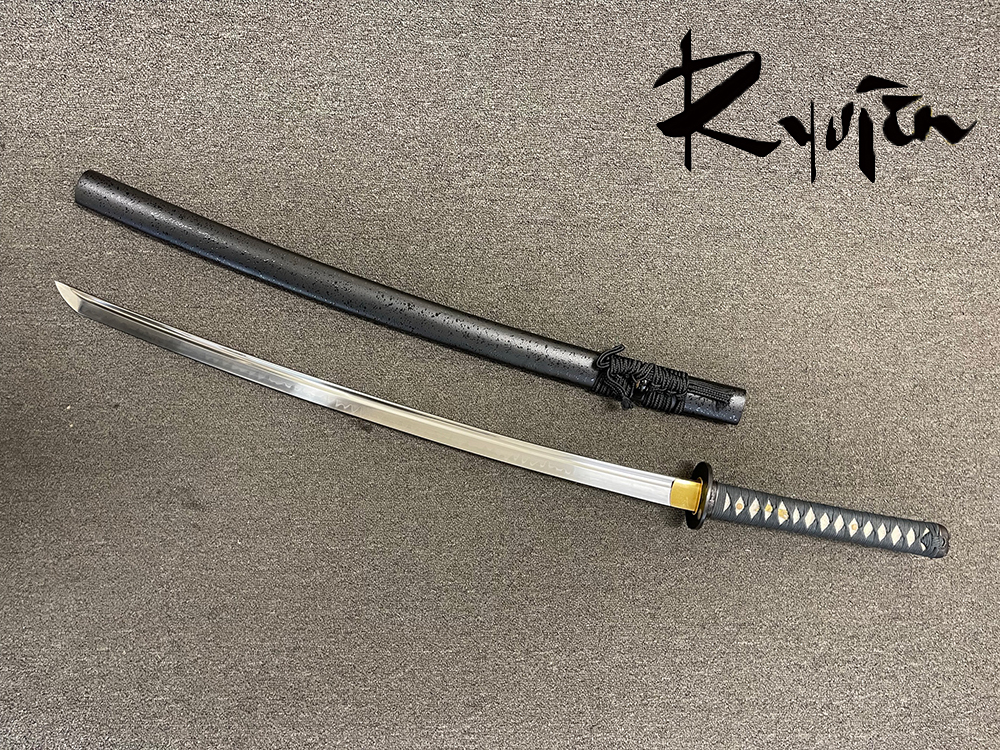 With the type of differentially hardened T10 tool steel blade that forms the backbone of Ryujin's best sword offerings – the Greywolf is no exception. Weighing only 2lbs with a point of a balance just 4.25″ from the tsuba it is the fastest and lightest sword they have made to date, and features a solid iron wolf themed tsuba with matching black colored brass fuchigashira.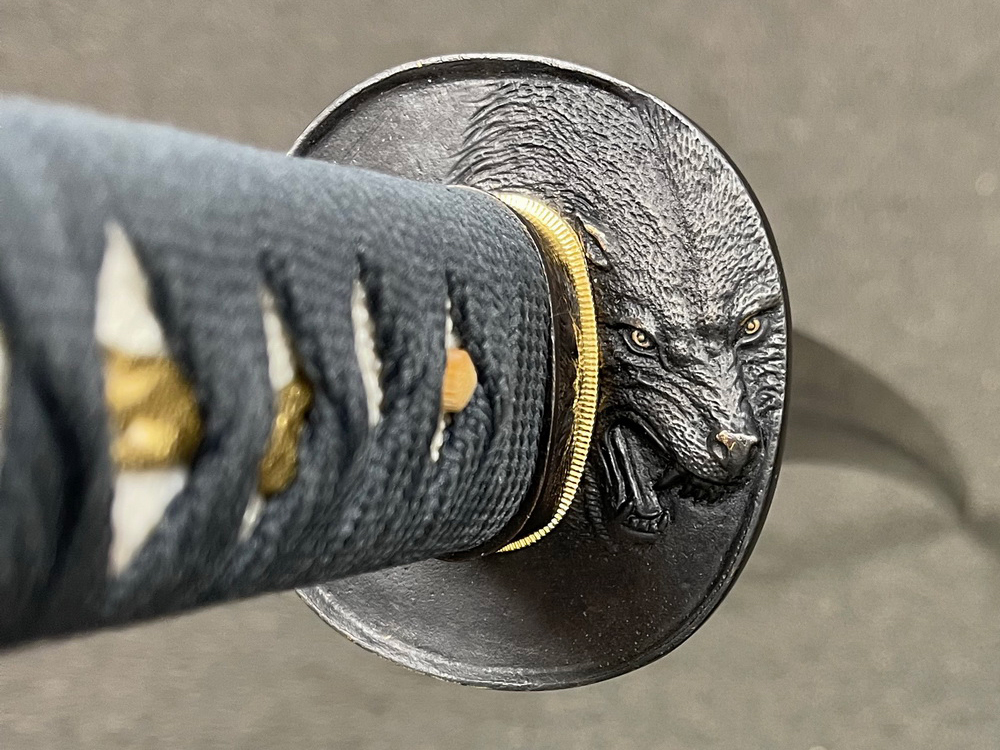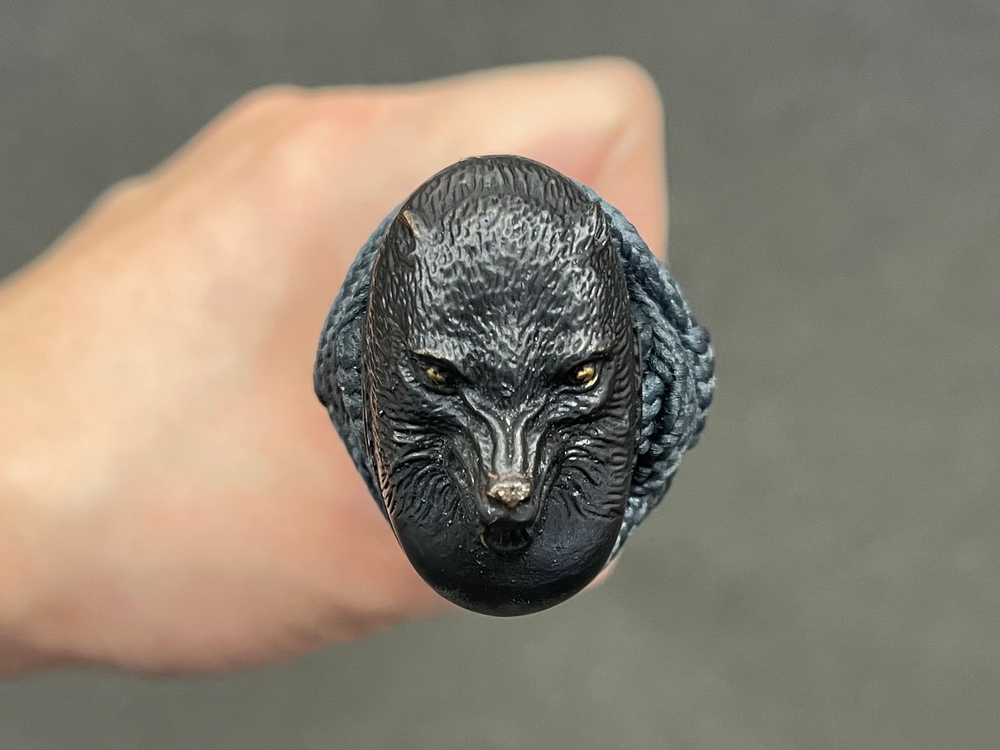 And even though price rises continue to ravage the industry, we are squeezing our margins as hard as we can one last time to offer it at the introductory special price of just $249.99
But that's not all!
FOUR ADDITIONAL NEW MODELS!
Not one but FOUR new swords to the line up – the first a differentially hardened 65mn Spring Steel Katana with enhanced hamon and solid brass tsunami themed fittings called the 'Choji Tsunami' Katana: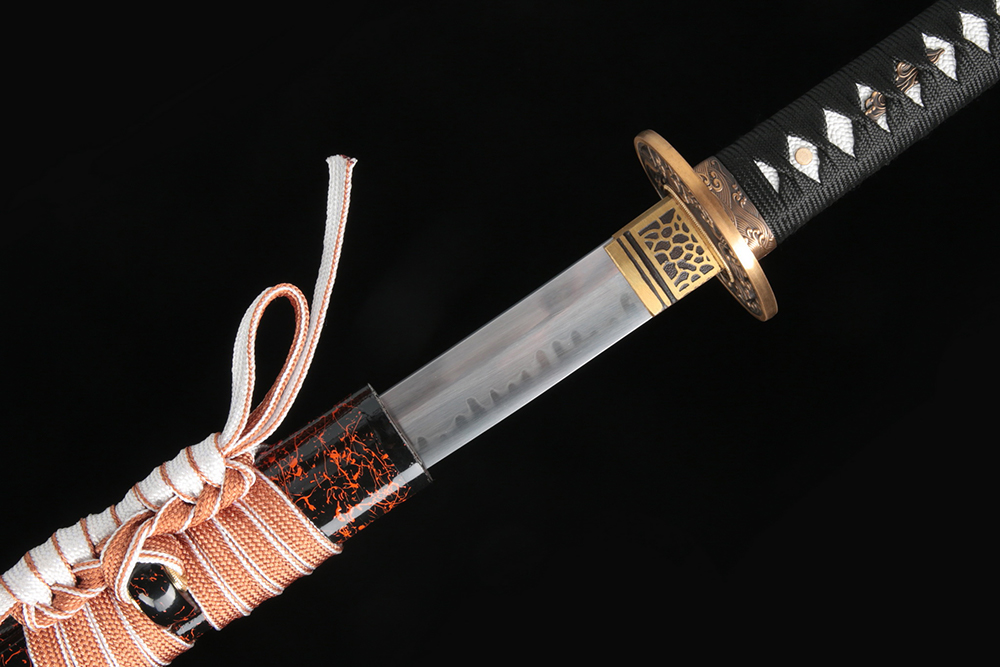 And then 3 new swords to the fully functional but highly ornate line known as the 'Art Sword' line. First up, the Dramatic 'Akazamurai' a bright crimson themed sword with monotempered 65mn spring steel blade with a truly unique blade color and pattern: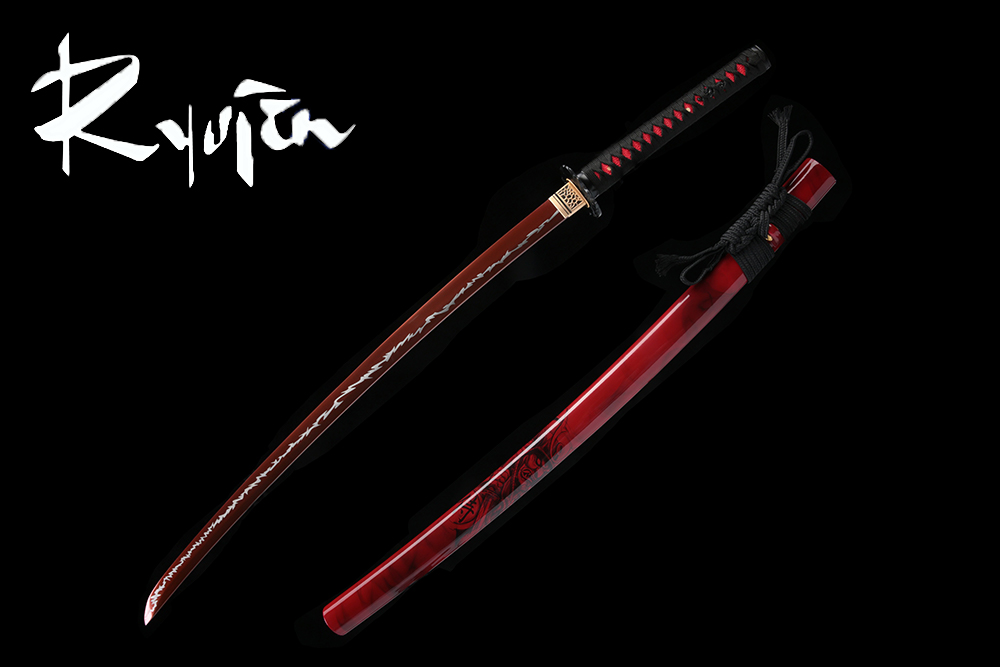 Pretty awesome looking – but even better is the price. Just $149.99!
Then there is the Ninjato from the future – another 65mn Spring Steel blade, but unlike most Ninjato/Ninto is Katana rather than Wakizashi length. Introducing the ShiShi Ninto Art Sword: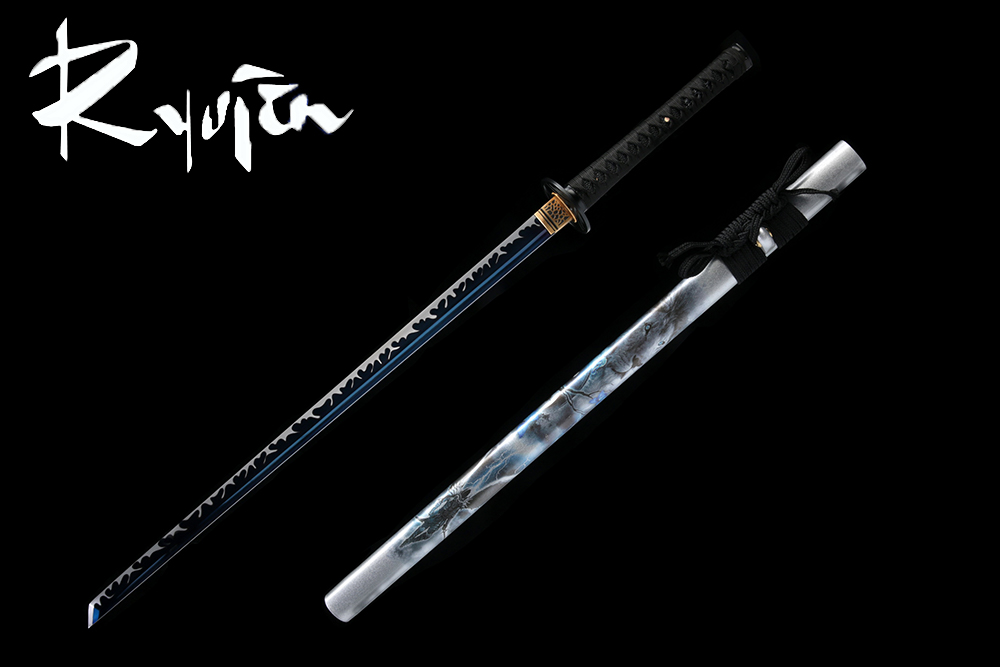 And finally, something TRULY unique and priced to be a very hot seller as the year warms up – the differentialy hardened T10 Tool Steel Katana the Golden Bamboo..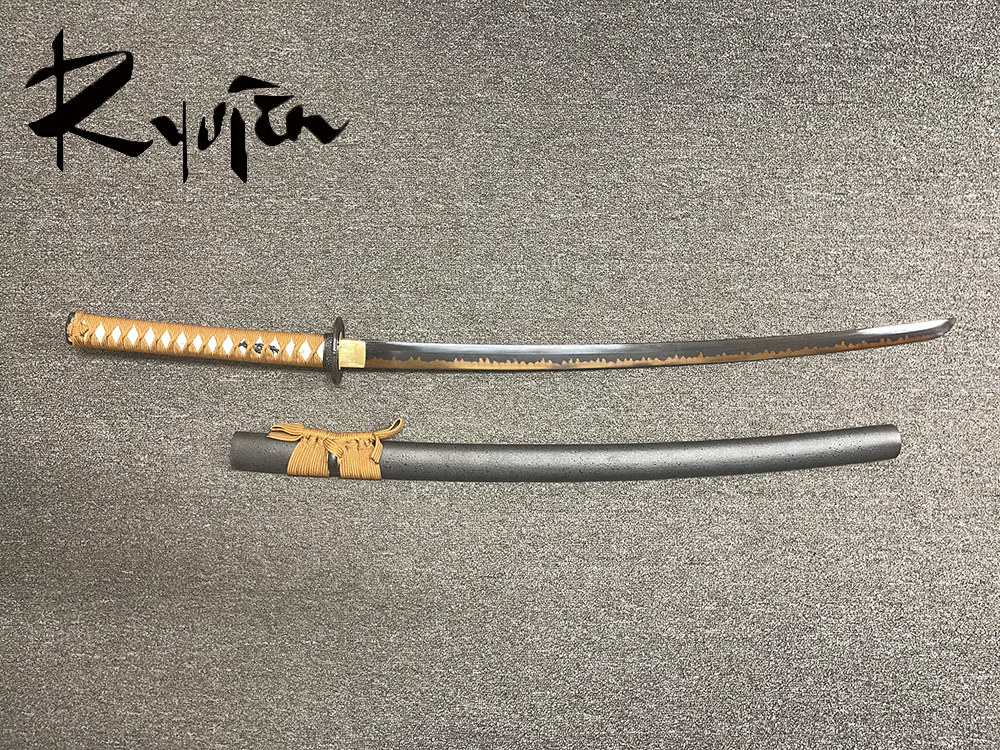 Notice anything different about the blade?
Take a closer look at the gorgeous golden anodized hamon highlighting the real hamon that lies beneath for the most dramatic hamon temper line to date!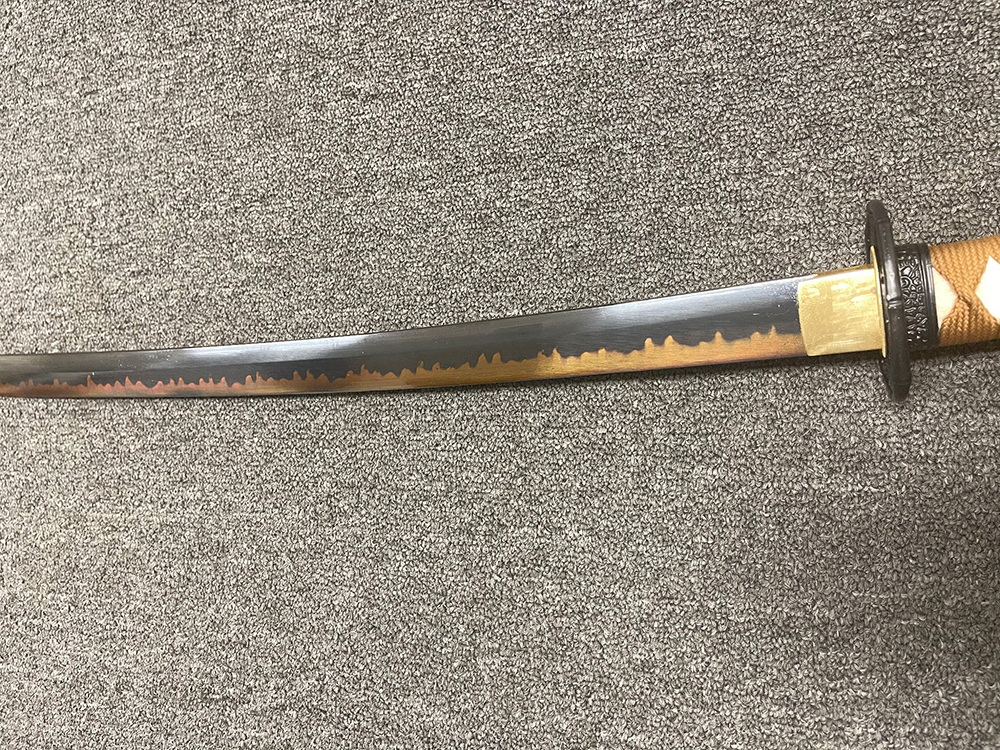 This is one sword that is sure to flash in the sunlight – and at just $179.99 goes to show you that even in these trying times, Ryujin and SBG are still doing their very best to bring you the best deals humanly possible:
If you are a fan of affordable and attractive Japanese style swords, I am certain you will find something of interest. Check out the full Ryujin Line up below: