Thanks for bearing with me guys.
I am pleased to let those of you who have been so patiently waiting for your swords since October to December, they have finally cleared customs and are with my agent in Canada being sorted for delivery very early next week..! (I'll be in touch with you all individually soon, so look out for my next email!).
The good news is that it looks like the QC policies that we implemented that were partly responsible for this slowdown were well worth it, as he reports that the quality overall is even better than the very first swords (one of the first ones pictured below)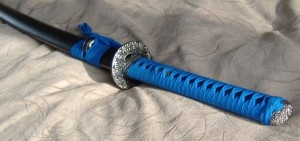 So hopefully it has been worth the extra wait to you all (though again, I apologize for how long it took).
The other current Jan-Feb orders are progressing along nicely, and that means that very soon, to all the people who have joined the Custom Katana Waiting List that once I am certain that it's all going smoothly, we will be again opening up for new orders.
Be in touch again VERY soon (and I must admit, I do feel very relieved that they are finally here, the pressure and responsibility has weighed heavily on me as I don't take the trust you put in our store buying these lightly!), but as always should you have any specific concerns not addressed here just let me know.
And happy Easter too!
Paul Southren