This is pretty crazy and to be honest we arent even close to breaking even on these – but we have a limited number of DELUXE MOTHER OF PEARL SAYA available in three styles:
A: Dragon
B: Bamboo
C: Birds
And each saya comes with Real Buffalo fittings as a secondary bonus. And to test the waters, the price is…? What? How much?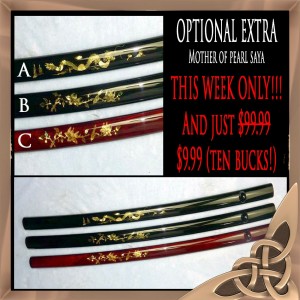 Check it out here, and if you would like try try a little taste of luxury at a token price point, well – here is your chance.
Enjoy!
Paul
P.S. Only available on a 28″ blade and in the colors provided. No modifications are possible, what you see is what you get (and its pretty easy one the eye!)