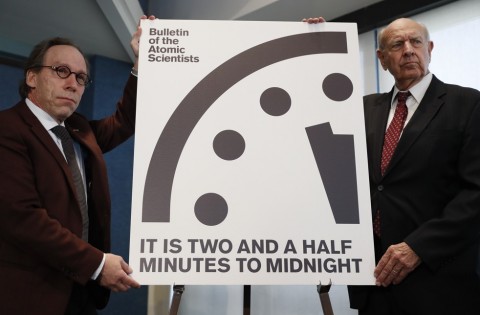 It is a bit of a disturbing coincidence.
But as we run down towards the last opportunity to pre-order John Lundemos stunning Furia – Sword of the Apocalypse, the so called 'doomsday clock' is revealed to have moved closer to armageddon shifting the hands to now just 2 and a half minutes to midnight – the closest it has been since 1953 when the first hydrogen bomb was tested..
Naturally we hope that the events we describe in the Furia backstory will remain fiction. But the fact that this is the absolute last opportunity to pre-order this sword, regardless of whether or not the world goes up in flames or just keeps on keeping on as it always has, is very real.
We don't want to keep anyone waiting any longer.
While John has already begun some preliminary work on the final 10 blades, work begins in earnest on the 3rd of February – and to be fair to everyone who pre-ordered, the opportunity to pre-order will close one minute before midnight eastern standard time on the 2nd of Feb.
Once that threshold is crossed the window of opportunity to pre-order will slam shut, and the very last 3 swords currently open to pre-order will become mine, to gift to some dear friends and keep one for my own personal collection, sell at a price closer to their true value as a never to be repeated, limited edition John Lundemo collectible sword, or otherwise release or not release as I see fit..
The clock may or may not be ticking on the doomsday clock itself. But it is definitely ticking on Furia – and if you wanted one but did not take action fast enough, I am sorry – but it will simply be too late..